Don Lemon Shouts Down Conservative Panelist For Talking Over Him: 'Shut Up!'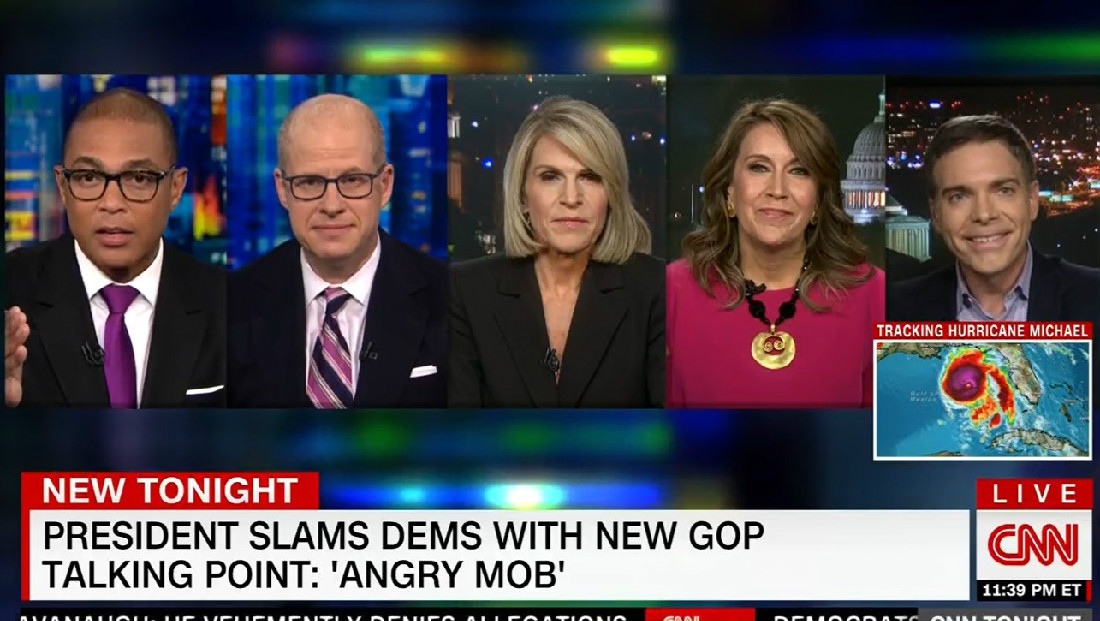 Following the confirmation of Supreme Court Justice Brett Kavanaugh, Republicans and conservatives have taken to describing anti-Kavanaugh protesters, and Democrats in general, an "angry mob" while calling for "civility." The talking point got additional juice after former Democratic presidential nominee Hillary Clinton said that "you can't be civil to a political party that wants to destroy what you stand for."
During a CNN panel discussion last night, CNN political commentator Matt Lewis doubled down on his previous comments that liberals confronting Sen. Ted Cruz at a posh restaurant was the very definition of a "mob. " This resulted in Lewis and anchor Don Lemon getting into a heated spat when Lemon finally grew tired of Lewis interrupting him.
Claiming that Trump's description of Democrats as a mob was only referencing protesters, Lewis then did a thought experiment involving a Hillary 2016 victory. In this scenario, Lewis asked the panel to imagine if "the alt-right — Richard Spencer's crew" yells and berates Democratic senators at restaurants after a liberal Supreme Court confirmation.
Lemon told Lewis he had him until he said "alt-right," causing Lewis to then replace neo-Nazis with Tea Partiers before saying everyone would be willing to call that "mob behavior."
This resulted in a few minutes of back-and-forth among all the panelists over what the actual definition of mob should be and whether it should be applied to protesters and demonstrators. Meanwhile, Lewis grew increasingly more irate as he demanded that everyone agree with him that a handful of left-wing activists represents a dangerous mob. Finally, faced with an upcoming commercial break, Lemon tried to wrap up the segment while getting a last word in — something Lewis didn't seem all that willing to comply with.
"Will you let me finish, Matt," Lemon exclaimed. "Please, before you jump in! I'm making a point, I can't make it if you keep interrupting me!"
Lewis, however, continued to try to talk over Lemon while snidely asking the anchor if he was a "moderator or the host" or whether he was just going to argue as a liberal.
"Will you let me finish?! Matt, please! Let me finish," Lemon yelled as Lewis took a drink of water. "You can do whatever you want. You can leave the show if you want. Shut up and let me do it!"
Lewis, for his part, said he wasn't going to walk off and eventually let Lemon finish his thought.
Watch the clip above, via CNN.