Viewers Flock To Fox On Monday As Kavanaugh's Swearing-In Ceremony Draws 4 Million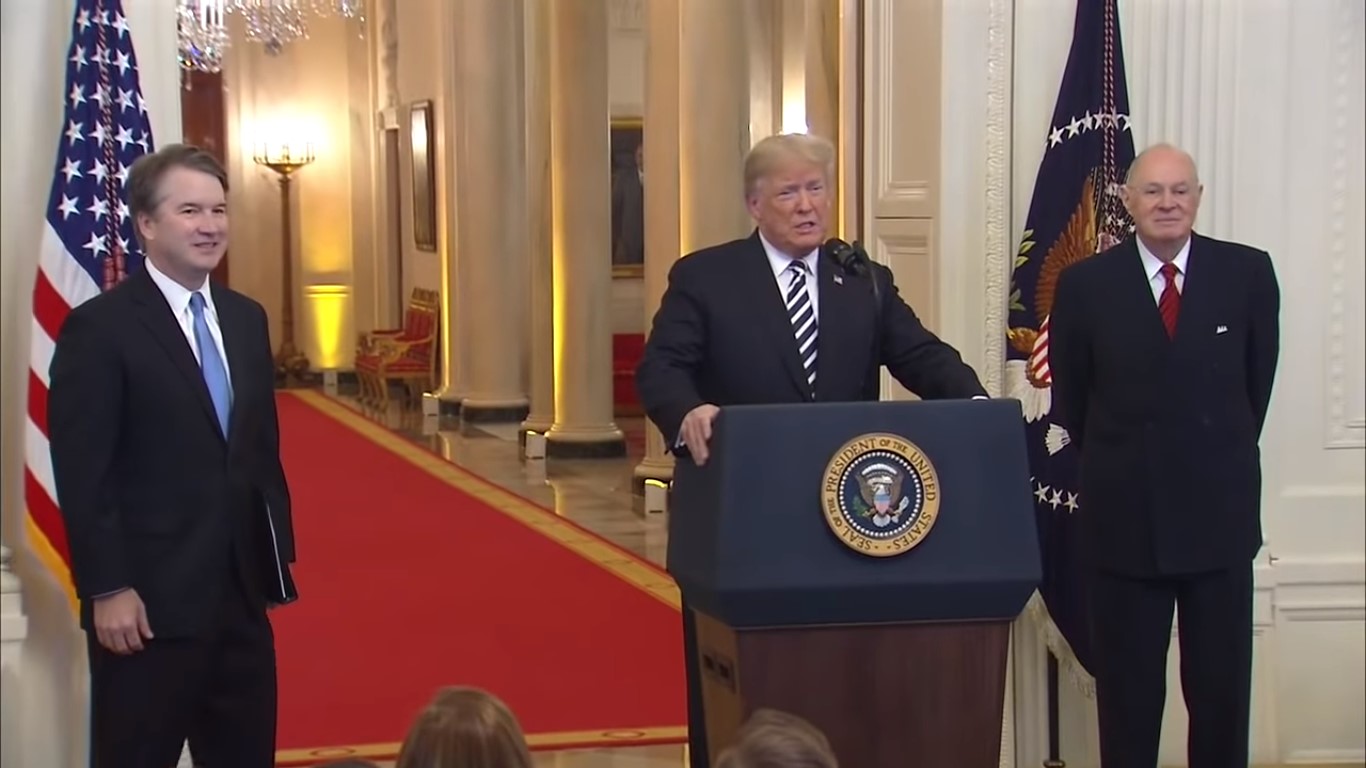 One look at the cable news ratings on Monday gives the impression that liberal and progressive viewers essentially turned the TV off as Fox News absolutely dominated across the board, drawing more than CNN and MSNBC combined as the White House celebrated Brett Kavanaugh's Supreme Court confirmation with a swearing-in ceremony.
According to Nielsen, Fox News averaged 3.123 million total viewers and 651,000 in the key 25-54 demographic during the primetime 8 PM to 11 PM hours. MSNBC finished a distant second in both metrics, attracting 280,000 demo viewers and 1.563 million viewers overall.
In total day, Fox pulled in 1.890 million total viewers and 382,000 in the key demo. MSNBC captured a total audience of 862,000 and 159,000 in the demographic. CNN nabbed 547,000 viewers overall and 157,000 in the 25-54 demo.
The most-watched program of the day was Fox's The Story with Martha MacCallum, which included special coverage of Kavanaugh's White House ceremony. The 7 PM program drew 3.973 million viewers overall and placed second in the demo with 685,000.
Fox's Tucker Carlson Tonight, which airs at 8 PM, led the day in the demo (698,000) and placed second in total viewership (3.260 million). FNC's Hannity finished third in both the demographic (652,000) and total audience (3.242 million).
Viewership was down so much on the other two networks that there were no non-Fox shows among the top 10 in total audience or the demo. The top-rated non-Fox show was MSNBC's The Rachel Maddow Show, which was guest hosted by Joy Reid. The 9 PM program drew a total viewership of 1.884 million and 386,000 demo viewers, well below Maddow's typical numbers.
Meanwhile, CNN experienced one of its lowest-rated days of the year. Only one program attracted as many as 700,000 total viewers, 4 PM's The Lead with Jake Tapper. The 9 PM broadcast of Anderson Cooper 360 managed a measly 177,000 demo viewers and 654,000 viewers overall.