Fox's Maria Bartiromo Asks Chuck Grassley If He Believes George Soros Is Paying Protesters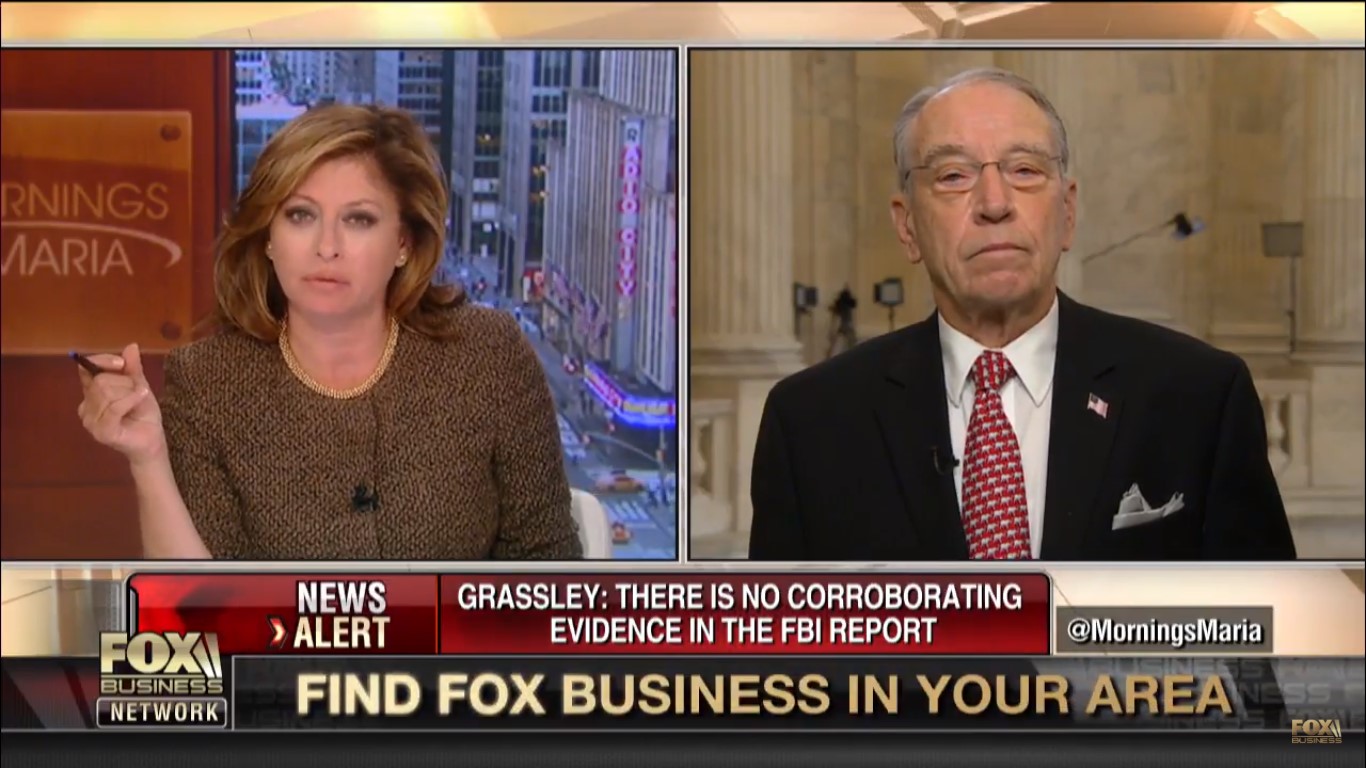 Seemingly out of nowhere this morning, President Donald Trump tweeted out a baseless conspiracy theory that the "very rude" anti-Kavanaugh protesters on Capitol Hill are "paid professionals" that are being funded by the right's favorite boogeyman, George Soros.
The very rude elevator screamers are paid professionals only looking to make Senators look bad. Don't fall for it! Also, look at all of the professionally made identical signs. Paid for by Soros and others. These are not signs made in the basement from love! #Troublemakers

— Donald J. Trump (@realDonaldTrump) October 5, 2018
It would appear that the president got this idea from, where else, cable news. Specifically Fox.
During an interview with Sen. Chuck Grassley (R-IA) roughly an hour before Trump's tweet, Fox Business host and Trump loyalist Maria Bartiromo brought up the demonstrations against Kavanaugh's confirmation that have resulted in GOP senators being targeted by women and sexual assault survivors.
"Do you believe George Soros is behind all of this, paying these people to get you and your colleagues in elevators or wherever they can get in your face?" Bartiromo asked Grassley, suggesting she felt demonstrators were getting Soros-signed paychecks.
"I have heard so many people believe that — I tend to believe it," he responded. "I believe it fits in his attack mode and how he uses his billions and billions of resources. I think it promotes incivility in American society."
This isn't the only time that Bartiromo has discussed the possibility of the anti-Kavanaugh demonstrators getting paid by Soros. As Mediaite's Caleb Howe pointed out, she mentioned this at least two other times in the past 24 hours. It has also been tossed around a lot in the conservative media sphere of late, largely due to a report that one of the sexual assault survivors that confronted Sen. Jeff Flake (R-AZ) in an elevator last week the co-executive director of an activist organization funded by the billionaire philanthropist.
Watch the interview above, via Fox Business.