Lindsey Graham To Woman Who Says She Was Raped: 'I'm Sorry. Tell The Cops'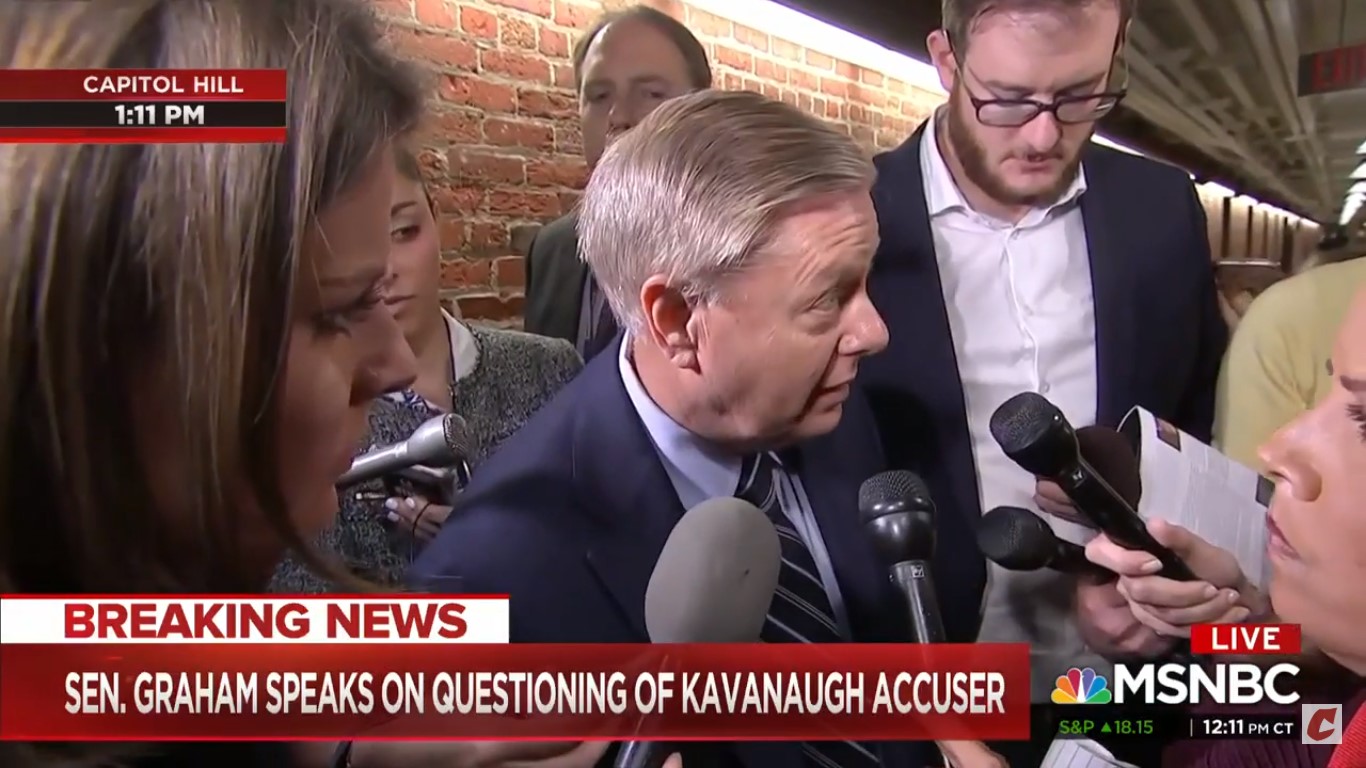 With Christine Blasey Ford's Senate testimony still ongoing, Senate Republicans have already taken a beating as Fox News' Chris Wallace has described Ford's raw emotional testimony as a "disaster for the Republicans." Apparently unsatisfied with how bad things have looked for his party, Senator Lindsey Graham (R-SC) decided to up the ante this afternoon.
Speaking to reporters during a break, Graham dismissed Ford's allegations while saying Republicans "can't reward" Democrats by not voting for Brett Kavanaugh's confirmation. He then issued a warning to Democrats if Ford's accusations bring down the Supreme Court nominee.
"To my Republican colleagues, if you can ignore everything in this record, looking at an allegation that's 35 years old, that's uncertain for time, place, date and no corroboration, if that's enough for you, God help us as Republicans," Graham huffed.
He added, "Because this happens to us. It never happens to them. Let me tell you, my Democratic friends, if this is the new norm, you better watch out for your nominees."
After issuing his threat, he walked away. But Graham wasn't done with just threatening Democrats that Republicans will gin up charges against their judicial nominees in the future.
According to McClatchy's Emma Dumain, a woman approached Graham as he walked into an elevator and informed him that she'd been raped. Graham's response? "I'm sorry. Tell the cops."
A woman just told @LindseyGrahamSC she was raped. He said, as he headed into an elevator, "I'm sorry. Tell the cops."

— Emma Dumain (@Emma_Dumain) September 27, 2018
Oof.
MSNBC's Kasie Hunt would confirm Dumain's account.
I was there for this —> https://t.co/JPetLytCcx

— Kasie Hunt (@kasie) September 27, 2018
Watch Graham speak to reporters above, via MSNBC.