Fox & Friends' Steve Doocy Touts Ed Whelan's Crazy Mistaken Identity Conspiracy Theory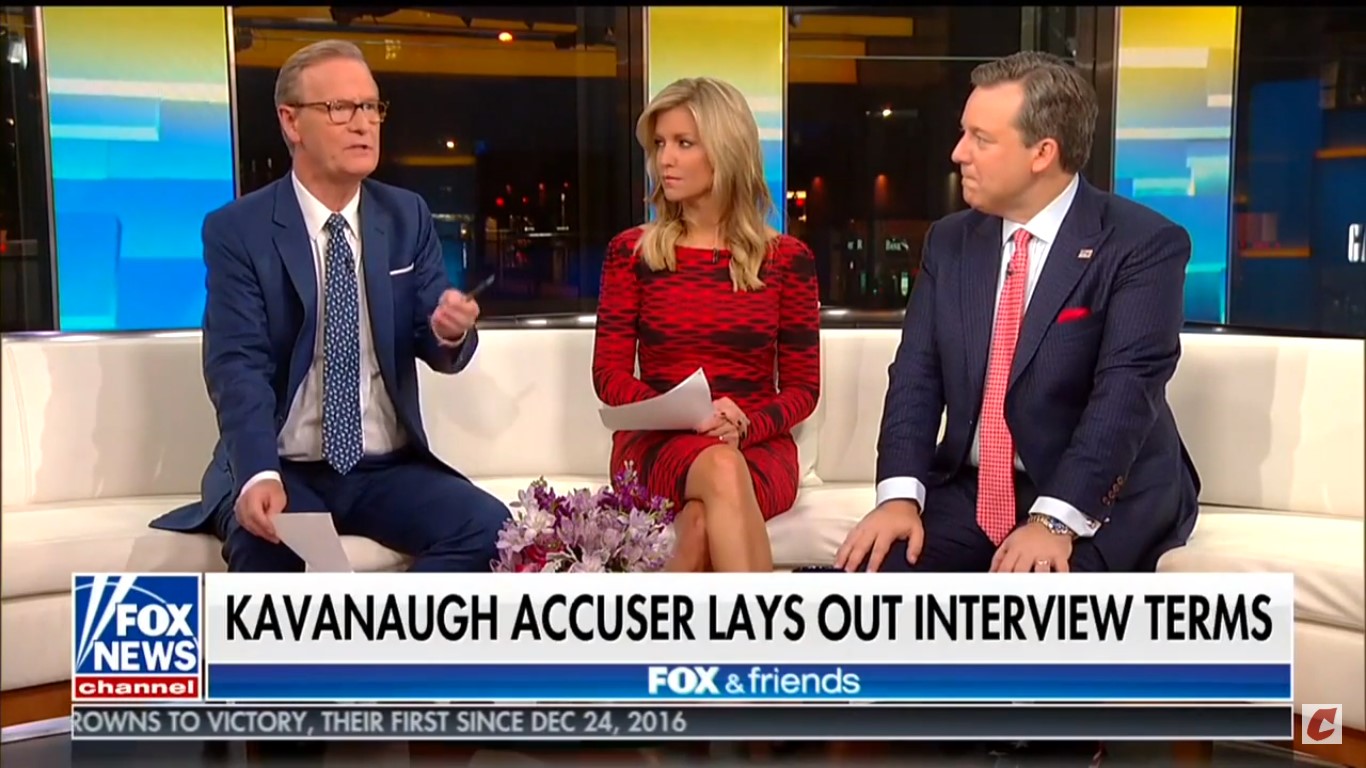 After hyping that he had proof that would absolutely exonerate Supreme Court nominee Brett Kavanaugh, former Scalia clerk and Kavanaugh ally Ed Whelan unleashed his doppelganger theory that Christine Blasey Ford was sexually assaulted by a classmate of Kavanaugh's. The current president of the Ethics and Public Policy Center used Zillow and Google Maps to suggest the location of the alleged assault while irresponsibly naming another person who he believes attempted to rape Ford.
While Whelan was highly mocked for his insane conspiracy theory and Ford immediately shot it down by saying "there is zero chance I would confuse" the two men, Fox & Friends' co-host Steve Doocy promoted the claim while noting that the two men looked "a lot alike!"
"You saw the fact that a fellow by the name of Ed Whelan, who had been one of the clerks for Antonin Scalia and a supporter of Judge Kavanaugh, he looked at what Christine Ford told The Washington Post and figured out, OK, these people were named, these four people, where did they live?" Doocy noted.
He added, "[He] looked at what she had said and figured out what house it may have happened at, because it was a house closest to the golf course, and then realized whose house it was and looked at a picture of the young man who lived there at the time who was a classmate of Mr. Kavanaugh's. Put up side by side images, they look a lot alike!"
As co-host Ainsley Earnhardt expressed surprise over the theory, guest host Ed Henry asked if this was a "case of mistaken identity." Henry then pointed out that Dr. Blasey had already released a comment rejecting Whelan's claims, with Doocy acknowledging she said "zero chance" it was correct.
"So we'll see," Henry concluded.
Watch the clip above, via Fox News.
UPDATE: At the end of this morning's broadcast, following an interview with law professor Jonathan Turley in which Doocy once again brought up Whelan's theory while pointing out Ford's rebuke, the co-host read off Whelan's latest tweet apologizing for naming the other classmate.
I made an appalling and inexcusable mistake of judgment in posting the tweet thread in a way that identified Kavanaugh's Georgetown Prep classmate. I take full responsibility for that mistake, and I deeply apologize for it. I realize that does not undo the mistake.

— Ed Whelan (@EdWhelanEPPC) September 21, 2018