Smear Campaign Blows Up In Conservatives' Faces As They Go After Wrong Christine Ford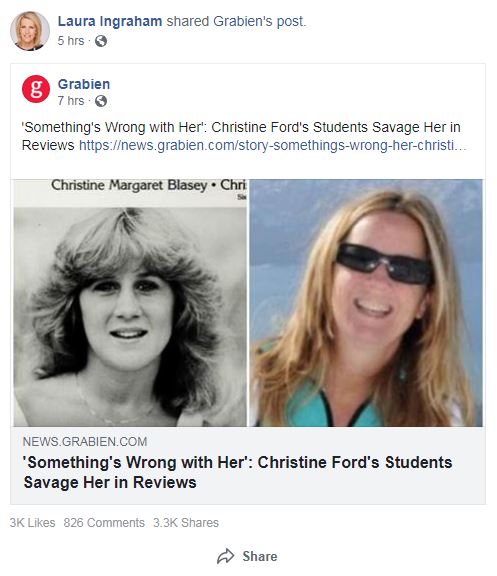 After research psychologist Christine Blasey Ford came forward and identified herself as the woman who wrote the confidential letter to Democratic lawmakers accusing Supreme Court nominee Brett Kavanaugh of sexually assaulting her in high school, there has been a concerted effort on the right to diminish the allegations and push partisan and personal motivations behind Ford's accusation.
In a particularly hilarious ham-handed effort, prominent conservative media personalities got behind a grade school-level bit of oppo research that claimed the professor was unpopular with her students. In a since-retracted anonymously written post for Grabien News that quickly went viral on Conservative Twitter, Ford was described as disliked due to her "dark personality," tied to a handful of reviews on RateMyProfessor.com.
Now, besides the fact that being a hated teacher has absolutely nothing to do with whether or not a woman was assaulted as a teenager, whoever wrote the post didn't even bother to do the most basic of fact-checks to see if the Christine Ford they were targeting was the one who spoke out against Kavanaugh. Lo and behold, she isn't.
The Ford featured in the Grabien News post and one published by right-wing conspiracy site Gateway Pundit taught at California State University-Fullerton and is a licensed social worker with a MSW from Cal State Long Beach. Christine Blasey Ford got her doctorate from USC and currently teaches as Palo Alto.
Of course, before both posts were corrected/retracted, Fox News hosts Laura Ingraham and Mark Levin, Drudge Report and other right-wingers got to work pushing the negative article. Most of the following tweets have since been deleted.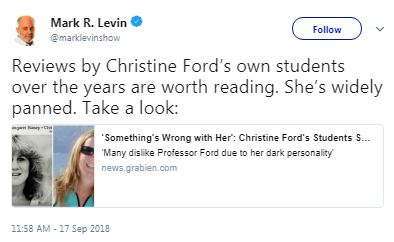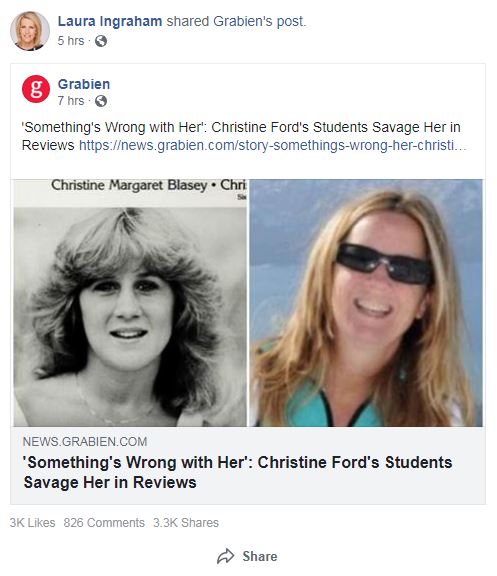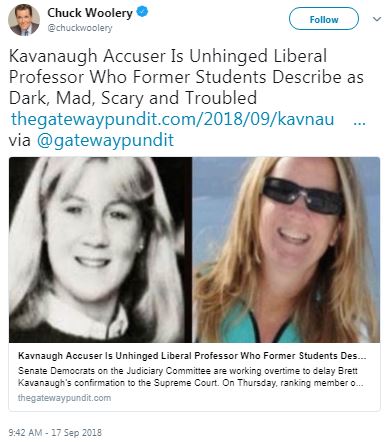 As Media Matters noted, this attempt to smear Blasey Ford is similar to another botched effort by Breitbart to go after Loretta Lynch in 2014, which resulted in the far-right site targeting the wrong Lynch.