Media Critic David Zurawik On Covering Trump: 'He Lies Every Minute…We Should Just Say He's Lying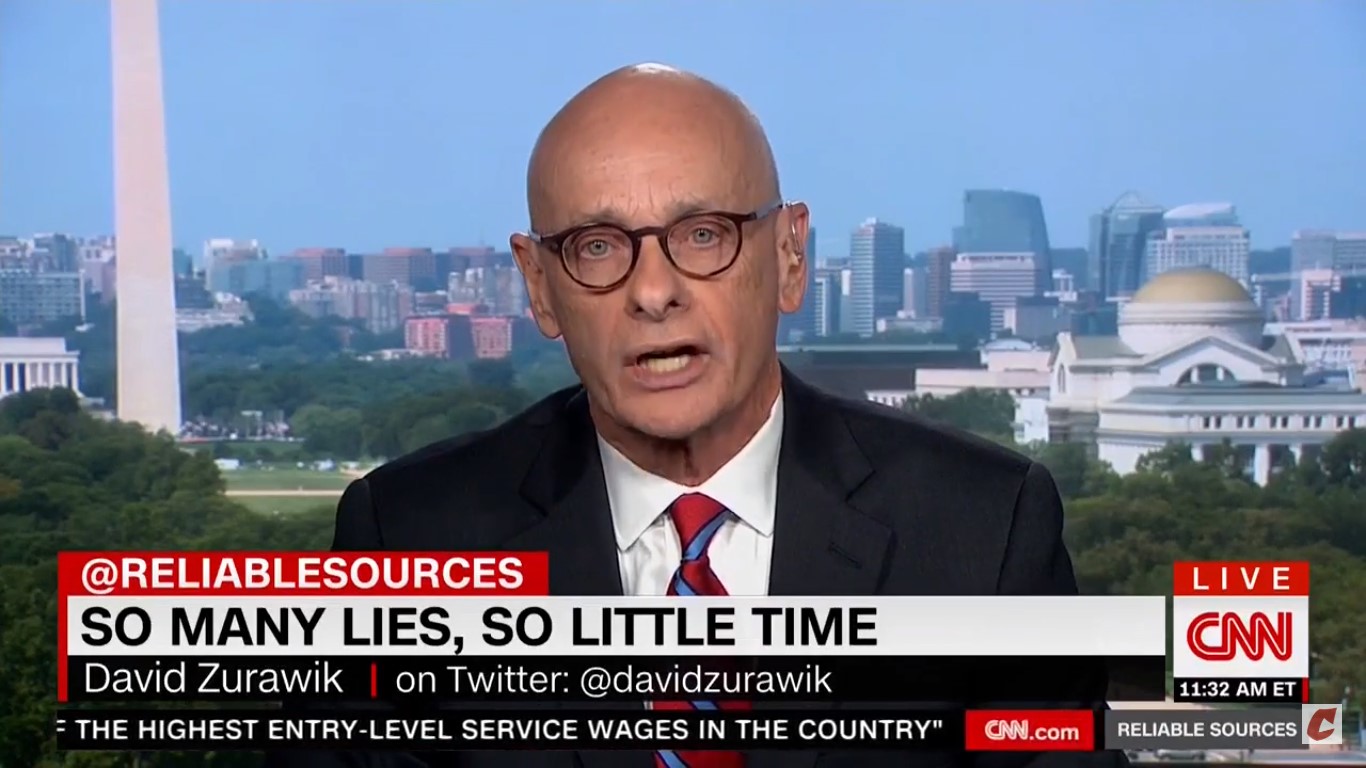 Over the past week, more and more journalists and reporters have become comfortable with saying straight-up that President Donald Trump is lying, especially after the president contradicted his earlier claims that he knew nothing about hush payments made to women by his former attorney Michael Cohen. This culminated in the Washington Post Fact Checker calling out Trump for spreading a lie, the first time it has ever accused a politician of purposely lying.
During a discussion on Sunday's Reliable Sources about the media coverage of Trump's lack of truth-telling, Baltimore Sun media critic David Zurawik was asked by host Brian Stelter to talk about how he's wrestled with figuring out the journalistic principles in the Age of Trump.
"I wrote a piece last week and it was — the editor said a lot of soul-searching," Zurawik responded, referencing a recent column. "Usually that's not a good thing, but it was based on, you know, 30 years of writing about media, 20 years of teaching media ethics in college and I was — I thought I had — I thought I was going to be fine with Trump."
He went on to state that one job of journalists now is to analyze and understand how Trump has corroded and "made toxic the information system in this country" and how we can't trust anything coming from the White House.
"In fact, the only thing we can trust is it will probably be untrue what they tell us," Zurawik noted. "And it's a whole system of it."
After explaining that there is a whole "right-wing messaging machine" led by Fox News that is helping to create a "toxic information environment" that leaves the population confused, he compared and contrasted Trump with George Washington.
"Now we have a president who says I cannot tell a truth about anything," the writer said.
He concluded his thoughts with the following mini-monologue:
"So in my piece I said, look, I write commentary so I have more latitude, but I'm done with it. I'm done being Talmudic about is it a lie, what's his intent. Who could know intent with this man? He lies every minute, he changes his story second to second. We should just say he's lying, folks. Start from that premise. He is a liar. Okay? If you can prove he's not telling a lie, great, we should fact-check him backwards maybe, see if anything he's telling us is true. I think we've wrestled with it long enough, 18 months, that we can call him a liar without being self-conscious and nervous about it, even by some of the highest standards of legacy journalism."
Watch the clip above, via CNN.