Maddow Enjoys Third Straight Night As Top Show In Cable, MSNBC Again Tops Primetime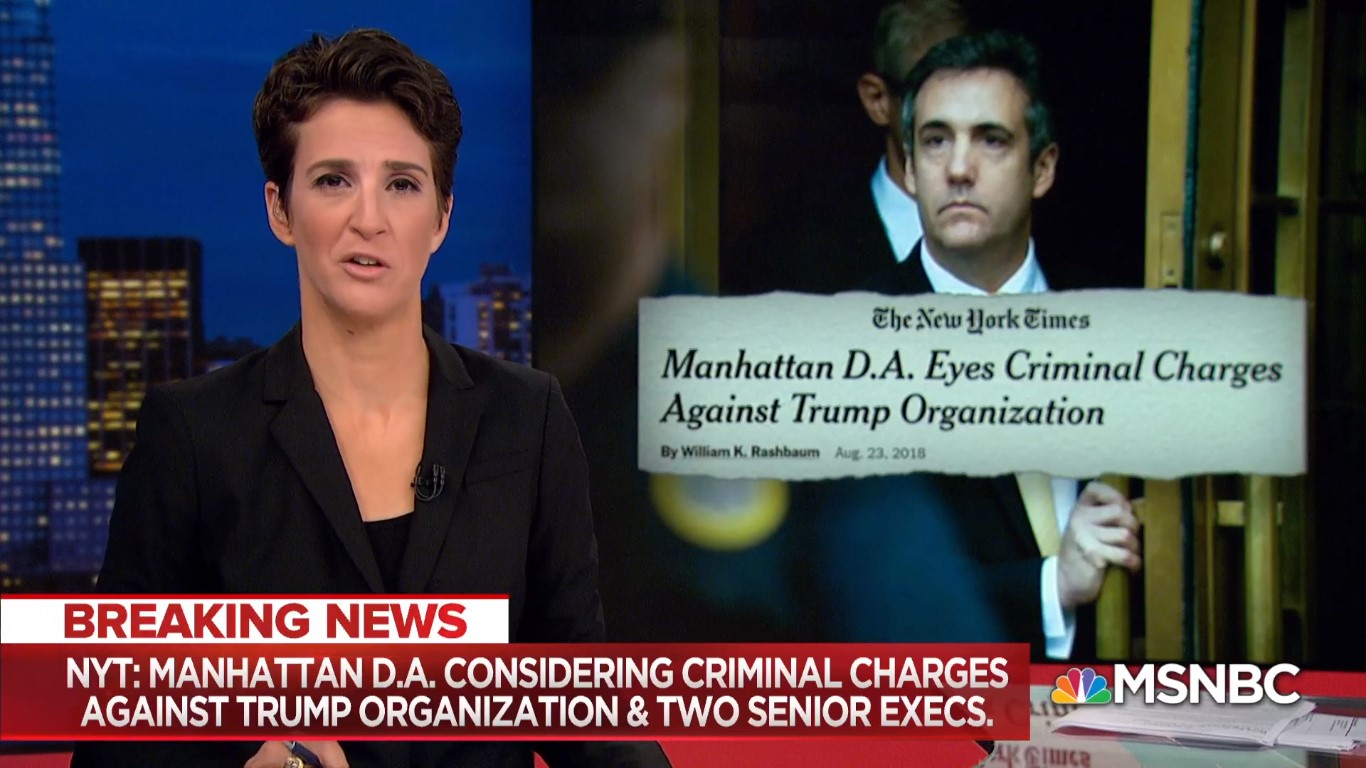 For the third consecutive evening following the double-barrel bombshell of Michael Cohen's guilty plea and Paul Manafort's conviction, MSNBC topped cable news network in primetime and The Rachel Maddow Show was the most-watched program in all of cable.
According to Nielsen, MSNBC led across the board with 2.869 million total viewers and 560,000 in the key 25-54 demographic during the 8 PM to 11 PM primetime hours Thursday night. CNN came in second in the demo with 547,000 while averaging 1.514 million viewers overall. Fox News pulled in a total audience of 2.576 million and 490,000 in the key demo.
Maddow easily led all of basic cable in total viewers with 3.674 million while placing first in cable news in the demographic (758,000). Maddow's 9 PM competitor, Fox News' Hannity, finished second in total viewership (2.935 million) while placing third in the key demo (572,000).
The other cable news 9 PM program, CNN's Cuomo Prime Time, ended up with a rare victory over Hannity as it finished second overall in the demographic (591,000) while leading the network in total viewership with 1.601 million.
MSNBC's The Last Word with Lawrence O'Donnell enjoyed another strong evening as it finished third in total viewers (2.774 million) and fifth in the demo (533,000).
Besides Cuomo, CNN boasted another top-five program in the 25-54 demo as the 10 PM broadcast of CNN Tonight drew 564,000 in the metric, placing fourth overall.
Fox News did experience a bit of a bump from Ainsley Earhardt's newsmaking interview with President Trump that aired during its morning program Fox and Friends. F&F averaged 1.501 million total viewers and 350,000 in the demo on Thursday, which was up seven percent and 20 percent against this month's average.