Lara Trump Reacts To Omarosa's Latest Tape Release: 'I Hope It's All Worth It For You'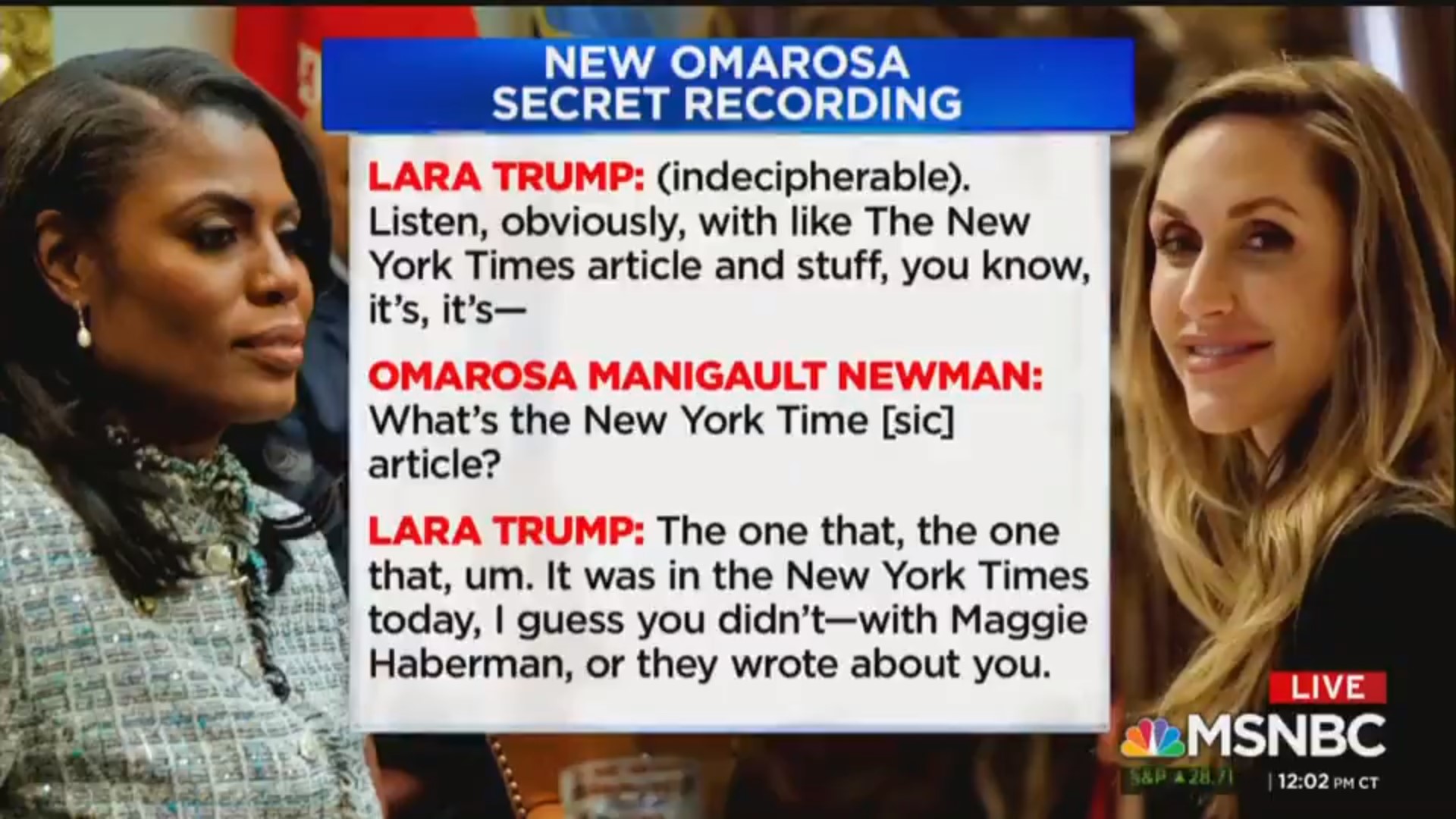 Shortly after fired White House aide and former Apprentice contestant Omarosa Manigault Newman shared a secret recording of her and presidential daughter-in-law Lara Trump discussing a job offer with the Trump campaign, Ms. Trump released a statement responding to the tape release.
"From the beginning of my father-in-law's campaign, Omarosa was welcomed into our family as a trusted friend and confidant," she wrote in the statement released by the Trump campaign. "On the Women for Trump tour, including Omarosa, we formed a sisterhood bond that is unlike any I have experienced in my life. We toured together, laughed together, and worked really hard towards a common goal. We never would have imagined that one of our own was secretly recording all of our private conversations."
She continued, "When Omarosa was fired by the White House Chief of Staff in December of 2017, my entire family was concerned for her because we had no idea about the basis of her dismissal. We still wanted her on our team because we cared so much about her personally. That's why I reached out to offer her a position with the 2020 Trump Campaign before we knew anything about the gross violations of ethics and integrity during her White House tenure. Another one of Omarosa's 'bombshell' tapes is a fraud. The discussions about a position with the campaign took place in numerous phone calls over the course of several weeks."
The wife of Eric Trump then ended the statement on a personal note that included a Trumpian shot at the reality TV villainess.
"Woman to woman, I shared a connection with Omarosa as a friend and a campaign sister, and I am absolutely shocked and saddened by her betrayal and violation on a deeply personal level.
I hope it's all worth it for you, Omarosa, because some things you just can't put a price on."
In the latest secret recordings shared by Omarosa, Ms. Trump could be heard offering the one-time White House staffer a job with the campaign that paid Omarosa $15,000 a month — the same amount that she was making in her administration job when she was fired. Manigault Newman claims the conversation took place just days after Chief of Staff John Kelly canned her.
In her upcoming tell-all and in Thursday's interview with MSNBC, Omarosa contends that the job offer was equivalent to "hush money" to prevent her from saying anything negative about the president. On the tape, Lara Trump could be heard bringing up a New York Times article that suggested Omarosa was willing to dish dirt on the Trump White House, telling the reality star that everything would need to be "positive" if she was given the position.