Tucker Carlson Insists That White Supremacy Isn't Prevalent: 'It's Not Even A Meaningful Category'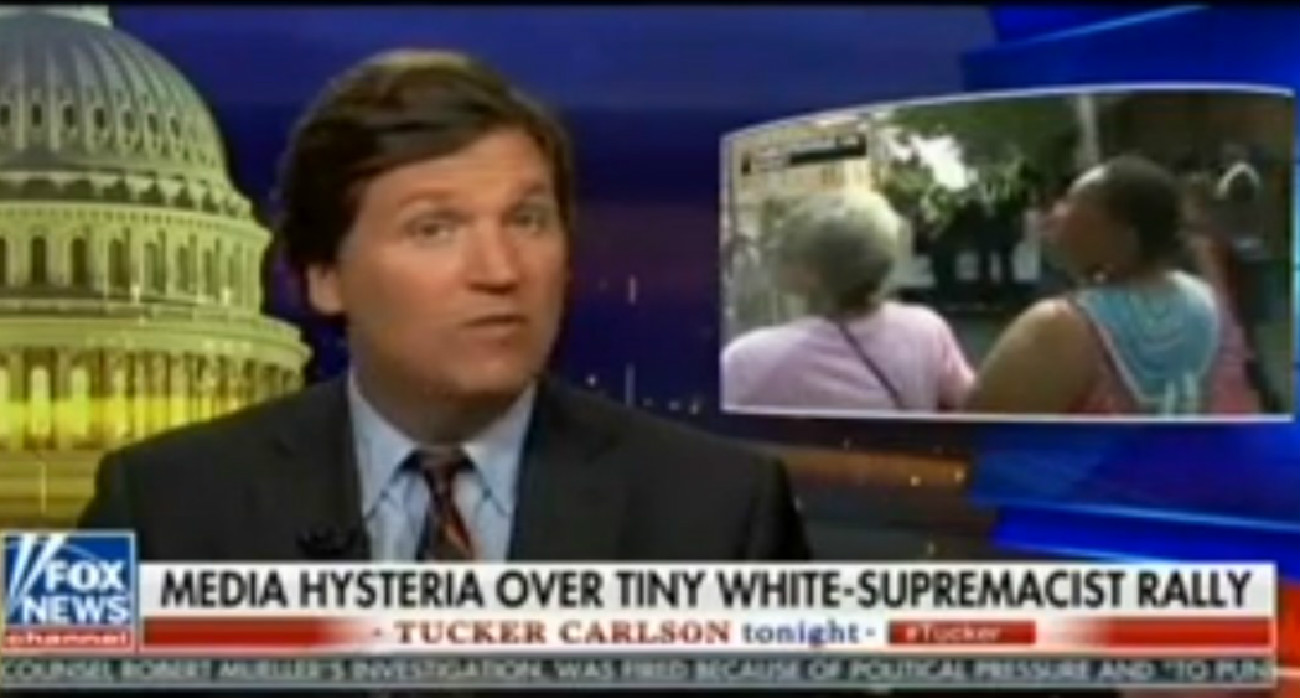 A day after only a couple of dozen white supremacists showed up in Washington for the Unite the Right anniversary rally, Fox News host Tucker Carlson began his program by railing against the media for its coverage of the event while claiming that white supremacy isn't really a thing in America.
"Yesterday was the year anniversary of the Unite the Right rally in Charlottesville, Virginia, in which a woman was fatally struck by a car that was driven into the crowd," Tucker began, seemingly downplaying the violence caused by white nationalists last year.
After saying the mainstream media played up Sunday's rally to the point that everyone thought "thousands of hooded Klansmen showing up on horseback" — actually, it was widely expected that the white nationalist turnout would be small — Carlson then went on to tell his audience just how uncommon white supremacists are in this country.
"White supremacy is just that prevalent in America, they tell us, it's everywhere — except it's not, that's a lie," the conservative commentator declared. "White supremacy is not ubiquitous in America, it's not a crisis. It's not even a meaningful category. It is incredibly rare."
He continued, "You could easily live your entire life in this country without meeting a single person who believes anything like that. Most of us have lived lives like that, I have. In fact, this is a generous, tolerant country, it always has been that. People who tell you otherwise are either delusional or trying to control you with fear, likely both."
While Tucker — a man who has been accused by many of pushing white nationalism on his show — says that he has lived his life "without meeting a single person who believes anything like that," a rundown of his guest lists would tell us otherwise. He recently gave a sympathetic interview to far-right, ethno-nationalist extremist Tommy Robinson. Two of his frequent guests are Islamophobe Katie Hopkins and Mark Steyn, who once praised 'White Genocide' novel The Camp of the Saints on Carlson's program. Tucker's also promoted and defended the social media platform Gab, which is seen an online gathering place for neo-Nazis and anti-Semites.
Finally, while Carlson insists that white supremacy is a non-issue in this country, the Southern Poverty Law Center states that there are at least 100 white nationalist groups in the United States with dozens of others adhering to a white identity ideology.
Watch the clip below, via Media Matters.