C-SPAN Host Has No Reaction To Caller's Threat To Shoot Don Lemon And Brian Stelter [UPDATE]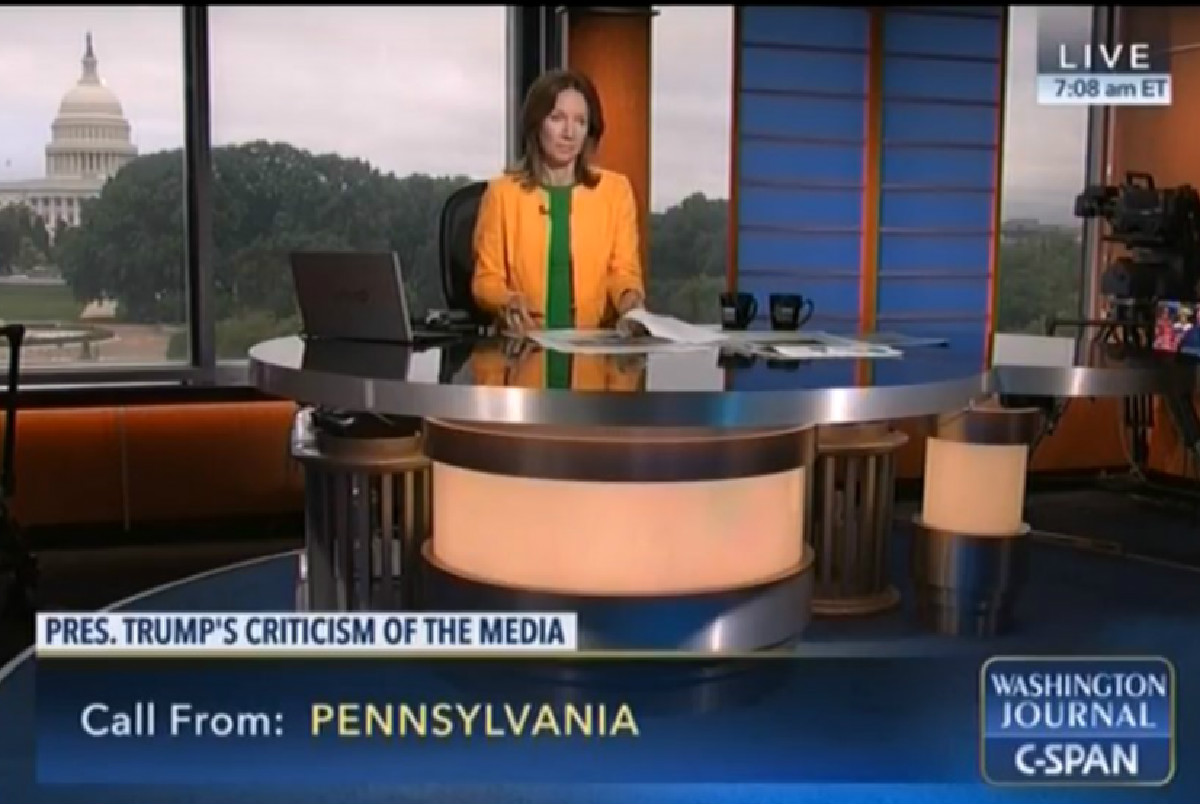 During his Sunday morning broadcast, Reliable Sources host Brian Stelter played a clip of a C-SPAN caller making an overt death threat to him and CNN anchor Don Lemon. Calling into C-SPAN's daily call-in show Washington Journal on Friday, "Don" had the following to say to host Greta Brawner about the CNN personalities:
"They don't even know these Americans out here and they are calling us racists because we voted for Trump?! Come on! Give me a break. They started the war. I see them, I'm going to shoot them, bye."
One thing that stands out when watching the clip in its entirety, however, is Brawner's reaction to the caller. Having introduced him as someone who supports President Trump's attacks on the media, she seemed completely unphased by what was for all intents and purposes an overt death threat to two journalists. Once "Don" was done, Brawner's only response was to deliver a little technical PSA.
"A reminder to you and others," she said. "You have to turn down that television and listen and talk through the phone."
And with that, she immediately moved on to the next caller, which was Tom from Virginia.
While C-SPAN hosts — especially during call-in shows — are known for their dispassionate handling of the hot-button political topics of the day in an attempt to appear unbiased and non-partisan, one would think a threat to kill reporters would at least warrant an on-air reprimand and disclaimer that comments like that are inappropriate and should be taken seriously.
We have reached out to C-SPAN for comment on Brawner's immediate reaction, whether she addressed the call elsewhere, and if they contacted law enforcement about the threatening call.
UPDATE: Per HuffPost's Hayley Miller, a C-SPAN spokesperson said the network reported the call to the FBI on Friday. The spokesperson also stated that Brawner did not hear the caller and would have "said something" if she did.
C-SPAN released a public statement on Monday afternoon addressing the call. The network stated that Brawner did not hear the threat from the caller and the call was later referred to the FBI.
STATEMENT FROM C-SPAN ABOUT AUGUST 3, 2018 VIEWER CALL TO WASHINGTON JOURNAL

C-SPAN's guidelines for the Washington Journal can be found by clicking on the FAQ link here: https://t.co/Qx2bkhPiok. pic.twitter.com/685spL9mg3

— CSPAN (@cspan) August 6, 2018
Watch the clip above, via C-SPAN.