As Conservative High-Schoolers Chant 'Lock Her Up,' Jeff Sessions Laughs And Repeats Phrase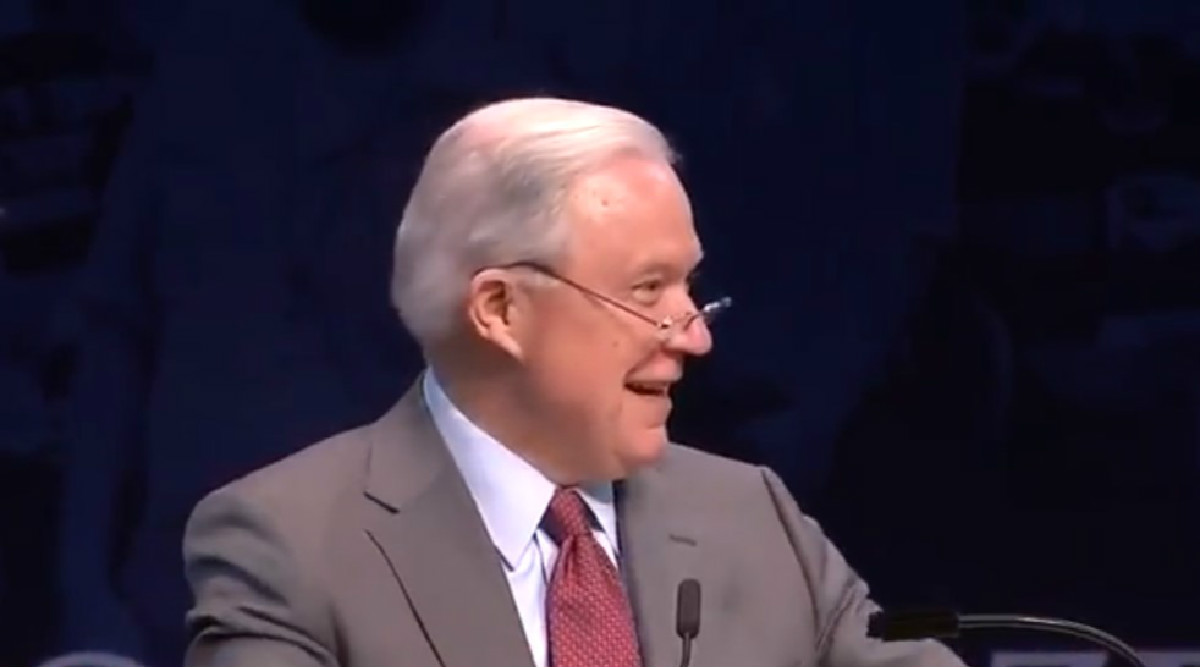 Can't you just feel the civility?
Appearing at right-wing campus organization/own the libs factory TPUSA's High School Leadership Summit Tuesday morning, Attorney General Jeff Sessions delivered a speech in which he slammed liberal "snowflakes" for needing "safe spaces" following the 2016 election.
After telling the group of conservative high school kids how much he loves them, the crowd broke out into a "Lock Her Up" chant. In case you have amnesia, this was the rallying cry of Trump supporters during the 2016 campaign who wanted to see Democratic presidential nominee Hillary Clinton tossed in jail — a chant that has lived on into Trump's presidency.
So, how did the head of the nation's Department of Justice react to a group of teenagers calling for a private citizen and Trump political rival to be locked up? He laughed and repeated the phrase, that's how.
Reporters and journalists were naturally taken aback by the attorney general's actions.
JUST IN: Attorney General Jeff Sessions laughs and repeats "Lock her up" as audience at a high school leadership summit here in DC begins chanting those words.

— Peter Alexander (@PeterAlexander) July 24, 2018
AG Jeff Sessions is speaking in front of high school students in DC this morning. The students began chanting "Lock Her Up". Sessions repeated the phrase "Lock Her Up" with a chuckle.

It is July 24th 2018…

— Jason Hoffman (@JasonHoffman93) July 24, 2018
Here's Attorney General @jeffsessions having a laugh and repeating a "lock her up!" chant during a speech to students. Disgraceful. pic.twitter.com/lGXRl7bS7N

— Aaron Rupar (@atrupar) July 24, 2018
Just Jeff Sessions, the top US law enforcement official, laughing and joining in on a chant about imprisoning the president's political rival. pic.twitter.com/MMqm0IwFO3

— David Mack (@davidmackau) July 24, 2018
This morning at an event in DC, Attorney General Jeff Sessions joined high school students in a "Lock Her Up" chant.

Donald Trump was elected 623 days ago.

— Gary Grumbach (@GaryGrumbach) July 24, 2018
Watch the clip above, via CNN.