Fox News Thought They Booked Pro-ICE Democrat, Gets Fiery Anti-Trump Candidate Instead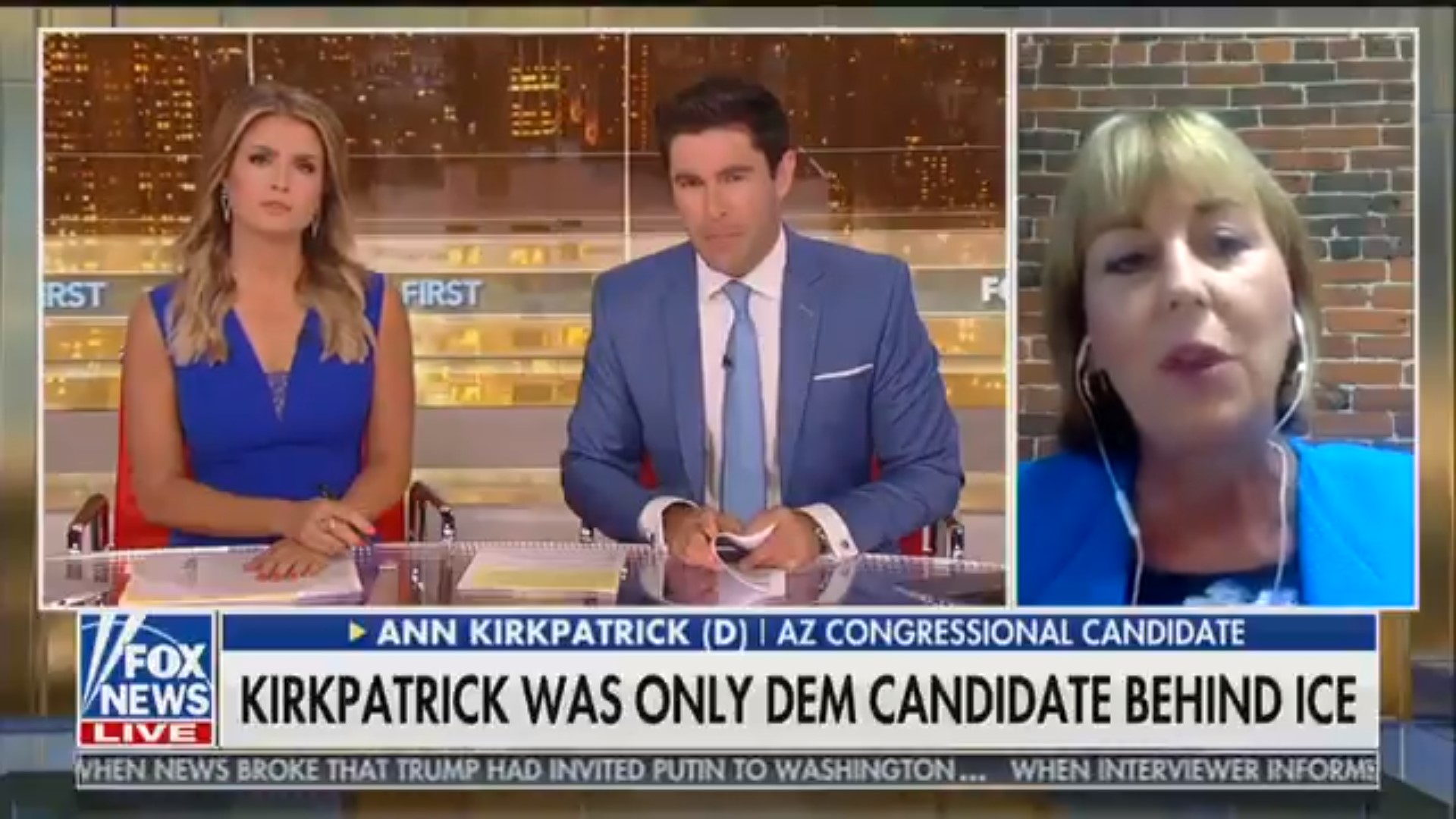 This was…awkward.
Early Monday morning, the hosts of Fox & Friends First believed they were bringing on Arizona Democratic congressional candidate Ann Kirkpatrick to talk about her support for ICE, which led to her being booed at a primary debate last week. Instead, they somehow found themselves with another congressional candidate who attempted to use her airtime to rail against President Donald Trump's immigration policies.
"Good morning. I'm actually here to speak directly to Donald Trump," Barbara L'Italien, a Massachusetts state senator running for Congress, told the hosts when they threw it to her, thinking she was Kirkpatrick.
L'Italien then introduced herself and began delivering her personal message to the president, stating that "we have to stop abducting children and ripping them from their parents' arms, stop putting kids in cages, and stop making 3-year-olds defend themselves in court."
As the Massachusetts lawmaker kept talking about the family separation policy, hosts Rob Schmitt and Jilian Mele were obviously still confused as to who they were actually speaking to and attempted to interject in the discussion.
"Again my name is Barbara L'Italien and I refuse to believe that our only options are open borders or traumatizing children," the Congre3ssional candidate said when she was finally cut off.
"That didn't go as planned," host Rob Schmitt stated as the program went to break. Following the break, Mele and Schmitt told viewers that they thought Kirkpatrick was going to be on the show and "somebody else stepped in front of the camera."
"We are working to figure out how that happened," they added.
L'Italien's campaign later told ThinkProgress that the network erroneously reached out to their staffers thinking they worked for Kirkpatrick, calling it a "failure of due diligence."
"Fox News is where you go when you want to talk to Donald Trump, and Barbara felt she had an obligation to her constituents to take advantage of that opportunity," the campaign said. "But this would not have happened to an actual news station. Fox's lack of attention to the facts normally is a disaster for the country, it just so happened that today it was embarrassing for them."
Both Mele and Schmitt have commented on Twitter about the situation.
Fun morning. We expected democrat Anne Kirkpatrick (left) but got hijacked by Democrat @teambarbara w/ a publicity stunt 🙄 pic.twitter.com/s5bZ2HOrcz

— Rob Schmitt (@SchmittNYC) July 23, 2018
I was stuck in an elevator before work then I get to work and this happens. One heck of a Morning so far. By the way, kind of a weak move to do this on live TV. https://t.co/53YLozNChP

— Jillian Mele (@jillianmele) July 23, 2018
Meanwhile, Fox & Friends First EP Desiree Dunner had the following to say regarding the incident:
"This morning we invited Congresswoman Ann Kirkpatrick to appear on Fox & Friends First through her press contact on file Joe Katz, who accepted the invitation on Kirkpatrick's behalf. Katz followed with an email confirming the segment, which also included background information and a campaign logo for Ann Kirkpatrick. During the actual segment, Barbara L'Italien, appeared on camera instead of Kirkpatrick. Despite speaking to producers prior to the interview, L'Italien did not identify herself as anything other than Kirkpatrick until she was live on air, at which point we ended the interview."
Watch the clip below.
Fox & friends is so dumb they had on the wrong politician this morning 🤦🏽‍♂️

They thought they had a Ann Kirkpatrick but they got @teambarbara who hijacked their show to bash Trump. 🤣🤣🤣 pic.twitter.com/9nHkmBUhq1

— Alex Morash (@AlexMorash) July 23, 2018