Reporter Defers To NBC News' Hallie Jackson After Sarah Sanders Tries To Avoid Follow-Up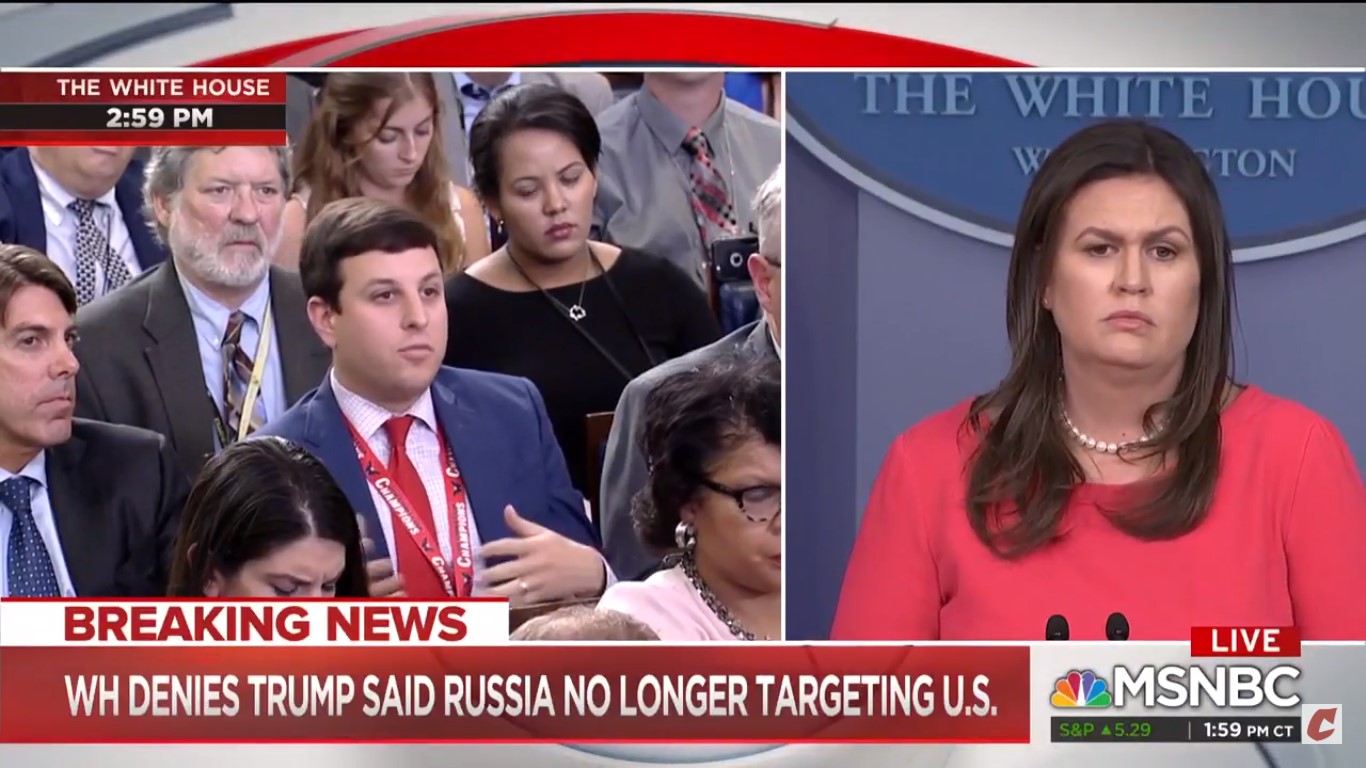 On Wednesday, White House Press Secretary Sarah Huckabee Sanders held her first on-camera press briefing since July 2. Since then, the president has nominated Brett Kavanaugh to the Supreme Court, crapped all over America's allies in Europe, sided with Vladimir Putin over the intelligence community, tossed out a ludicrous walk-back of those embarrassing comments, parroted Putin's talking points regarding Montenegro and said he doesn't believe Russia is targeting America's elections anymore.
So, yeah, it was clear coming in that Sanders was going to get pressed on a lot of topics. And it was also clear she was going to utilize her regular assortment of evasive tactics and dodges to get out of giving the press corps specific answers, figuring the reporters wouldn't team up to make sure follow-ups were asked.
Unfortunately for Sanders, The Hill's Jordan Fabian made sure NBC News' Hallie Jackson got to continue along her line of questioning when Sanders attempted to wriggle out of a follow-up.
After Jackson grilled Sanders on her earlier claim that Trump was saying "no" to any further questions rather than saying he doesn't believe Russia is interfering anymore, the MSNBC anchor wanted to know how the president has any credibility left if the White House has to constantly clean up his comments. Sanders gave a curt response that didn't really answer Jackson's question before turning to Fabian.
Jackson, however, wanted a quick follow-up. While Sanders refused and talked over the NBC News correspondent in the hopes that Jackson would give up and let Fabian have a question, The Hill reporter turned the tables back on Sanders, deferring to Jackson. A clearly irritated Sanders was then grilled again by Jackson, much to her chagrin.
And what did Jackson want to ask Sanders? She wanted to know if the press secretary could provide any public instances of Trump criticizing Putin, something Sanders answered by pointing to the president saying that Russia interfered in the 2016 election as an instance of a "big callout" by Trump. (Obviously, that is a terrible answer, but she was forced to put that out there.)
Following the moment of solidarity displayed by Fabian, reporters took to Twitter to applaud his actions, including Jackson herself.
In case anyone was wondering, @Jordanfabian is the goddamn hero who passed the baton back to @HallieJackson — if you see him buy him all the beers. We need more of that.

— Andrew Feinberg (@AndrewFeinberg) July 18, 2018
Wow–a reporter (Jordan?) just deferred to Hallie Jackson so that Jackson could finish a question that @presssec didn't want to answer. Rare bit of teamwork in the WH briefing room.

— Paul Farhi (@farhip) July 18, 2018
The Hill's @Jordanfabian just handed his opportunity to question Sanders to NBC's @HallieJackson, after Sanders said she would not answer Hallie's question. Class act, @Jordanfabian. pic.twitter.com/BZI1L0gqPf

— Christina Wilkie (@christinawilkie) July 18, 2018
So that was @Jordanfabian who threw his question back to @HallieJackson as she tried to ask a follow up but Sanders was trying to move on.

— Hadas Gold (@Hadas_Gold) July 18, 2018
It happened! @PressSec tried to avoid @HallieJackson's follow-up questions by calling on The Hill's @JordanFabian. But Fabian deferred to Jackson, so she could follow up. So many viewers have wanted to see this happen… unity… and today it did.

— Brian Stelter (@brianstelter) July 18, 2018
Classy move by @Jordanfabian. And a big thanks to him from our team at @NBCNews. Follow-up questions are a part of our jobs, and it's helpful to be able to ask them. https://t.co/e1y57iBFTq

— Hallie Jackson (@HallieJackson) July 18, 2018
Watch the clip above, via MSNBC.