Rick Wilson: 'Stephen Miller And…The White Nationalist Faction' Want Images Of Crying Migrant Children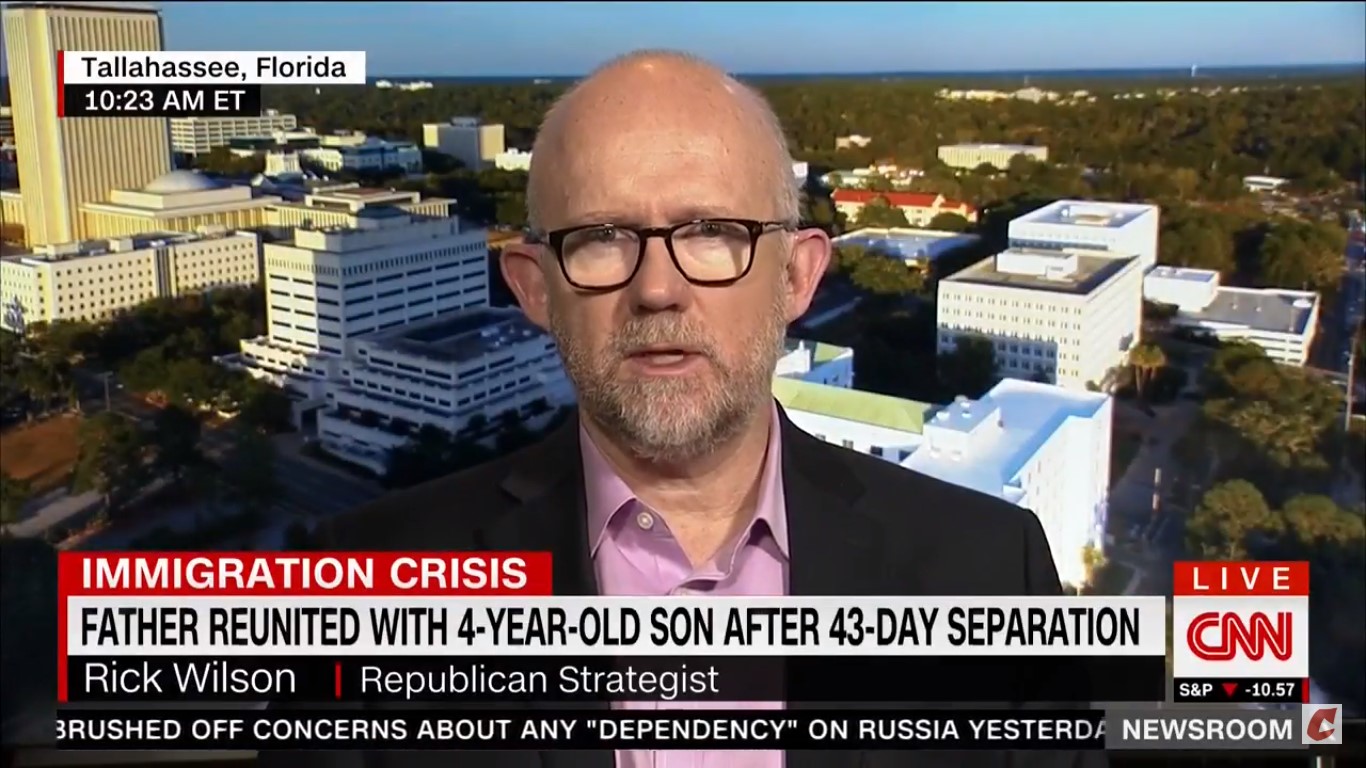 Tuesday came and went with the federal government missing the deadline to reunite migrant children under five years old with their families from whom they were separated. While the majority of the 102 young children still had not been reunited with their parents by the end of the date set by a federal judge, over 30 had been, resulting in emotional and heartbreaking images of parents finally seeing their separated kids after weeks of separation.
During a CNN panel discussion on the optics of the Trump administration's "zero tolerance" policy and whether they could haunt the White House, #NeverTrump Republican strategist Rick Wilson insisted that this is exactly what the administration wants.
"Well, I think the pictures of the cruelty of this administration are a very deliberate part of this," Wilson told anchor Poppy Harlow. "They're a feature, not a bug, of the Trump administration's policy."
He continued, "And so I think that we're in a situation where no one inside the administration is unhappy about these things because they're only talking to their base. They're only talking to their core supporters. Their core supporters want anybody who's darker than a latte deported. They're not happy about immigration of any kind. They don't believe in the asylum process. They want to take and separate these families as a matter of deterrence and as a sort of theater of cruelty. I think it really doesn't speak well to their moral standing."
Harlow interjected, noting that it was "quite an argument" Wilson was making regarding the Trump administration wanting to see images of distraught immigrants and family separation. "They want it to play out like this — really?" Harlow asked.
"Yeah. There's been some reporting on this," Wilson replied. "Stephen Miller and the guys in the white nationalist faction of the party are very happy about this. They love the whole optics of this cruel sort of exercise."
Democratic strategist and CNN contributor Joe Trippi went on to agree with Wilson that the administration set out to enact a cruel policy and wanted their base to see it. He also added that the administration was extremely incompetent in implementing their policy and that restaurants have coat check policies better than the administration's zero tolerance policy.
Watch the clip above, via CNN.