CNN's Stelter: If Fox News Ignores Darla Shine Story, It's 'Another Sign Of The Fox/Trump Merger'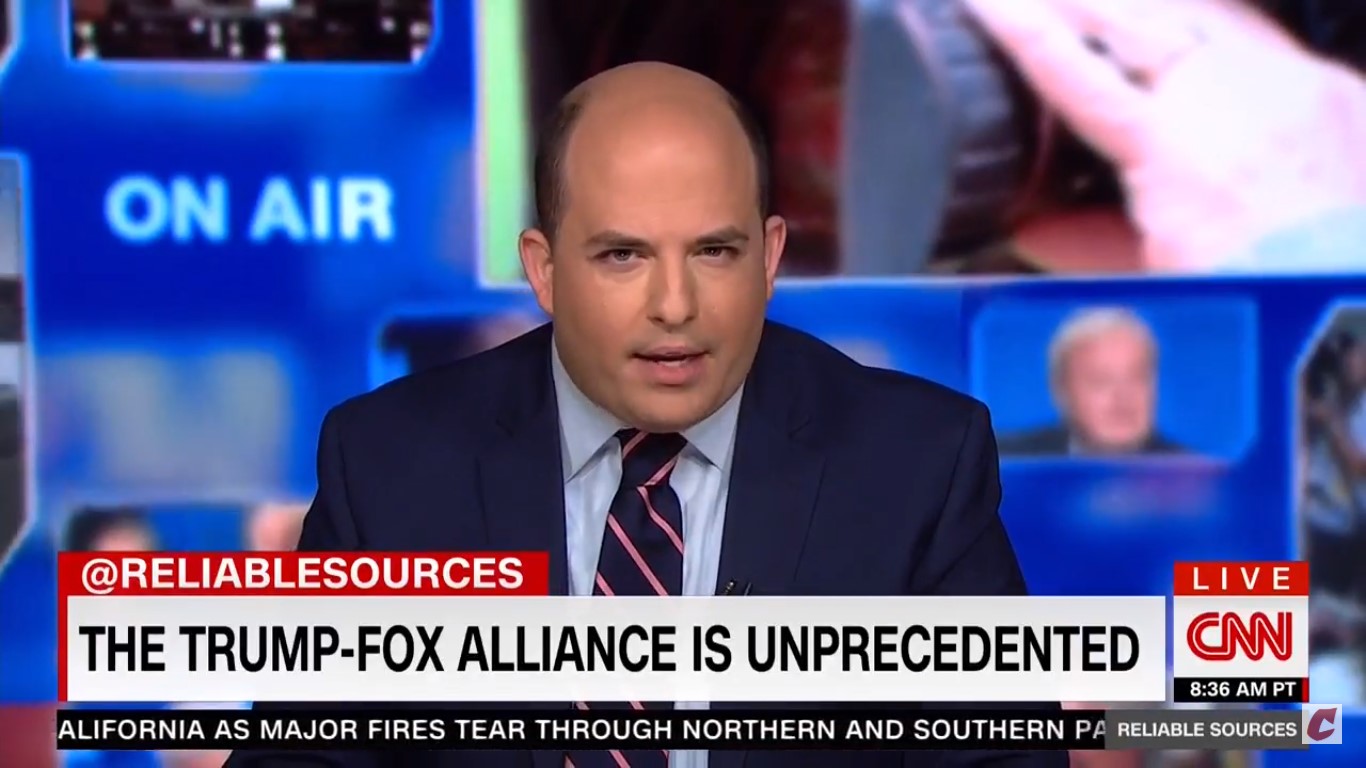 Over the past few days, both HuffPost and Mediaite have published in-depth reports on the social media activity of Darla Shine, wife of new White House communications chief and former Fox News co-president Bill Shine. HuffPost's Yashar Ali found that Mrs. Shine frequently discredited sexual harassment accusers on Twitter while spreading anti-vaccination theories. Meanwhile, Mediaite's Caleb Ecarma unearthed a whole slew of racist tweets from her since-deleted account.
During Sunday's broadcast of Reliable Sources, CNN senior media correspondent Brian Stelter discussed the symbiotic relationship between Fox News and the Trump administration and noted how it has grown even closer with Shine's hiring. And he challenged Fox News reporters to press the White House on the recent controversies surrounding Shine and his wife, noting that if they didn't it would point to a Trump/Fox union.
Highlighting that Fox has reporters who do their best, Stelter said that the network is largely defined by its Trump "cheerleaders" who have a close relationship with the president. He went on to point out that Jesse Watters has dined with Trump at the White House, Kimberly Guilfoyle is currently dating Trump's son, Pete Hegseth and Jeanine Pirro have been considered for administration jobs and the White House has poached several Fox News personalities to fill out its staff. He then brought up Shine's recent hiring.
"For 20 years Shine was a Fox News producer and lieutenant of Roger Ailes," the media critic stated. "Shine was credibly accused of covering up Ailes's misdeeds. He was named in multiple lawsuits. Shine denied all wrongdoing but left Fox under the cloud of scandal last year."
After explaining that Fox News star and White House shadow chief of staff Sean Hannity lobbied Trump to hire Shine and recapping the Darla Shine Twitter controversy, Stelter issued his challenge to Fox's hard news team.
"Now the man in charge of White House comms has gone silent," Stelter declared. "CNN has asked the White House for comment but there hasn't been any. Surely they are not just going to lay low and wait for this to blow over, are they?"
He continued, "Surely Fox News reporters will press the White House for comment, right? If they don't do that, if Fox ignores this story, it will be another sign of the Fox/Trump merger."
Watch the clip above, via CNN.