WATCH: Some Dude Shushes Jim Acosta As He Shouts 'Will You Stop Calling Press The Enemy' To Trump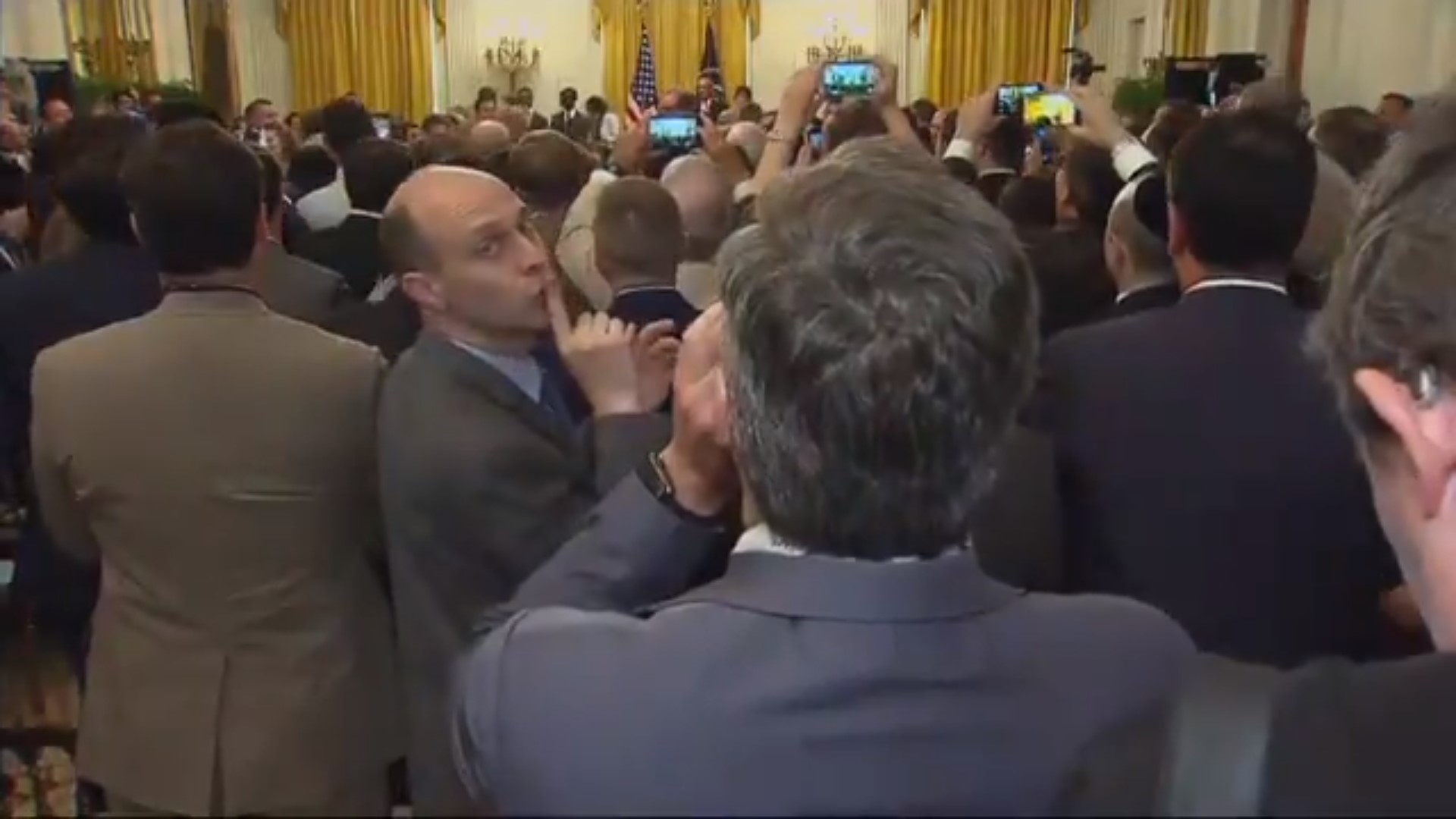 After ignoring shouted questions from reporters about the horrific Capital Gazette shooting yesterday afternoon, President Donald Trump addressed the newsroom tragedy that resulted in the loss of five lives. At the beginning of an economy speech, POTUS said the "attack shocked the conscience of our nation and filled our hearts with grief. Journalists, like all Americans, should be free from the fear of being violently attacked while doing their job."
The president, however, did not make any mention of his own harsh rhetoric towards the media — who he regularly refers to as "fake news" and the "enemy" of the American people — and his staffers and aides have also avoided answering any questions related towards Trump's repeated attacks on the free press. Therefore, at the end of the president's speech today, CNN's Jim Acosta yelled out at Trump, asking him if he'd stop calling the press the "enemy of the people."
Below is video of the encounter, via Politico:
"Mr. President, will you stop calling the press the enemy of the people," CNN Journalist Jim Acosta shouted at the end of Trump's speech pic.twitter.com/FqWT5afwUV

— POLITICO (@politico) June 29, 2018
One thing that stands out as the CNN correspondent shouts his questions at the president is the guy immediately in front of Acosta who repeatedly turns around and "shushes" the reporter. Mind you, this was at the end of Trump's speech when he was receiving applause from those gathered in the room, so it wasn't even like Acosta was interrupting the speech. But the guy just didn't want to hear it from Acosta, who has been highly criticized by Trump and his supporters for a while now. (Remember when Trump labeled Acosta "Fake News"?)
I mean, just look at this dude: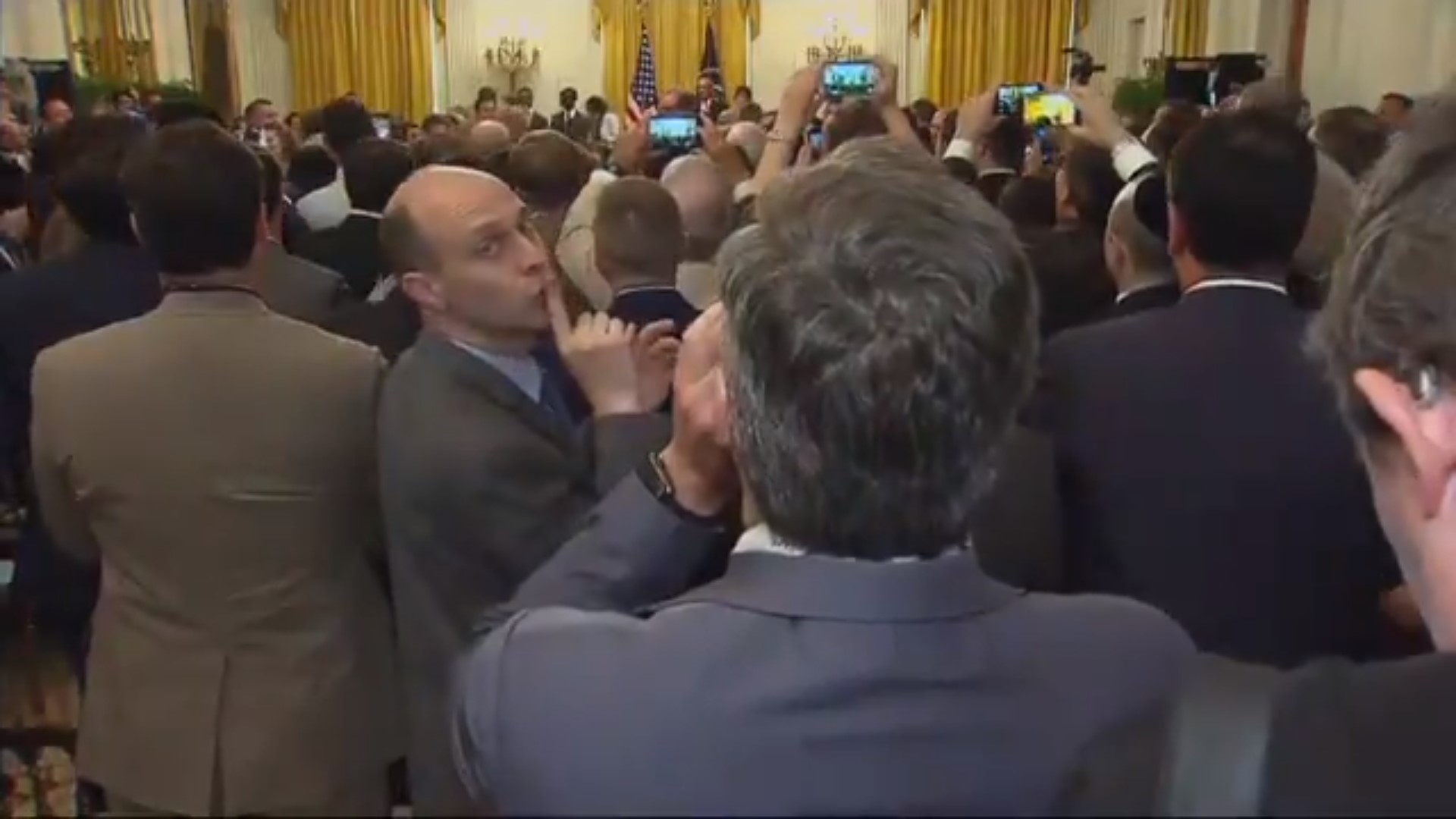 Following the speech, Acosta took to Twitter to state that he attempted to get the president to answer whether he'd stop his media attacks while noting that folks tried to shut him up.
I tried to ask the president if he would stop calling us the enemy of the people. He did not respond.

— Jim Acosta (@Acosta) June 29, 2018
We also had a few folks who shushed is in the audience. Of course we are not going to be shushed. https://t.co/ZbSYaTVYti

— Jim Acosta (@Acosta) June 29, 2018
Also, as you'd expect, right-wing Twitter slammed Acosta for yelling out at the president, calling him a grandstander while claiming his tweets were an exaggeration.
This is why people don't trust the media. Jim Acosta says he 'asked' the President a question and he wouldn't answer.

The reality: he was shouting in a loud room from fifty feet away. pic.twitter.com/JoBVvxESy7

— Cabot Phillips (@cabot_phillips) June 29, 2018
.@Acosta is not doing anything to help bolster the media's favorability with the American people. pic.twitter.com/4NLIyr8fhU

— Joe Walsh (@WalshFreedom) June 29, 2018
Former CNN Senior Digital Producer slams Jim @Acosta over his antics. pic.twitter.com/nur54y2tg7

— Ryan Saavedra 🇺🇸 (@RealSaavedra) June 29, 2018
Jim Acosta shows his jackass again… [VIDEO] https://t.co/eHWCoYSjQL pic.twitter.com/LND6NRGNZo

— ⚡ Right Scoop ⚡ (@trscoop) June 29, 2018
At the same time, Acosta received plaudits from others:
That's our boy, @Acosta! https://t.co/2K01yBI1Py

— John Aravosis (@aravosis) June 29, 2018
Way to go Jim @Acosta! https://t.co/VFbA8RgdQZ

— rolandsmartin (@rolandsmartin) June 29, 2018
Thank you @Acosta (and who's that guy shushing you?) https://t.co/ptWUjt2yv5

— Jenn Taylor-Skinner (@JTaylorSkinner) June 29, 2018
As of now, we do not know the identity of the Acosta shusher.