Fox Contributor: Maxine Waters Went 'Too Far' So Dem Leaders Are 'Pulling Her Chain Back'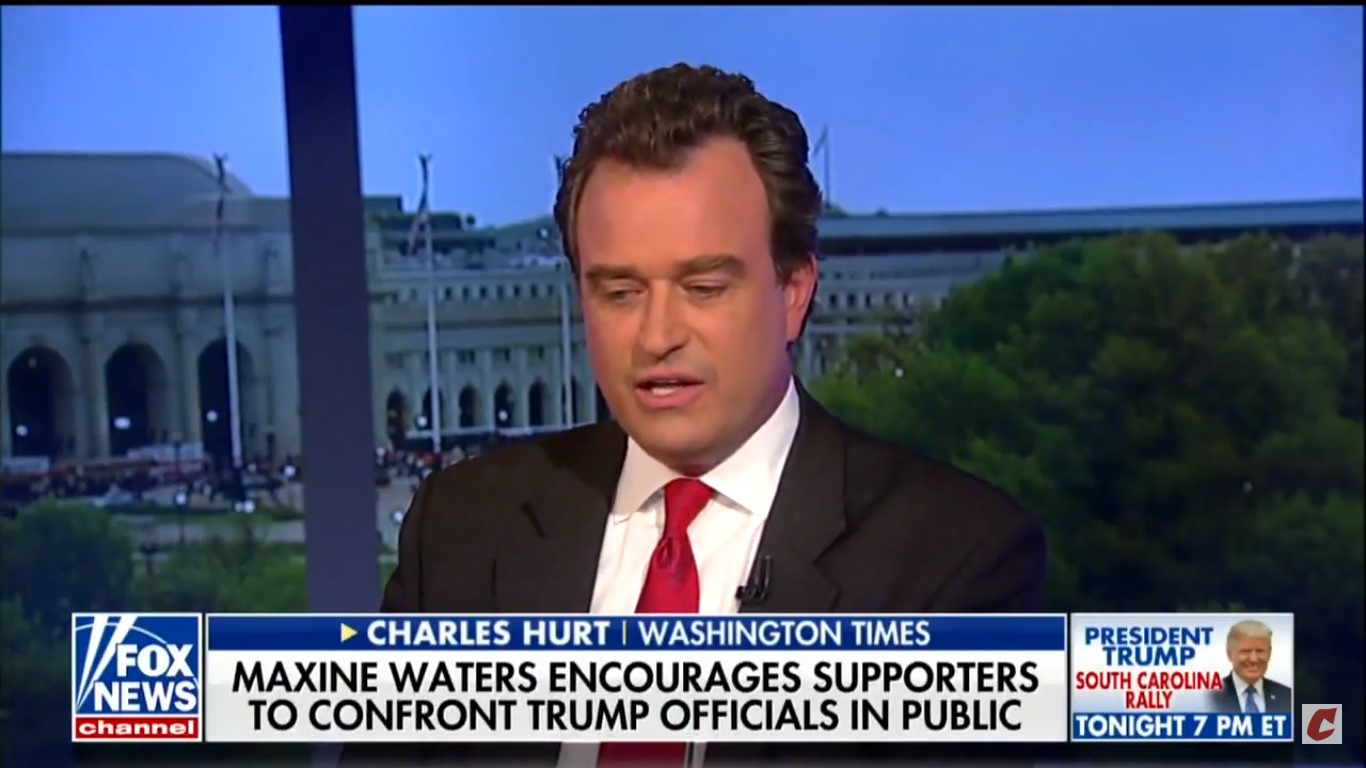 Here we go again.
A day after Fox News contributor David Bossie told a black guest he was out of his "cotton-picking mind" and days following Rachel Campos-Duffy's ill-advised "projects remark," Fox News contributor and Washington Times columnist Charlie Hurt made remarks that I'm sure he'd like to take back in retrospect.
Speaking about the firestorm over Democratic Rep. Maxine Waters' call for public harassment of Trump administration figures and President Trump's subsequent tweet in which he threatened Waters, Hurt noted that the California congresswoman had been rebuked by leaders of her party over her comments.
"You know you have probably gone a little too far if you have Chuck Schumer and Nancy Pelosi sort of pulling her chain back a little bit there on her — on Maxine Waters' remarks," Hurt said during a panel discussion on Fox News' Special Report.
Yep, he just said a black woman was having her chain pulled back a bit by Democratic leaders because she got out of line. Oof.
Anyway, Hurt went on to say that Waters calling for Trump supporters to be pestered in public is going to hurt the Democratic Party with centrist voters and that "most voters are going to be sort of forces" towards Trump. Meanwhile, anchor Bret Baier said that Democrats "go over their skis sometimes" whenever they are looking at a political upside. Hurt's "chain" comment, however, apparently didn't raise any eyebrows on the set.
In the wake of Bossie's comments, The Daily Beast reports that he has been suspended by Fox for two weeks. Fox has yet to confirm that suspension to Contemptor. Campos-Duffy has stood by her remarks, stating she did speak to an African-American who told her migrant children detention centers were better than the projects they grew up in.
Watch the clip above, via Fox News.