Hannity Most-Watched Cable News Show Thursday, Maddow Second In Total Viewers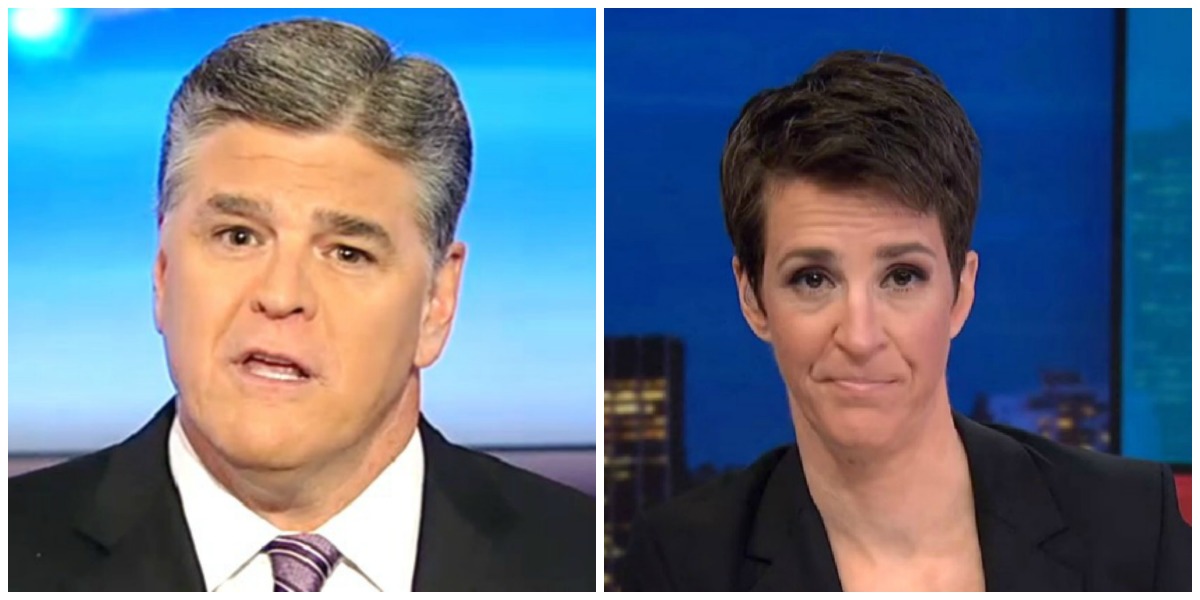 Fox News was once again the top-rated cable news network across the board on Thursday. Besides leading cable news in total viewers and the key 25-54 demographic, Fox boasted the top three programs in the demo. Meanwhile, MSNBC's The Rachel Maddow Show was the second most-watched program overall in total viewers.
According to Nielsen, Fox News averaged 2.778 million total viewers and 559,000 in the demographic during the 8 PM to 11 PM primetime hours. MSNBC pulled in a total audience of 2.221 million and 428,000 in the key demo. CNN attracted 1.057 million viewers overall and 331,000 in the 25-54 demo.
In daytime (9 AM to 5 PM), Fox News captured 326,000 demo viewers and a total audience of 1.506 million. CNN drew 178,000 in the demographic and 694,000 total viewers. MSNBC averaged 922,000 viewers overall and 164,000 in the key demo.
Fox News' Hannity was the most-watched cable news show in both total viewership (3.158 million) and the demo (621,000). Maddow placed second overall in total viewers (2.685 million) and fourth in the demographic (506,000). Fox's The Ingraham Angle finished second in the demographic (531,000) and third in viewers overall (2.644 million).
Fox's Tucker Carlson Tonight took fourth place in total viewers (2.532 million) and third in the key demo (524,000). In the 11 PM hour, MSNBC's The 11th Hour led in total audience (1.651 million) while Fox News @ Night came out on top in the demo (343,000).
The top-rated CNN program was Cuomo Prime Time, which pulled in 1.138 million total viewers. the 10 PM broadcast of CNN Tonight led in the demo with 323,000.