Alan Dershowitz Takes Heat Over Complaints That Paul Manafort Was Wrongly Jailed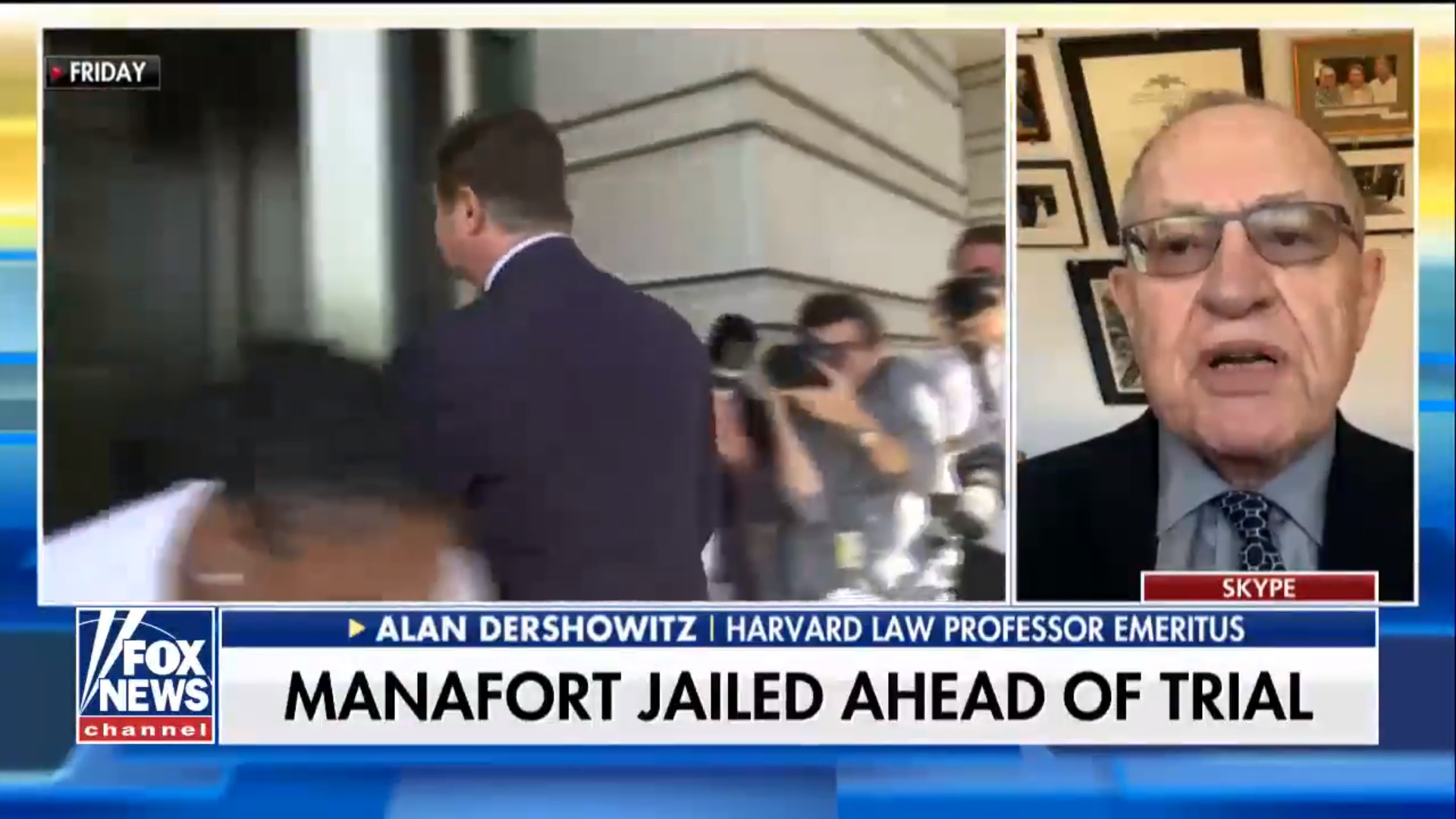 Over the past year, famed lawyer Alan Dershowitz has become one of President Donald Trump's most prominent and staunchest defenders when it comes to Special Counsel Robert Mueller's investigation into Russian election meddling and potential coordination with the Trump campaign. So it shouldn't be too surprising that the retired Harvard law professor was critical of a federal judge's decision to send former Trump campaign manager Paul Manafort to jail over charges that he tampered with witnesses.
During a Saturday morning Fox & Friends appearance, Dershowitz complained about Manafort being incarcerated for violating the terms of his bail arrangement, claiming that Manafort was joining the ranks of unfairly jailed minorities and poor people.
Alan Dershowitz on the jailing of Paul Manafort: "There's something very wrong with the system that presumes guilt this way." pic.twitter.com/21zB6pdqJ5

— Fox News (@FoxNews) June 16, 2018
"There are thousands of people today that are in jail before they've been convicted of any crime," Dershowitz told the curvy couch crew. "Many of them minorities. Many of them poor. Now Paul Manafort joins them based on an indictment based on an indictment. And indictments are not supposed to have any real impact."
Dershowitz's Saturday morning comments echo what he said on Friday following the Manafort news. In a CNN segment in which he was paired off with legal analyst Jeffrey Toobin, Dershowitz stated that Manafort's incarceration "undercuts the presumption of innocence, was "punitive" and that we don't know whether Manafort actually tampered with witnesses. He further stated that grand juries shouldn't exist after being reminded that they handed down the new charges, not the judge.
In the wake of his Fox News appearance, media figures and attorneys took Dershowitz to task for his misleading remarks regarding Manafort's bail revocation and subsequent incarceration.
Breakfast Media's Andrew Feinberg noted that the judge didn't decide on Manafort's guilt but did point out why she had to revoke his bail.
Stop lying, @AlanDersh — he was jailed because there's no way to guarantee he won't keep witness tampering if he stayed out.

The judge said NOTHING about his guilt or innocence, but was VERY clear about why she had to revoke his bail. Didn't you used to be Alan Dershowitz? https://t.co/oh7Xj0iafq

— Andrew Feinberg (@AndrewFeinberg) June 16, 2018
Former federal prosecutor Renato Mariotti claimed that Dershowitz knew the answer to his own questions and was being purposely misleading to the public.
Dershowitz knows the answer to this question and should stop misleading the public. Manafort is in jail because the judge found that he committed a crime while he was out on bond. He is still presumed innocent and will face trial. https://t.co/v2yW2RW7n3

— Renato Mariotti (@renato_mariotti) June 16, 2018
Politico's Edward-Isaac Dovere straight up said what Dershowitz was saying was "not true."
Alan Dershowitz is one of the country's top legal minds.
Yet he's on Fox this morning saying Manafort was put in jail "for being indicted."
This is not true. Manafort spent months *not* in jail *after* being indicted. He's in jail for witness tampering. https://t.co/2EBLzjlx67

— Edward-Isaac Dovere (@IsaacDovere) June 16, 2018
ShareBlue's Eric Boehlert accused Dersh of being dense.
bc he tampered w/ witnesses—is Dershowitz really this dense? https://t.co/eS53G6ne8V

— Eric Boehlert (@EricBoehlert) June 16, 2018
The Atlantic's David Frum noted that while De4rshowitz was right to state that many American's are unfairly incarcerated because they're too poor to afford bail, others like Manafort are detained because they've violated terms of their bail.
At year-end 2017, some 443,000 Americans were in jail pending trial, most because they are too poor to make bail, some because they were too dangerous to release, a hardened few – like Manafort – because they brazenly violated bail's terms https://t.co/gXmrpRC9fe https://t.co/XpOlN7BaiM

— David Frum (@davidfrum) June 16, 2018