'Daily Show' Uses Hannity's Own Words To Expose His Hypocrisy Over Trump-Kim Summit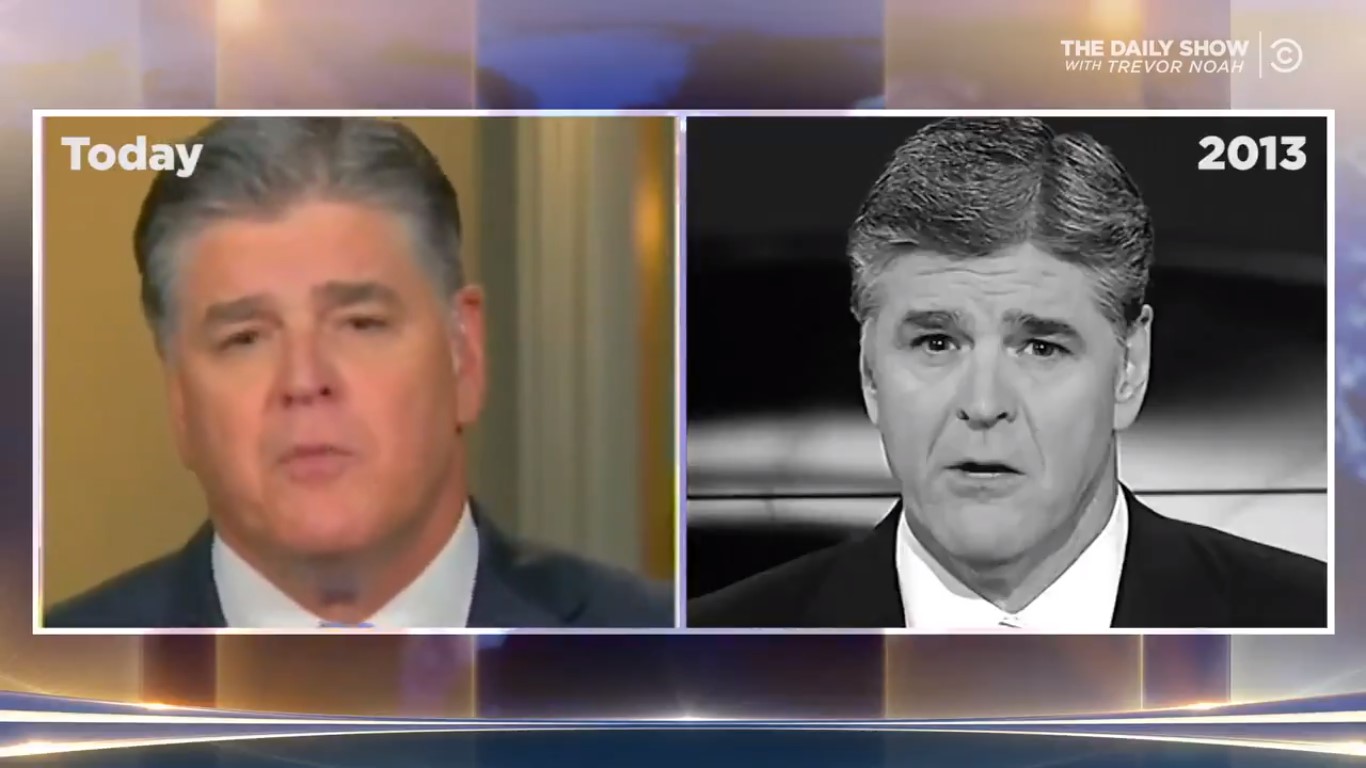 After President Donald Trump announced he had accepted an invitation to meet with North Korean dictator Kim Jong Un, Fox News' Sean Hannity went right to work selling the summit to his audience. Taking his cues from his late-night phone buddy, Hannity softened his rhetoric towards Kim while MAGA Nation began openly crowing for Trump to be nominated for the Nobel Peace Prize.
Hannity even parroted some of Trump's glowing praise for Kim during the summit, referring to the rogue nation's leader as "clever" and funny while fawning over the meeting during his Monday night broadcast. The Fox News megastar, who of course was given the first interview with Trump following the summit, is now claiming the president got Kim to agree to complete, verifiable, irreversible denuclearization. (The vague declaration that Kim signed said no such thing.)
While Hannity thinks it is good policy for American presidents to meet with brutal dictators and hand them propaganda victories, there was a time when he hated the idea of the commander-in-chief being anywhere near our adversaries. As The Daily Show highlighted in a short mashup video, where Hannity now thinks Trump should get credit "for being willing to talk to somebody that everybody thought would be a bad idea," the conservative commentator lashed out at Barack Obama for doing that.
The clip shows Hannity criticizing Obama for shaking Cuban leader Raul Castro's hand in 2013, derisively asking, "Is it just me or does it look like President Obama is more willing to give his time to our enemies than our allies?" While Hannity feels Trump is being Reagan-like now, back in 2010 the conservative TV host compared Obama to Neville Chamberlain for "catering to dictators."
Of course, Hannity isn't the only right-wing personality who has been exposed for hypocrisy when it comes to their views of Obama negotiating with authoritarians and dictators compared to the current president. Below is just a sampling of retroactively embarrassing takes from some of Trump's biggest sycophants.
this really is too easy pic.twitter.com/eFqWfT4pn9

— Oliver Darcy (@oliverdarcy) June 12, 2018
Negotiating with a dictator never a good idea #obama #cuba

— Mercedes Schlapp (@mercedesschlapp) December 17, 2014
It's 5p ET, which means Pres Obama must be meeting with some dictator somewhere. Are there any left?

— Laura Ingraham (@IngrahamAngle) April 5, 2016
Check out the video from The Daily Show below.
Sean Hannity EVISCERATES Sean Hannity pic.twitter.com/EOxp0FSrAR

— The Daily Show (@TheDailyShow) June 13, 2018