CNN's Brooke Baldwin: Samantha Bee Has Become 'Part Of The Problem' With Her Ivanka Comments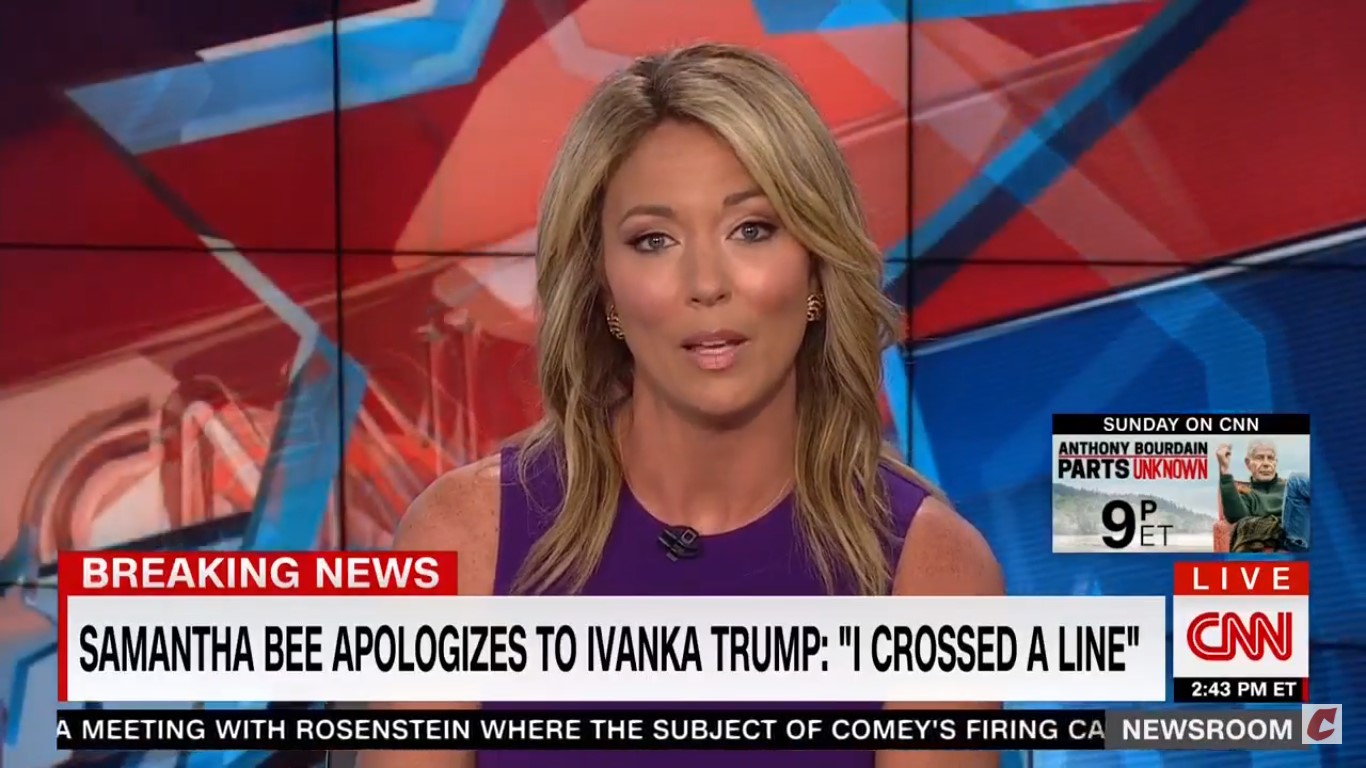 In the wake of comedian Samantha Bee's Full Frontal monologue in which she called Ivanka Trump a "feckless cunt," the media landscape has been lit with comparisons to Roseanne Barr and cries of double standards. Pouncing on that, the White House immediately called for Bee to have her show canceled.
During her program Thursday afternoon, CNN host Brooke Baldwin asserted that conservatives have a right to claim there is a double standard at play when it comes to liberal voices saying outrageous things. She also made the case that Bee is only making things worse with her remarks, especially since the TBS star is a role model to young women.
Noting at the top of her monologue that what Barr said is "racist, anti-Semitic and unacceptable" and that President Donald Trump has also said racist and anti-Semitic things, Baldwin stated that anyone who says those things should be held accountable. That led her to the oft-fired/re-hired Keith Olbermann, who was recently brought back to ESPN for the sixth time.
After pointing out all the inflammatory and incendiary comments Olbermann has made recently, Baldwin noted that "despite all of this, he just got another plum job." She then moved on to Bee's comments.
Following a clip from Bee's show, Baldwin said the following:
"Imagine for a second how liberals would have reacted if Roseanne or a conservative TV star would have used that language describing Valerie Jarrett. Whether you agree with the president's policies or not, calling a senior advisor inside the United States government — or anyone for that matter — the C-word is, like I said at the top, it's outrageous, it is unacceptable and should be called out. She could have easily made her point without using those words, a point that, by the way, is totally lost because she used that language. In fact, she becomes part of the problem. Now like most entertainers who go political and get into hot water, she'll say, whoa, whoa, whoa, I'm just a comedian. the problem is, it doesn't work here. She's Samantha Bee. She's a role model to millions of women and young girls and to use that word, from a woman to another woman, offensive is offensive, wrong is wrong, whether you are on the left or the right. And what Samantha Bee did is not only beneath her, it is beneath where we should be as a society."
Wrapping up her monologue, Baldwin highlighted that a statement of apology had been released by Bee and her network.
Watch the clip above, via CNN.