Over 24 Hours, Trump Finds His 'Spygate' Claims Debunked By Numerous Fox News Segments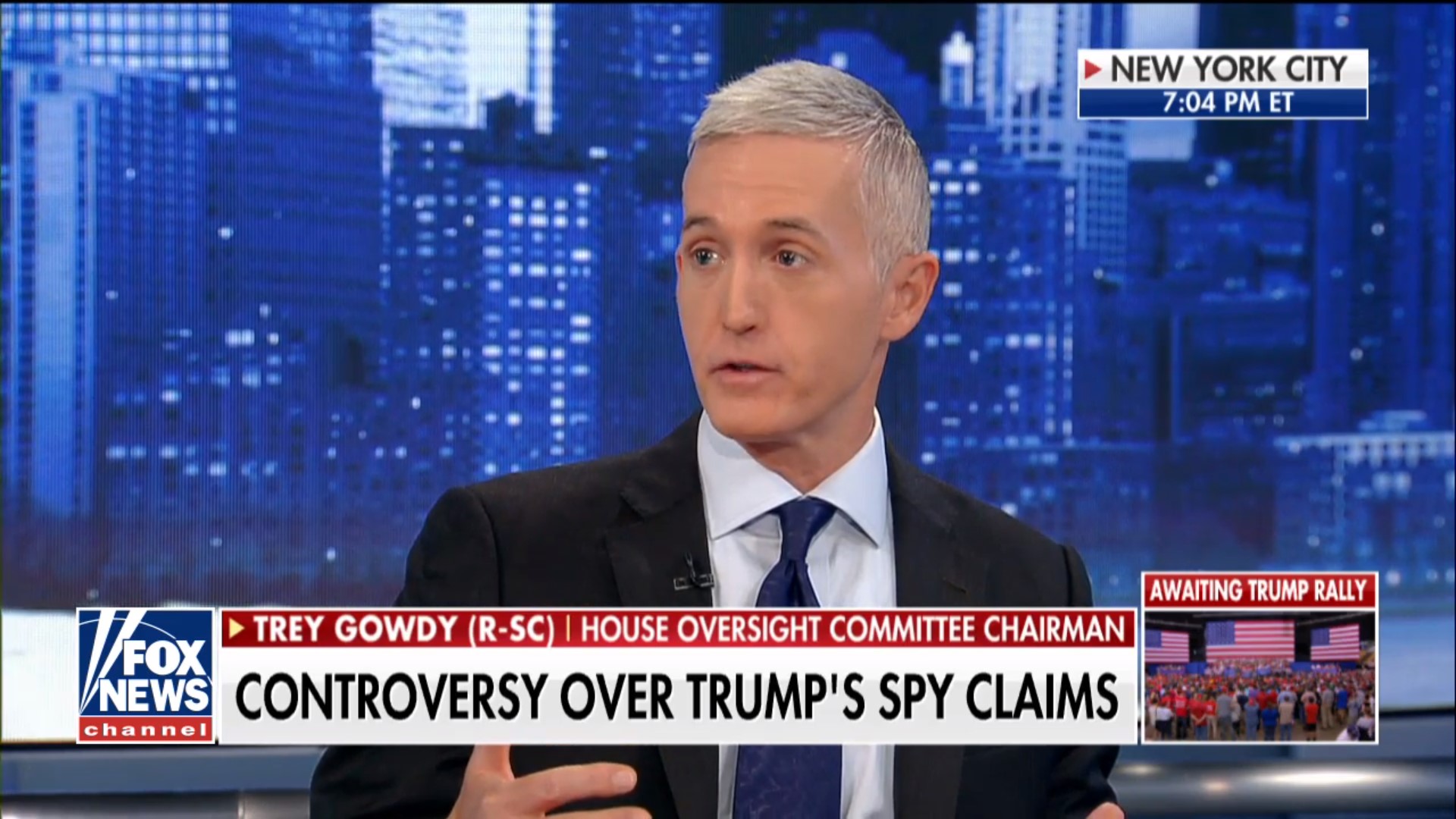 Over the past few weeks, President Donald Trump and his most ardent loyalists and defenders have put forth what can only be described as a conspiracy theory — Spygate. In this narrative that Trump has pushed, the FBI and DOJ placed a political operative — maybe more than one — to spy on his presidential campaign in order to undermine it. According to the baseless claim, President Barack Obama ordered the spies embedded in the campaign in an effort to help Hillary Clinton in the race.
The president's claims eventually led to senior intelligence officials allowing members of Congress to review documents related to a confidential informant the FBI used to contact members of the Trump campaign to see if there were any links to Russia. After those meetings, the president has continued to pound his chest about Spygate. Republican lawmakers who reviewed the documents, however, haven't exactly parroted those claims, with Senate Majority Leader Mitch McConnell reaffirming his confidence in Special Counsel Robert Mueller's investigation.
Another of those GOP lawmakers who saw the documents, Rep. Trey Gowdy (R-SC), appeared on Fox News Tuesday. And despite Gowdy having long been a conservative hero for heading up the House's lengthy Benghazi investigation and being a strong supporter of Trump, the retiring South Carolina congressman completely blew up the president's Spygate allegations.
Speaking with Fox News' Martha MacCallum, Gowdy was asked about the documents he reviewed and if he could share his thoughts on the issue of whether or not there was a spy in the campaign.
"It was President Trump, himself who said, number one, 'I didn't collude with the Russians but if anyone connected with my campaign did, I want the FBI to find that out,'" Gowdy told MacCallum. "It looks to me like the FBI was doing what President Trump said I want you to do, find it out. He is not the target. So, when Schiff and others don't make that clear, they're doing the disservice to our fellow citizens. He is not the target."
The former federal prosecutor followed that up by saying that "I am even more convinced that the FBI did exactly what my fellow citizens would want them to do when they got the information they got. And that it has nothing to do with Donald Trump."
Furthermore, Gowdy stood by Mueller regarding the scope of his investigation, explaining that "if there's any criminality look at that to me. We run towards the criminality, but I would think everyone would want to know what Russia did."
But Gowdy wasn't the only staunch Trump supporter who took to the air on the president's favorite news network to refute Spygate. Fox News legal senior judicial analyst Judge Andrew Napolitano also appeared on Martha MacCallum's Tuesday program, and noting that he had already spoken to Gowdy on the matter, he immediately stated that the allegations the FBI had an undercover agent infiltrate the campaign were "baseless," adding that there's "no evidence for that whatsoever."
Furthermore, Napolitano noted that it was "standard operating procedure" to have an informant talk to people "on the periphery of the campaign." Meanwhile, he didn't have much of a problem with the FBI not clueing in Trump on the use of an informant, saying he saw it as a "judgment call."
Those two interviews came hours after anchor Shepard Smith devoted an on-air segment to debunking both Spygate and another of the president's recent conspiracies — that Mueller will meddle in the midterm elections to hurt Republicans and Trump.
"There's nothing to support that claim, and neither the president nor the White House has offered anything to support that claim," Smith stated regarding the meddling allegation. As for Sypgate itself, the anchor pointed to Fox News own reporting to highlight that the network "knows of no evidence to support the claim."
And that's not the last of it. On Wednesday morning, famed attorney Alan Dershowitz — who has frequently criticized the Russia investigation and recently backed Trump's Spygate claims — told anchor Bill Hemmer that he's now "halfway persuaded" that Trump's accusations of a spy infiltrating his campaign are bogus.
"I want to hear the inspector general and would like to see the facts myself, but I'm on the way to being persuaded," he added.
Now, it should be noted that these four segments/interviews occurred on Fox News' straight news programs. And Tuesday night, Trump's fiercest defender on cable news — Sean Hannity, who has been described as a White House shadow chief of staff — continued to rail against the Mueller investigation while pushing the Spygate narrative.
But, in the end, Fox News is the president's preferred outlet for information. And through the past 24 hours, his baseless allegations were repeatedly debunked on air.