CNN's Chris Cuomo Gets Emotional As He Says Goodbye To New Day: 'It's Happy Tears'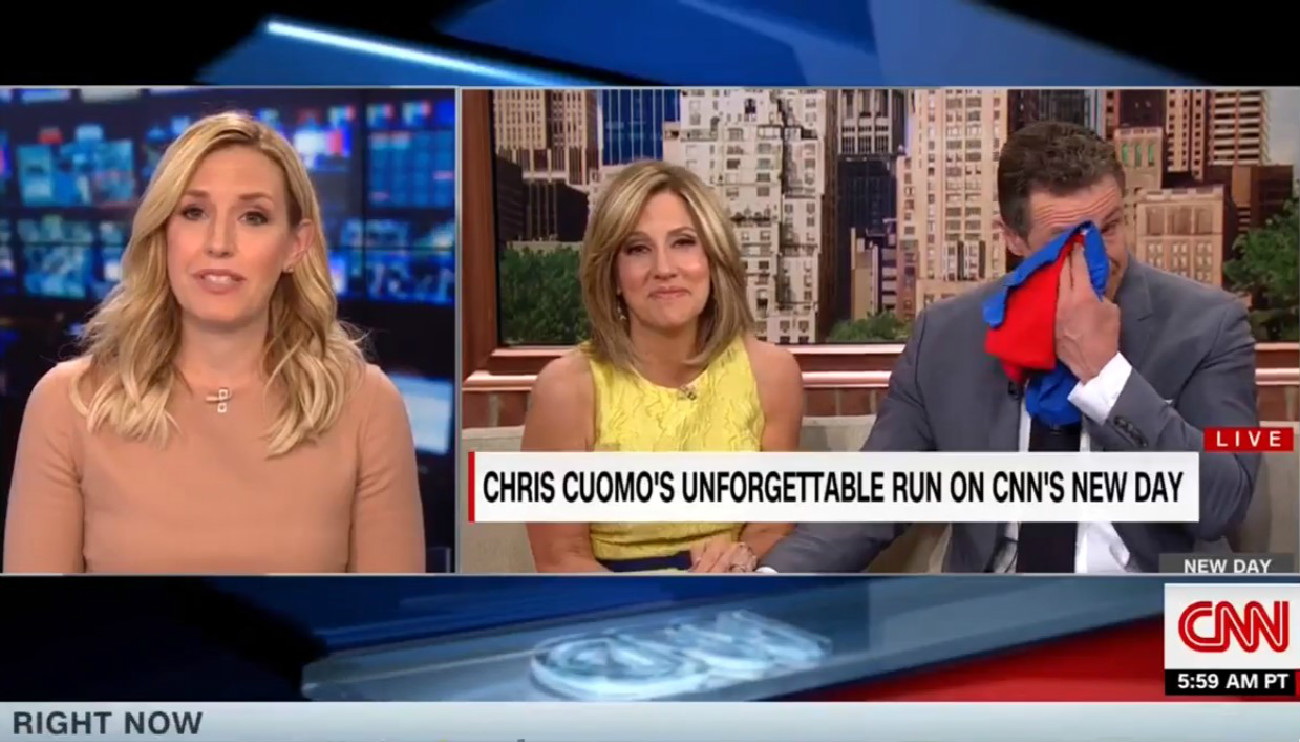 As you may already know, CNN anchor Chris Cuomo is moving to primetime next month to face off with cable news heavyweights Sean Hannity and Rachel Maddow in the 9 PM hour. The show, Cuomo Prime Time, will debut June 4th and promises to deliver high-octane and combative interviews between Cuomo and a wide range of guests.
With Cuomo making the big jump to nights, Thursday represented his last day on CNN's morning staple New Day. And at the end of the broadcast, his longtime co-anchor Alisyn Camerota presented Cuomo with some parting gifts while also bringing his family out.
By the time New Day handed off to Poppy Harlow, Cuomo was pretty much a blubbering mess.
After Camerota played a newly recorded show intro by James Earl Jones in which the iconic CNN voice declared that it is now "New Day WITHOUT Chris Cuomo," she noted that it's going to take some time to get used to not having Cuomo around anymore. He responded by endorsing his replacement John Berman, saying Berman is "the smartest guy in the building except maybe for the boss."
Once Camerota responded that everyone will miss Cuomo, however, the waterworks really began to flow. As Cuomo hugged his family, he assured his kids that he wasn't sad.
"I'm happy," a choked-up Cuomo said. "It's happy tears."
The two co-hosts also joked a bit when Camerota said "we'll be watching" regarding Cuomo's new show, leading the departing co-anchor to tell Camerota that he knows she won't since she'll already be asleep.
"I'll be sleeping but I'll hear about it," she replied. "I'm sure and you will be really missed on New Day."
During the hand-off to Harlow, Cuomo continued to wipe his tears away as Harlow gave her goodbyes and well-wishes.
"Thanks, Poppy," a teary-eyed Cuomo said. "Please take the show as quickly as possible."
Watch the clip above, via CNN.