Fox's Pete Hegseth: Kim Jong Un 'Probably Doesn't Love' Having To 'Murder His People All Day Long'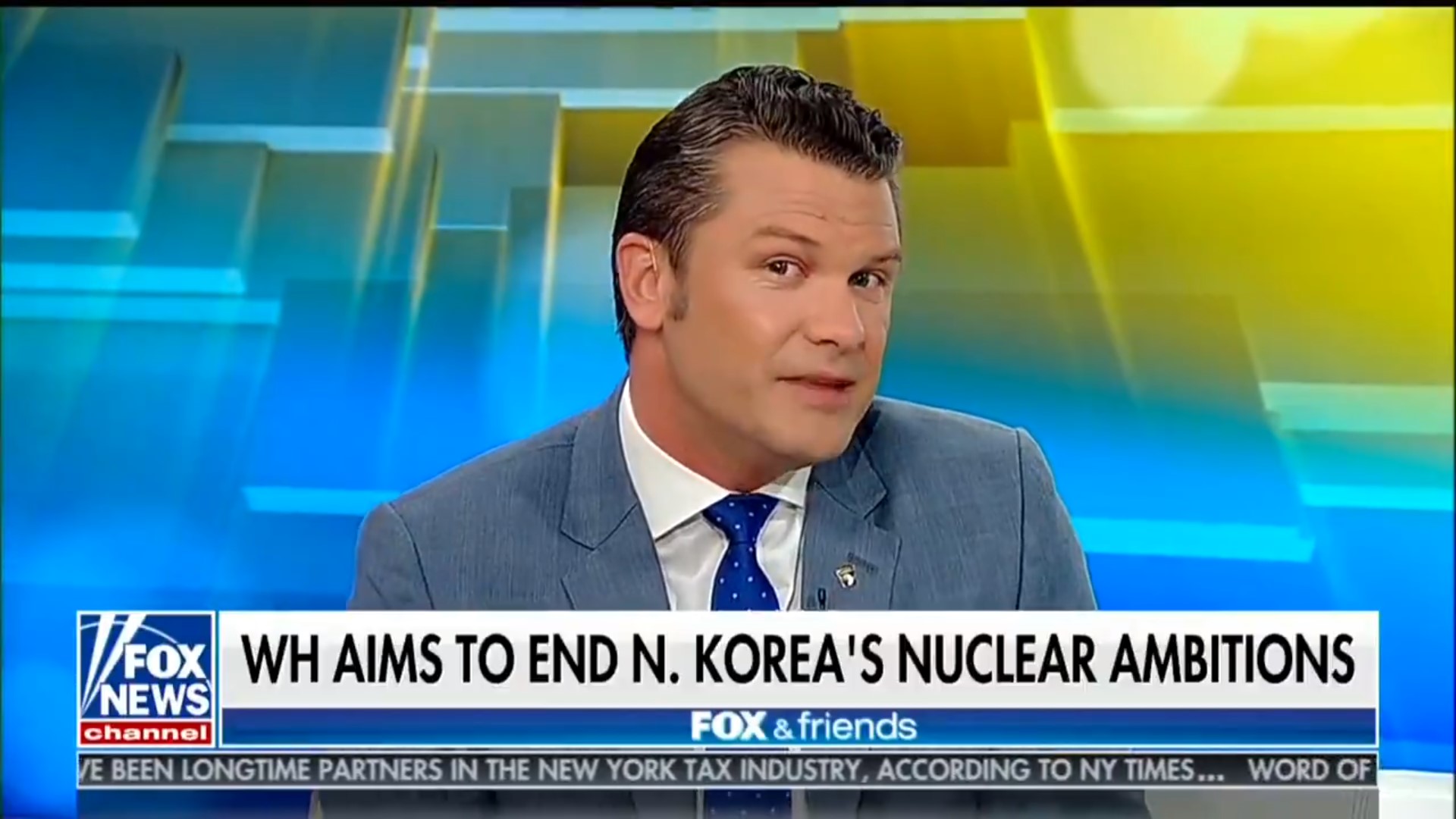 Days after he shrugged and said "meh" over the murders of women and children in Gaza, Fox News host Pete Hegseth suggested that a brutal dictator who rules his impoverished country with an iron fist doesn't really have his heart in all his killings. And rather than murdering his people, that brutish leader would rather just watch some basketball and American movies.
Appearing on Wednesday morning's Fox and Friends, Hegseth gave his opinion on the potential summit talks between North Korea's Kim Jong Un and President Donald Trump. With next month's Singapore meeting now in doubt as North Korea is seemingly balking over America's desire that the country completely denuclearize, Hegseth indicated that Kim likely wants to come to a deal with the United States because underneath it all, the dictator's just an ordinary average guy.
"The guy who wants to meet with Dennis Rodman and loves NBA basketball and loves western pop culture, probably doesn't love being the guy that has to murder his people all day long," the informal Trump adviser stated. "Probably wants some normalization. And let's give it to him if it makes the world safer."
Ummmm, "has to"? Just gonna leave that there.
Following Hegseth's segment, The Daily Beast's Asawin Suebsaeng noted that the Fox News personality embracing Kim under the guise of 'making the world safer' is in direct contrast with how conservative media treated Barack Obama's attempts to make peace with enemies.
I will never get over how this kind of "if we can make the world safer" talk is coming from the exact same people who screamed at obama for being Neville chamberlain because he would say you don't make peace with your friends re: Iran deal https://t.co/malamBvWXO

— Asawin Suebsaeng (@swin24) May 23, 2018
Meanwhile, Task and Purpose's Adam Weinstein pointed out that Hegseth was a defender in taking out Iraq's Saddam Hussein yet here he is flip-flopping in hopes that Trump will give him a head-pat.
"And let's give it to him if it makes the world safer" were the next words that came out of his mouth. Let's normalize the third-generation "communist" monarch who "has to murder his people all day long," the eager Republican defender of the campaign against Saddam Hussein said https://t.co/EMiSFYOOKM

— Adam Weinstein (@AdamWeinstein) May 23, 2018
I've covered Pete Hegseth for almost a decade now. He's a craven, thirsty amoralist whose serious-looking resume almost got him a plum government post. It's weirdly gratifying to see him violate all of his lifelong espoused values for a Fox hit in hopes Donald Trump is watching

— Adam Weinstein (@AdamWeinstein) May 23, 2018
And even Dictionary.com weighed in (and dunked) on Hegseth's TV hit.
"Has to" means "to be required, compelled, or under obligation."

Used in a sentence: Pete Hegseth said that North Korean leader Kim Jong Un "has to murder his people all day long." https://t.co/nOYjTlmOP7 https://t.co/EFco7o55iS

— Dictionary.com (@Dictionarycom) May 23, 2018
Anyway, below is video of Hegseth's remarks, via Media Matters' John Whitehouse.
Fox host and Trump adviser Pet Hegseth on Kim Jong Un: "The guy who wants to meet with Dennis Rodman and loves NBA basketball and loves western pop culture, probably doesn't love being the guy that has to murder his people all day long. Probably wants normalization." pic.twitter.com/YQAcY1BXh7

— John Whitehouse (@existentialfish) May 23, 2018