Hannity Marks Ninth Straight Week As Most-Watched Cable News Show, Fifth Straight Topping Demo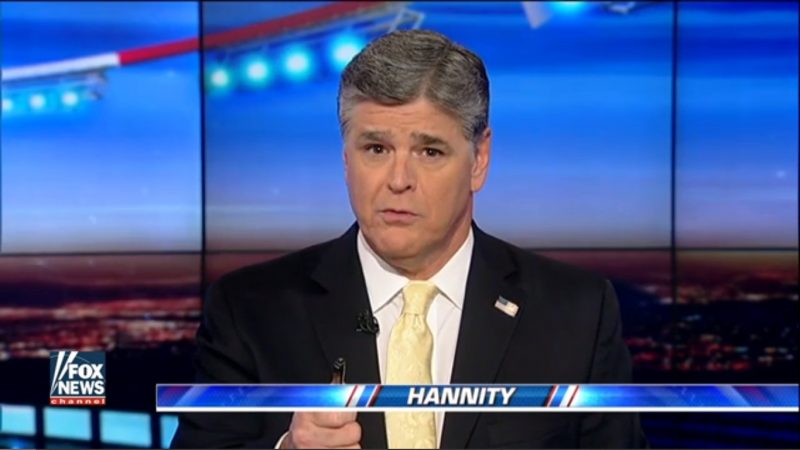 Fox News' flagship primetime program continues to dominate the cable news landscape.
According to Nielsen, Hannity spent its ninth consecutive week as the most-watched show in cable news and its fifth straight week as the number one show in the key 25-54 demographic. For the week of 5/14 – 5/20, the 9 PM program averaged 3.252 million total viewers and 631,000 in the demo.
Comparatively, Hannity's head-to-head competitor, MSNBC's The Rachel Maddow Show, pulled in a total viewership of 2.644 million and demo audience of 541,000. Earlier this year, the two programs were battling it out for cable news supremacy, with Maddow finishing as the top overall cable news program in March and leading the first quarter of this year in the 25-54 demographic.
In other ratings news for the week, Fox News led all of basic cable in total day viewership for the 19th consecutive week, averaging 1.452 million total viewers. MSNBC finished second in basic cable with 972,000 total viewers and CNN was fifth overall with 791,000.
In the primetime 8 PM to 11 PM time slot, Fox News topped cable news in both total viewership (2.398 million) and the demo (460,000). MSNBC placed second in the demographic (350,000) and overall audience (1.71 million). CNN attracted 937,000 total viewers and 298,000 in the 25-54 metric.
Over on Fox Business, Varney and Co. marked one full year as the most-watched market program on television, delivering a total viewership of 223,000 during the week.