Ex-Trump Advisor Sam Nunberg Blurts Out Name Of FBI Informant During MSNBC Interview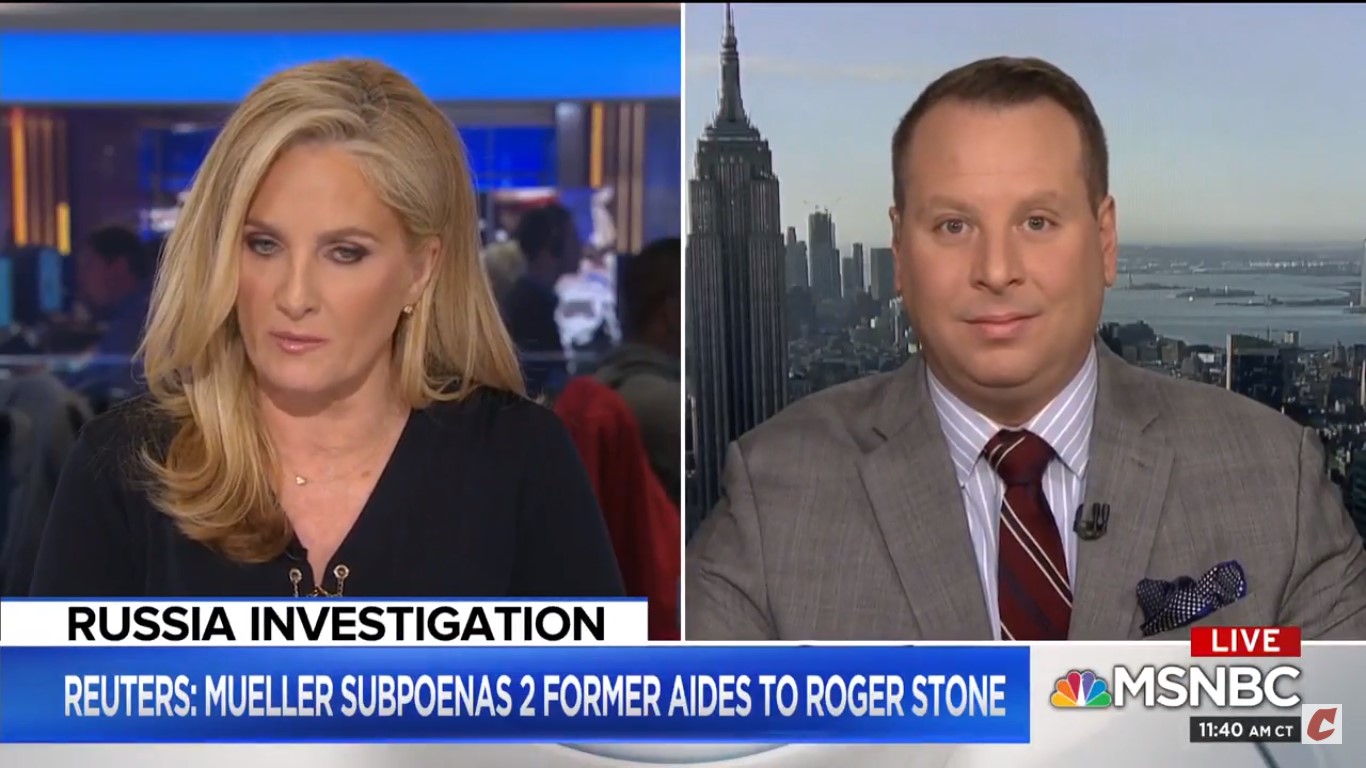 Over the weekend, the Washington Post and New York Times published stories on the FBI using an informant to investigate Trump campaign officials' Russian ties. This came in the wake of conservative media, some House Republicans and President Donald Trump pushing a narrative that the intelligence community had embedded a spy deep inside the campaign for policial purposes.
While the details provided in the Post and NYT reports made it clear who the informant was — and right-wing outlet The Daily Caller quickly published the name of the person based on its previous reporting of the academic — cable news and broadcast stations have resisted outing the man. All the while, the FBI and DOJ have claimed revealing the source's name would endanger future investigations as this would show they are unable to protect the identity of sources, especially in the wake of political pressure.
During a Sunday appearance on MSNBC, former Trump advisor Sam Nunberg — yeah, the one who went on a marathon run of unhinged cable news interview while possible drunk — railed against the Mueller investigation, comparing the special counsel to the mafia. He also just casually tossed the name of the informant out there on live TV.
Stating that longtime Trump confidant and political trickster Roger Stone "would be indicted" following Stone's earlier comments that he was"prepared" for a Mueller indictment, Nunberg parroted the conservative talking point about the FBI planting a "spy" in the Trump campaign. MSNBC host Alex Witt would push back on that claim, stating Trump himself has somewhat backtracked from that assertion while highlighting the recent reporting by the Times and Post.
"Alex, the Washington Post reported, not the New York Times, that when [the informant] — that's his name — met with Sam Clovis, he asked Sam Clovis for a job," Nunberg said.
He continued, "He was going to give everything over to [then FBI Director James] Comey. I have a major problem with that. I also have a major problem with the fact — forget the substance of the Steele Dossier. They took something from the competing campaign and started issuing FISA warrants. When the FBI says they don't play politics, no, they play politics."
Witt noted after this that she needed to move on but that she was "very uncomfortable" that Nunberg named the informant, explaining that it was not something she intended to do.
"Well, it is out there," Nunberg answered nonchalantly. "He will be named. It is all over the place."
The MSNBC anchor explained that she wanted to go on record with her feelings about that, causing Nunberg to casually say he was sorry she was uncomfortable.
Watch the clip above, via MSNBC.