White House Spox: 'I Don't Know' If Kelly Sadler Made A Joke About John McCain Dying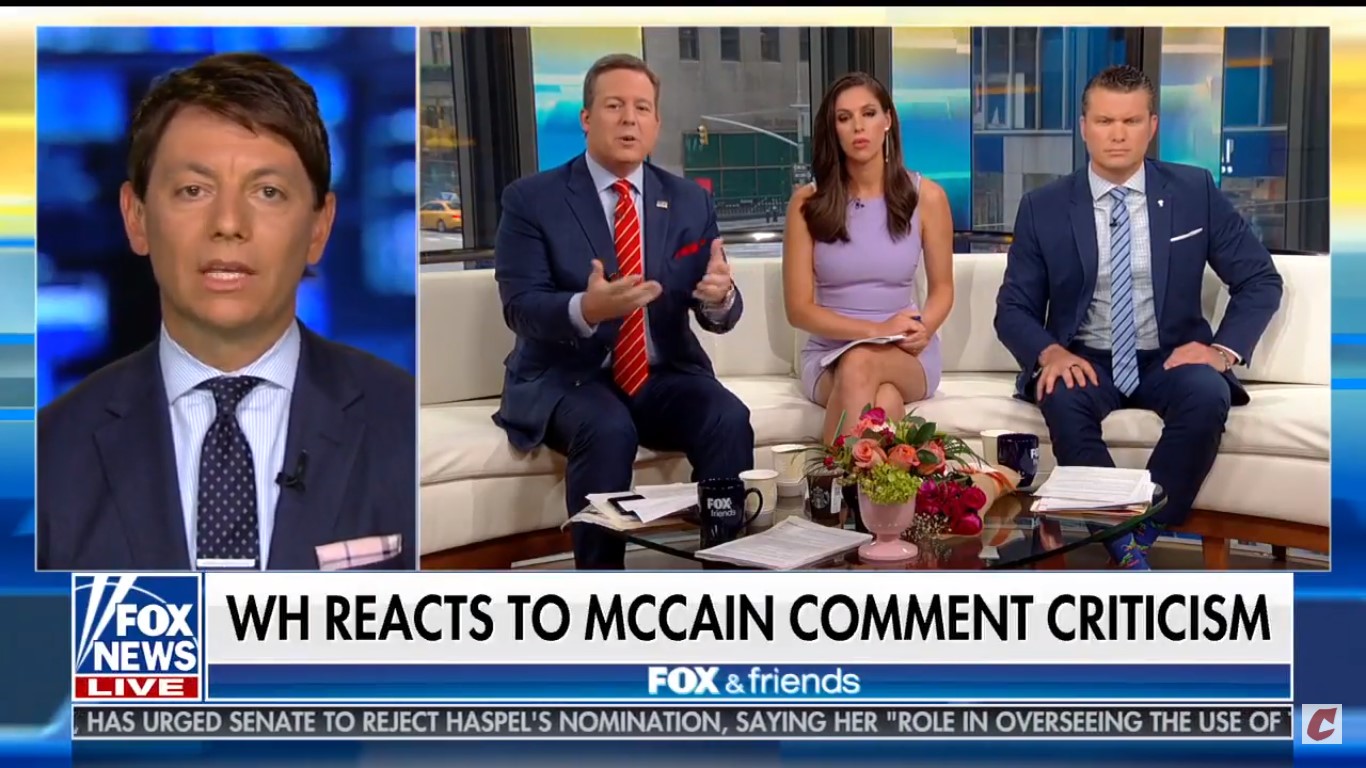 Despite White House aide Kelly Sadler having already called Meghan McCain to apologize for joking that McCain's father is "dying anyway" and White House Press Secretary Sarah Huckabee Sanders holding a meeting to decry the leak of Sadler's comment, White House deputy secretary Hogan Gidley attempted to place doubt that the mockery ever happened.
During an appearance on Fox & Friends Sunday morning, Gidley was pressed on the McCain controversy by co-host Ed Henry, asked if he felt it was kind for Sadler "to joke that John McCain's opinion doesn't matter because he's dying of brain cancer," especially in the wake of First Lady Melania Trump's "Be Best" initiative.
"Look I wasn't in the meeting — I didn't hear the comment," Gidley responded, leading Henry to point out that everyone's heard the comment now.
"Right, but Ed, I don't know if the comment was even made or not," the spokesperson said. "I can't confirm it."
"So you're denying she said it?" Henry, clearly puzzled, asked.
"No, I'm not denying it, I'm saying I wasn't in the meeting," Gidley answered.
Henry went on to note that Sadler called up Meghan McCain personally to apologize, asking again whether Gidley felt Sadler's comments were kind. The administration flack punted once more, stating he shouldn't comment on a leak of an internal meeting before pivoting to how much amazing work the Trump administration was doing for America.
Co-host Abby Hunstman interjected, wondering aloud why no one at the White House can just suck it up and apologize for the joke.
"Again, I wasn't in the meeting — I don't know if it was said," he replied. "We don't comment on internal private meetings in the White House but look if she called Meghan McCain if that's confirmed to some degree that's up to Kelly Sadler herself and the McCain family."
Watch the clip above, via Fox News.