Trouble In Paradise? Trump Reportedly 'Unhappy' With Hannity Over Giuliani Interview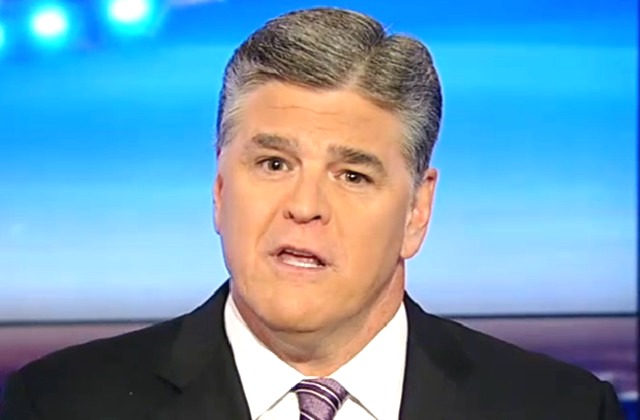 Fox News host Sean Hannity is so close to President Donald Trump and talks with POTUS on such a regular basis that White House staffers have described the conservative commentator as a "shadow" chief of staff. The president is not only a regular viewer of Hannity's primetime program, he uses his Twitter account to promote the show on occasion. Hell, the two men share an attorney in Michael Cohen.
Well, it is that shared lawyer that could be causing a slight rift in the their friendship. In the wake of Trump lawyer Rudy Giuliani's disastrous Wednesday night interview on Hannity's program that has resulted in a whole lotta walking back while likely causing Trump additional legal headaches, the New York Times has come out with a bombshell report full of juicy nuggets.
Besides the story revealing that the president knew about the $130,000 Cohen paid to porn star Stormy Daniels months before he publicly denied knowledge of the hush payment, the Times also reported that Trump really wasn't a fan of Rudy blabbing to Hannity that the president reimbursed Cohen for the Stormy payment. And he's not happy with how Hannity handled the Stormy issue.
From the New York Times piece:
"While some White House officials had insisted that Mr. Trump was pleased with Mr. Giuliani's performance on Fox News in an interview with Sean Hannity on Wednesday night, two people close to the president painted a different picture. They said that Mr. Trump was displeased with how Mr. Giuliani, a former New York mayor, conducted himself, and that he was also unhappy with Mr. Hannity, a commentator whose advice the president often seeks, in terms of the language he used to describe the payments to Ms. Clifford."
Of course, since this is from the Times, Hannity is going to call it "FAKE NEWS" from the Destroy Trump Media and the president is going to call NYT reporter Maggie Haberman a third rate Hillary flunky who has no access.
Anyway, it looks like Trump will have more to be mad about as right before this big Times story broke, the Wall Street Journal reported that Cohen had taken out lines of credit before the election in anticipation of fixing problems for Trump.