Tim Kaine: It's In Trump's "Head A Little Bit" That Mike Pence "Threw Him Under The Bus"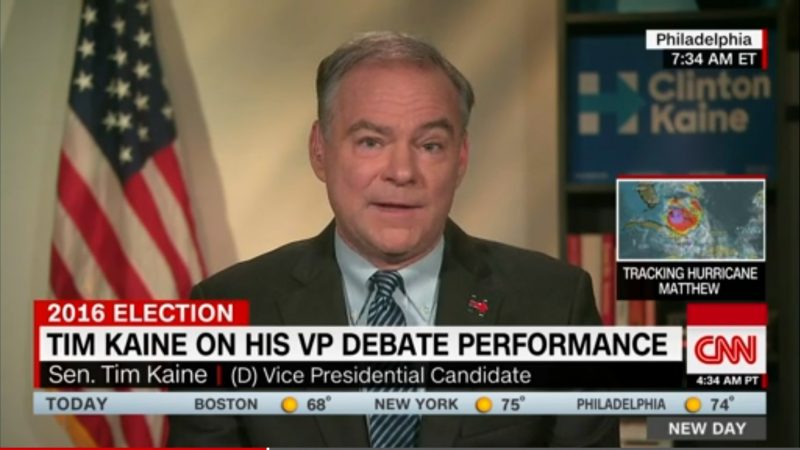 While appearing on CNN's New Day for an interview Thursday morning, Democratic vice-presidential nominee Tim Kaine needled the Trump campaign regarding reports that the Republican candidate was angry over his running mate's debate performance.
Speaking to host Alisyn Camerota, Kaine talked about this week's VP debate and mentioned some of the things he wished he had done better, such as bringing up LGBT issues. However, he felt he did what he set out to do, which was defend Hillary Clinton and her record.
This led to Kaine hitting Mike Pence for his inability to come to Trump's defense on a wide range of remarks and comments made by the real estate mogul. The Virginia Senator then brought up rumblings about Trump being pissed that Pence essentially tossed him under the bus to make himself look better.
From New Day's transcript:
"Well, Alisyn, you've quoted people from the Trump campaign who are not happy with the debate and I understand why they weren't. There's been a lot of stories that suggest that Donald Trump's reaction to the debate was one of anger. Why won't my own running mate defend me? And, you know, that, I think, was —
I think that's going to work on his head a little bit as he goes into prepping for the really important debate on Sunday. He had a poor performance a week ago and then he saw a debate two nights ago where his own running mate sort of threw him under the bus. So yes, I'm sure that the Trump campaign is not happy with that debate and that puts some extra pressure on him getting ready for Sunday."
The next debate, a town hall forum in St. Louis, is just three days away. Considering how ill-prepared Trump was for the last one, leading to a performance that directly led to plummeting poll numbers and him imploding on the campaign trail, one wonders if Trump will take this one seriously. And, if he has another awful showing, will he just skip the third one altogether?
Below is video of the segment, courtesy of CNN: