Trump Ally Roger Stone: Alicia Machado's A "Ho Bag" Who Had Anchor Baby With Drug Lord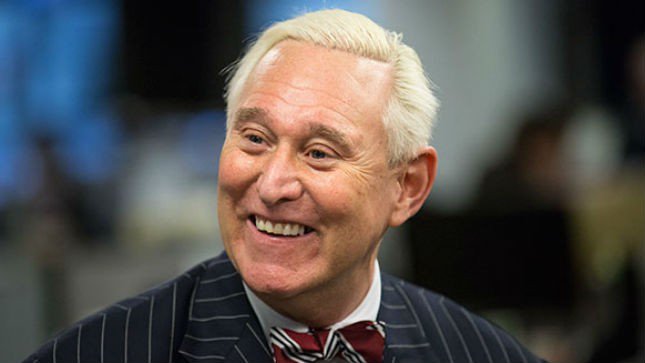 While Donald Trump has relied on an official campaign staff filled with at least semi-professional political operatives and strategist, he's also benefited from his informal advising team, headed up by well-known ratfucker Roger Stone. Along with conspiracy radio host Alex Jones, Stone (who early on was an official member of Trump's team) has pushed the seamier stories involving Trump to the tin-foil hat crowd, getting Trump's base riled up and bloodthirsty.
While appearing on Miami radio host Fernand Amandi's show Monday, Stone engaged in the kind of devious and underhanded behavior that has made him famous. While Trump has finally, after nearly a week, appeared to have moved on from the whole Alicia Machado affair, Stone made sure to continue to drag her name through the mud on behalf of Daddy.
After Amandi had a caller ask Stone a question about Trump's immature behavior, Stone first attempted to answer in a somewhat serious manner. Discussing Trump's low favorability numbers in the polls, he framed it that both Trump and Clinton were highly unpopular and we'd likely see high numbers of votes for third-party candidates in November, which could help Trump.
Pivoting from that, he then mentioned last week's debate and how he wanted it to go better. Saying that he thought Trump did well when he stuck to the issues, he then brought up the former Miss Universe who Trump has been fixated on since. Then we got the Stone we all know and hate.
"I would have not gotten into a fight with this ho bag from Venezuela who is according to the records, filed with the county of Miami-Dade…," Stone uttered before Amandi stepped in and tried to reprimand him for smearing Machado like that. But Stone wasn't done. No sir.
After claiming she's a "ho bag" because she appeared in a (non-existent) porno, Stone then finished the conversation by claiming she had an "anchor baby" with a since-deceased Mexican drug kingpin, citing Miami records that prove him right.
Now, for the record, this is only something that's been spread in the right-wing fever swamp in order to discredit Machado. As all good conspiracies work, there is a shred of evidence that helps bolster their case. In this instance, it's a witness who says the drug lord, known as El Indio, was romantically involved with Machado and attended her daughter's baptism in 2008. However, the ex-beauty queen has said her child's father is a respected businessman.
Anyway, if you want to here Stone spew forth his sewage, below is the audio via Media Matters: