GOP Rep. Pittenger Sorry Not Sorry For Saying Charlotte Protesters "Hate White People"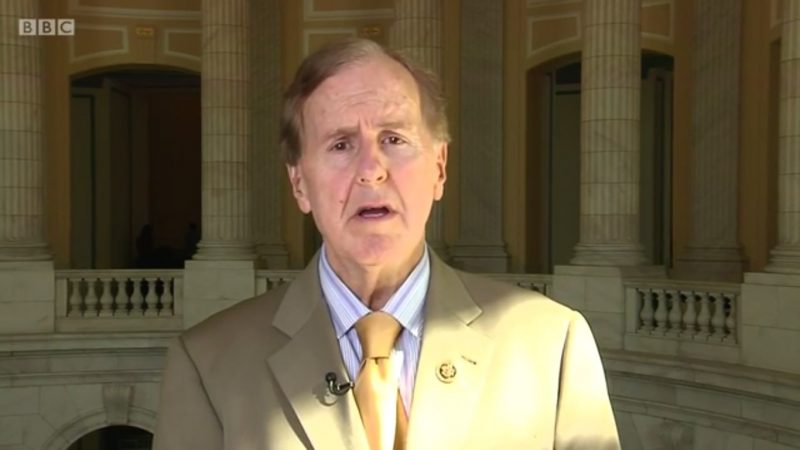 A day after blaming the protests in Charlotte on President Obama and Loretta Lynch while simultaneously whitesplaining MLK to black folks, Rep. Robert Pittenger (R-NC) went on British television and said black people hate white people for their success while they're nothing more than "welfare slaves."
While appearing on BBC Thursday, Pittenger discussed the previous two days worth of protests that have occurred in North Carolina in response to the shooting death of Keith Lamont Scott. In his mind, the anger and violence that happened the previous two nights were due to liberal social policies set forth by Democrats in the 60s. When pressed on that answer by the host, who felt the protesters likely weren't concerned with LBJ-era policies, Pittenger said they were jealous of white folks.
"The grievance in their mind is the animus, the anger. They hate white people because white people are successful and they're not."
Oh, he wasn't done yet.
"Yes. Yes, it is a welfare state. We have spent trillions of dollars on welfare, where we put people in bondage so they can't be all that they're capable of being. America is a country of opportunity, of freedom, of liberty. It didn't become that way because of a great government that provided everything for everyone. No!"
Trump supporter & NC Congressman Robert Pittenger says Charlotte protesters "hate white people" to @BBCNewsnight: https://t.co/AHGPeQ9amj

— Kyle Griffin (@kylegriffin1) September 22, 2016
Well, as one would imagine, those comments spread across social media like wildfire. Eventually, Pittenger's office sent out an apology, but only one of those apologies where he said he's sorry to those offended and he really meant something else anyway. Oh yeah, and he heard protesters say they hate white people so he wasn't wrong. So there.
Below's the statement:
"What is taking place in my hometown right now breaks my heart. My anguish led me to respond to a reporter's question in a way that I regret. The answer doesn't reflect who I am. I was quoting statements made by angry protestors last night on national TV. My intent was to discuss the lack of economic mobility for African-Americans because of failed policies. I apologize to those I offended and hope we can bring peace and calm to Charlotte."
And, before you ask, yes, Pittenger is an avowed Trump supporter.