CNN's Lewandowski Blames Chelsea Bombing On Illegal Immigration (Suspect Is US Citizen)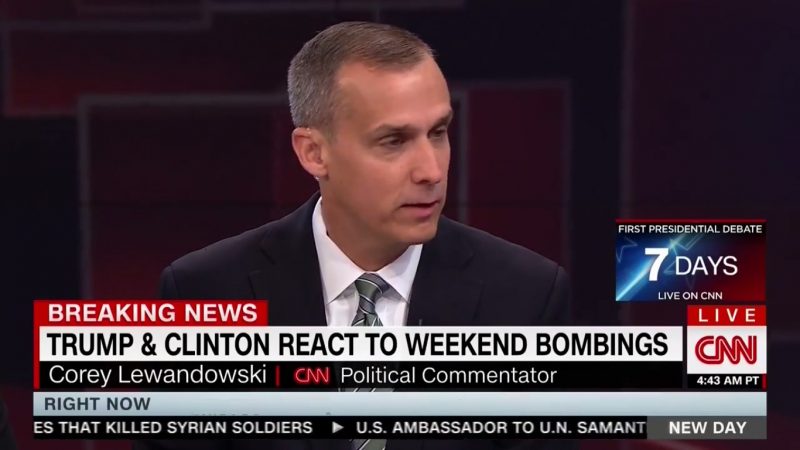 Following up his former(?) boss's claims Monday morning that America should expect more and more bombings from refugees and immigrants in the future, CNN political commentator and ex-Trump campaign manager Corey Lewandowski attempted to tie the Chelsea bombing to illegal immigration.
In a panel discussion on New Day, the ever-loyal Trump operative — he continues to get paid by the campaign while on CNN's payroll — mentioned that 40% of illegal immigrants overstay their visas while talking about Ahmad Khan Rahami, the suspect wanted in connection with explosions in New York City and New Jersey.
After noting that Rahami was of Afghan descent per reports, co-host Alisyn Camerota cut him off to let him know that Rahami is a naturalized citizen and there was no overstaying of a visa. Lewandowski, obviously not believing the liberal media, asked if that info was correct. Camerota's colleague Chris Cuomo stepped in, reaffirming what she had just said.
Corey wouldn't let it go, though. "If that's the case, did he come into the country legally? Was the proper work done? Look, don't forget, the San Bernardino killer came in on a K1 visa," he persisted. This led to Camerota rebuking him, stating "you're making a connection that we don't know yet."
Eventually, Cuomo told Lewandowski that he understands that Donald Trump wants to make this an issue about immigration and increased threats, and that is OK as long as the facts support his criticism. However, it appears that Trump doesn't know all the facts yet — Lewandowski clearly doesn't — so perhaps he should wait until he has more information before making declarations like this.
Below is video of the segment, courtesy of Media Matters: