After 20 Years, No One Should Be Surprised By Matt Lauer's Blatant Misogyny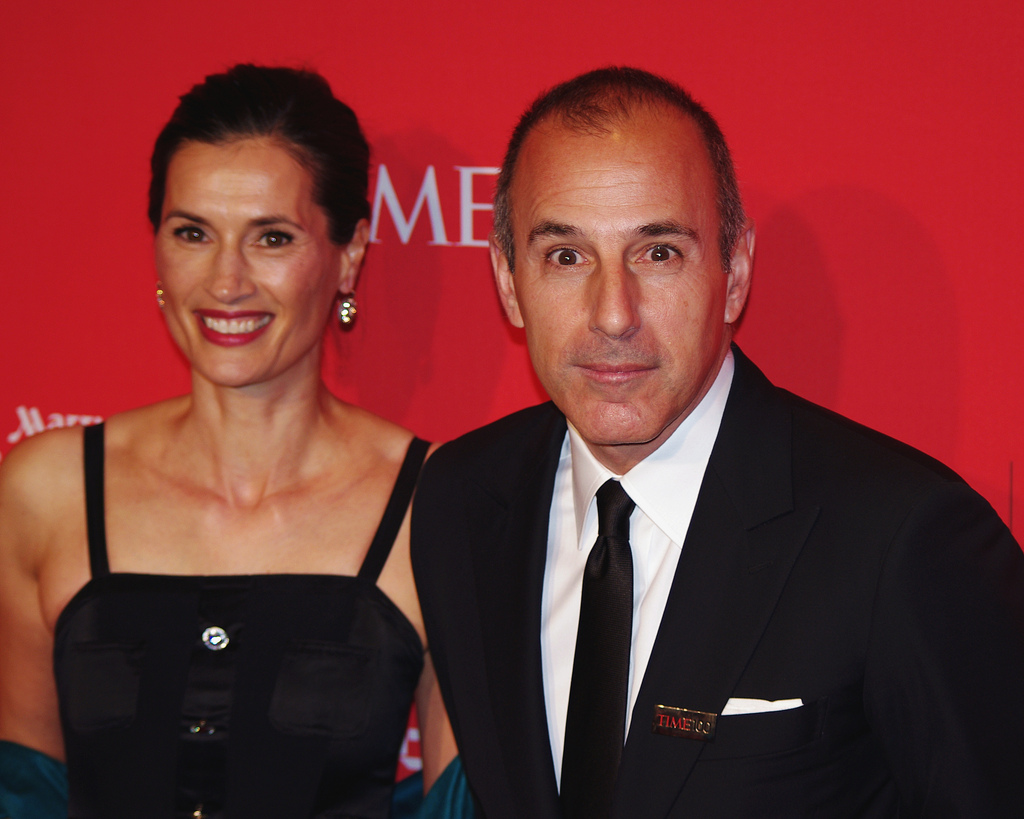 It's gratifying to see Matt Lauer pilloried as he deserves after Wednesday night's pathetic excuse for forum moderation. However, the pile-on is about 20 years overdue. Lauer took over Today Show hosting duties in January 1997 after longtime anchor Bryant Gumbel stepped down. The last two decades have featured a parade of female co-hosts with whom Lauer is rumored to have clashed, engaged in extra-marital affairs or otherwise disrespected. Crackerjack work picking this guy to host such an important presidential event, NBC.
On average, American women watch 40 minutes more per day of television than men. This disparity is even greater when it comes to morning news/talk programming. This means that a number of female viewers of Lauer's disgraceful Wednesday night belly flop were likely unsurprised by the misogynist prime time performance. Let's review a few of Lauer's "challenges" with the opposing gender over the years.
Lauer and Roque flirted with divorce again in 2015 after – wait for it – murmurs of yet another affair with Good Morning America host Lara Spencer. As writer Shane Jordan observed, "If it isn't one early morning talk show host it another, that Matt Lauer is being accused of trying to sleep with in the endless barrage of tabloid speculation."
The guy is a nightmare for my gender. Anyone shocked by his misogynist treatment of Hillary Clinton on Wednesday evening just hasn't been paying attention.
Lauer seems to get on fine with Savannah Guthrie, who joined Lauer as Today co-anchor in 2012. However, she doesn't really need Lauer to look through her or otherwise marginalize her talents. Her own network is happy to fulfill those duties. I came across a Facebook post from a family member this week which explicated the bullshit magnificently:
"I wonder how many nanoseconds NBC devoted to the possibility of giving [Commander-in-Chief Forum] moderator duties to Georgetown Law Center alumna and former White House correspondent Savannah Guthrie, who has the same job as Lauer on the Today show?"
That's the real problem. Matt Lauer behaved boorishly – interrupting and rushing Hillary Clinton at every turn while letting Donald Trump talk shit left and right with little follow-up. But that is to be expected after a long career spent skirt chasing and bullying his colleagues. What's truly insufferable is the sanctioning of this behavior by proxy, a major network rewarding continual sexism with a high-profile, prime time gig.
This presidential campaign is unprecedented in numerous ways. But with regard to the media's entrenched misogyny, the more things change the more they remain the same. As Norm Ornstein of the American Enterprise Institute (no one's idea of an ardent feminist) tweeted after Wednesday's debacle, "Tough to be a woman running for president."
You said it, Norm. And the implications extend farther than a mere exhibition of shoddy journalism. I'm inclined to agree with Adele M. Stan of The American Prospect. In her article, How Sexism, Like Matt Lauer's, Could Imperil the Nation, she observed:
"When one candidate is constricted to answering repeated challenges to her on one topic for a third of her time on stage (and interrupted with reminders to shorten her answers), while the other is never challenged on his troubling recent behavior regarding matters of national security, the American people are being cheated."
Everything about this shambolic presidential campaign feels like a cheat. Much, though certainly not all of it, stems from the media's entrenched and blatant sexism – exemplified by Lauer. This might sound naïve but I thought journalists were supposed to report the news, rather than be the news???
There are 59 days left until the election and three debates to go. I don't know why I have to keep saying this but pretty please with a cherry on top media force, do your damned jobs.