Huma Abedin Separates From Anthony Weiner Because He Can't Stop Texting Pics Of His Junk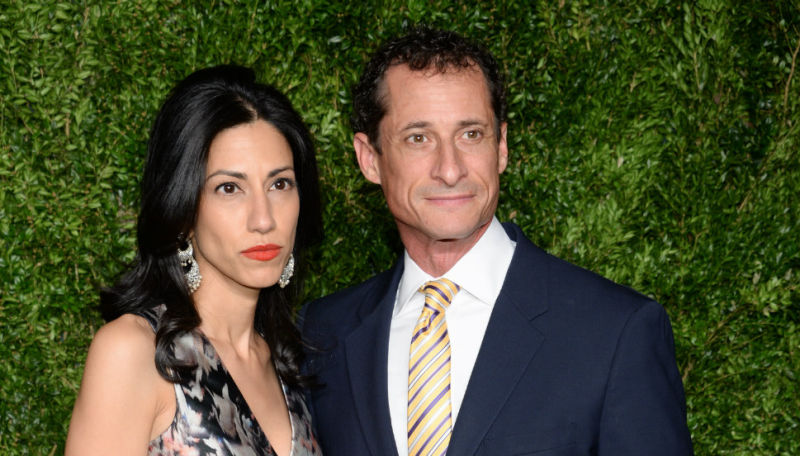 After it surfaced that former Congressman Antony Weiner was caught up in yet another sexting scandal, his wife Huma Abedin, a senior adviser to Hillary Clinton, announced the couple's separation on Monday. In a statement released to the press, Abedin said the two would remain devoted to their young son.
"After long and painful consideration and work on my marriage, I have made the decision to separate from my husband. Anthony and I remain devoted to doing what is best for our son, who is the light of our life. During this difficult time, I ask for respect for our privacy."
Weiner, who resigned in disgrace from Congress in 2011 after he mistakenly tweeted a pic of his junk that he meant to send as a direct message to another woman, revealing he was attempting to cheat on his wife, had recently resurfaced in the public eye. Not only is his wife a well-known aide to the Democratic nominee for POTUS, but a recent documentary about him was released that discussed his post-sexting life. (Weiner would rail against the film, claiming Abedin never consented to be filmed.)
Over the weekend, the New York Post published a damning piece highlighting Weiner's recent explicit texts to a "busty brunette," including one pic showing his underwear-clad boner while his young son laid next to him in bed. (Ewwwwwwwwwww!!!!!!) To make the whole thing even more absurd, the woman Weiner was having sexytime with is a Trump-supporting, Obama-hatin', gun-totin' conservative.
By Monday morning, Weiner had deleted his Twitter account, which was the obvious move. However, it appears Abedin wasn't going to be fooled twice by a man who can't stop acting like a neckbearded frat bro who spends all of his free time thinking about crushing puss, and threw in the towel on the marriage.
Meanwhile, if it wasn't apparent already, Weiner's political career is absolutely toast, and I doubt anyone will hire him to do anything outside of appearing in a parody porn.
Image via Jezebel