Obama To Louisiana Flood Victims: This Is Not A 'Photo Op Issue'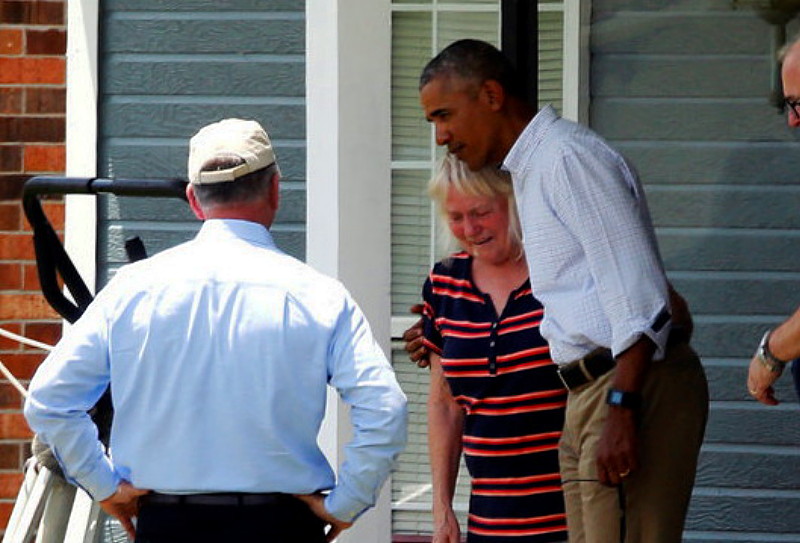 According to a report in Politico, Obama, who had no trouble signing the federal relief order from his vacation spot in Martha's Vineyard, shrugged off Donald Trump's "playing golf" criticism and defended the federal response.
President Barack Obama visited flood-ravaged Baton Rouge neighborhoods in Louisiana on Tuesday, and encouraged residents to sign up for government assistance, because he has earmarked $120 million in federal aid to help people rebuild their lives.
During a press conference shortly after he arrived, The Hill reported that Obama took a swipe at Trump's complaints and obvious efforts to politicize the tragedy:
"Sometimes once the flood waters pass, people's attention spans pass. This is not a one-off; this is not a photo op issue. This is how to make sure that [months from now], people still are getting the help they need. I need all Americans to stay focused on this," said Obama.
Meanwhile, Trump was still criticizing Obama for taking too long to end his vacation and arrive at the scene of the worst natural disaster since Hurricane Sandy, regardless of the fact that Gov. John Bel Edwards suggested the president wait "at least a week" to visit, so that resources wouldn't have to be diverted from rescue and relief efforts to motorcade security.
Nonetheless, Trump, who never met a photo opportunity he didn't like, ignored Edwards' advice and swooped into Baton Rouge a day after the disaster hit on August 11, to unload supplies from a truck that included cases of Play-doh as he was surrounded by reporters with cameras for a period lasting less than approximately two minutes before departing.
"Nobody gives a hoot whether you are Democrat or Republican," said Obama, when they are dealing with the removal of soaked drywall and carpet from their homes.  Unlike Trump, Obama actually spent time visiting and comforting devastated people, instead of signing baseball caps or unloading uneatable junk at for shelters.
The president was clearly unfazed by Trump's attempts to belittle him.
"One of the benefits of being five months short of leaving here is I don't worry too much about politics," he said.
Hillary Clinton vowed to be more sensitive to the state's recovery situation than her political rival.
"This month's floods in Louisiana are a crisis that demands a national response," she said. "I am committed to visiting communities affected by these floods, at a time when the presence of a political campaign will not disrupt the response, to discuss how we can and will rebuild together."
Feature image by Jonathan Earnst/Reuters.
***
***Seattle author, Delilah Jean Williams, wrote the award winning, 5-Star rated, Scorched Earth, Alien Wonders published in 2015. If you've
ever wondered what aliens would find if they visited Earth a hundred years from now, you're going to love this book. But there's more to the earthly adventures of this group of space-traveling prairie dog aliens than just seeing what a reckless human race did to their planet.  Just like people, these interstellar voyagers know a thing or two about love, laughter, betrayal and greed that can wreak destruction on a planetary scale. Can the aliens save what's left of the doomed world and guide humanity back to a healthy relationship with their planet? Or is it too late? The answer is inside the pages of Scorched Earth, Alien Wonders… Amazon.com.
***