Trump Spokesman Calls NYT Article Absolutely False, Won't Ask For Any Corrections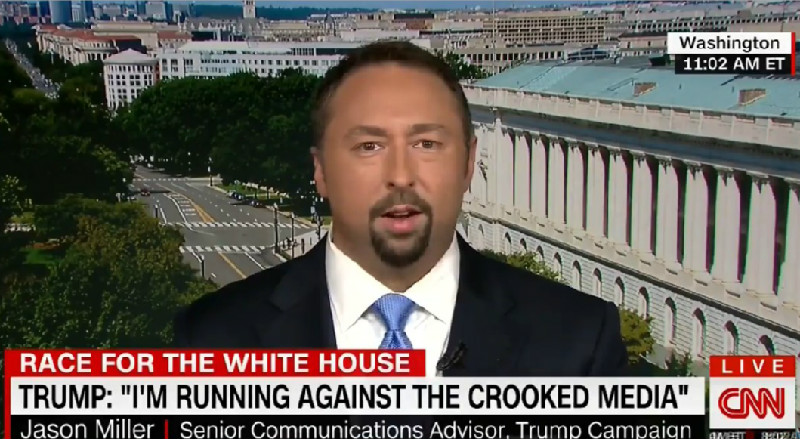 Despite being tossed around like a rag doll the last time he appeared on the program, Trump campaign communications director Jason Miller showed up on CNN's Reliable Sources Sunday to get exposed as a stumbling idiot once again by host Brian Stelter. And Stelter did not disappoint. Using his calm yet bulldoggish interview style, the media critic revealed just how deep the Trump campaign is in tin-foil hat territory.
Miller came on with the intent of pushing the GOP nominee's latest narrative that the mainstream media is crooked and out to get him. With Donald Trump taking to Twitter Sunday morning to complain about the New York Times over an article that described his campaign as in chaos because they are unable to get him to pivot, Miller parroted his boss's lamentations. However, even though he continually called out the article for being false and stated that the publication was in the tank for Hillary Clinton, who couldn't point to a correction to be made in the piece. He also didn't say the campaign would ask for a retraction.
Stelter continued to hammer him on this. He forced Miller to answer questions on whether or not he felt the Times was making up sources for their stories about the campaign, a serious charge. Miller wouldn't go so far as to say that, instead saying that perhaps reporters were being misled by people pretending to be close to Trump. Stelter also kept pressing Miller on what was untruthful in the piece, with Miller only claiming that the whole thing was "ridiculous," a word he used roughly 1,587,365 times during the interview.
At one point, Miller tried to refocus the conversation towards the unfair coverage the mainstream media is giving Trump as of late. Echoing yet another talking point taken directly from the angry creamsicle, the campaign flack whined that papers and news channels aren't showing how massive Trump's rally crowds are. Stelter pointed out that perhaps more media outlets would show that if Trump would stop blacklisting them from his campaign events. Miller retorted that they could come via general admission, and that press access was just for the ones who give fair and unbiased (i.e. propagandist) coverage to the campaign.
It just kept going like this for the Trump spokesperson. He kept trying to push his preset agenda on the air, and Stelter would casually obliterate him at every step. It was really a wonder to behold. The CNN host grilled Miller over and over about Trump's aversion to telling the truth, bringing up his latest stunt where he's used charts on stage derived from fringe right-wing conspiracy sites.
All Miller could do was say he didn't know where the charts came from. But Stelter persisted, asking him who was vetting these charts because someone was printing them out for Trump. When Miller tried to back out of this, Stelter brought up spokeswoman Katrina Pierson's recent disastrous television appearances and wanted to know if the campaign was going to keep sending her out to do TV interviews. Miller could just say that Pierson was a valuable asset who had been with the campaign since the beginning.
Finally, Stelter explained to Miller just how dangerous Trump's recent "rigged elections" rhetoric is, as he's sowing distrust within his supporters that the only way he can lose if Clinton cheats. Unbelievably — wait, sorry, quite believably — Miller repeated Trump's remarks that the only way he'll lose Pennsylvania, a reliably Blue state, is if there is some funny business. Stelter once again noted that this was extremely dangerous while also highlighting the extreme rareness of individual voter fraud.
In the end, it would be amazing to me if Jason Miller decides to go another round with Stelter in the future. Not sure he'd want to do get the shit beat out of himself again.
Below is video of a portion of the interview:
We talked about the First Amendment on @ReliableSources. I asked about Trump possibly taking away NYT's credentials https://t.co/X38cwN5mRu

— Brian Stelter (@brianstelter) August 14, 2016