Trump Surrogate Carl Paladino: "ISIS-Type" Khans Don't Deserve To Be Gold Star Parents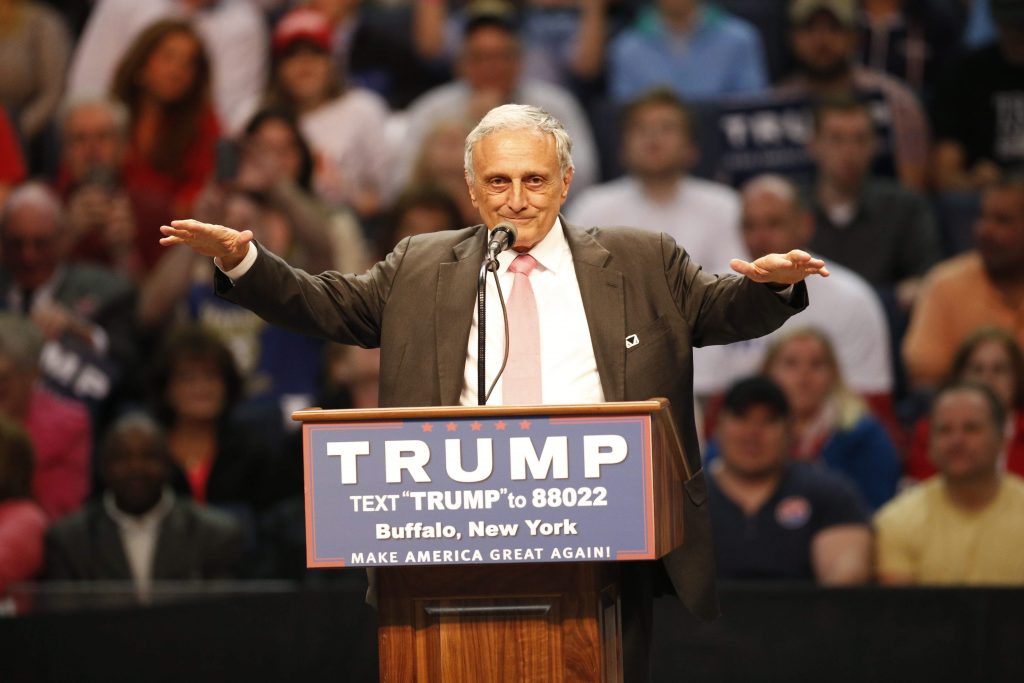 Well, if you thought the Trump campaign would try to quietly put the whole Khan family feud behind them, sorta like a real political team would, you obviously haven't been paying attention this past year.
With Donald Trump currently dealing with numerous controversies and firestorms, all solely of his own making, one of his surrogates tossed another Michelin on the raging tire fire Friday. Appearing on talk radio show Imus In The Morning, one-time New York gubernatorial candidate Paulie Walnuts cosplayer Carl Paladino decided to not only smear Khizr Khan, but to also straight up call him an Islamic terrorist.
Speaking to guest host Connell McShane, the co-chair of Trump's New York campaign, Paladino began the interview by pretending everything was going JUST FINE for the GOP nominee. Polls were looking good (no they aren't) and he's doing really well with blue collar and white collar worker (tell yourself whatever you need to hear, Carl). After a few minutes of this, McShane brought up Trump's plummeting poll numbers by bringing up the real estate mogul's remarks about the Khans, which started the precipitous downward trend.
In Paladino's view, not only shouldn't this be any kind of issue for Trump, but the Republican standard-bearer shouldn't honor the Khans at all because they are goddamn ISIS, man!
"We've got an un-indicted felon as his opponent and you're talking about Khan, about him making a remark about this man. All right, I don't care if he's a Gold Star parent. He certainly doesn't deserve that title, OK, if he's as anti-American as he's illustrated in his speeches and in his discussion. I mean, if he's a member of the Muslim Brotherhood or supporting, you know, the ISIS-type of attitude against America, there's no reason for Donald Trump to have to honor this man."
The Tea Party firebrand was referring to stories pushed by Breitbart and other Trump-humping sites, along with Trump ally Roger Stone. They've all attempted to play Six Degrees of Separation to brand Khan some Sharia-pushing, America-hating member of a terrorist organization. Their proof? A review he wrote in 1983 of a book written by radical Islamic leader. BOOM. Got 'em!
Oh, and the interview got even better. Right after stating that the grieving parents of a slain war hero don't deserve to be honored because ISIS, Paladino also doubled down on his previous claim that President Obama is a secret Muslim, pointing to something about Hillary Clinton's charitable foundation as evidence. (How this has to do with POTUS's religion, I have no idea.)
This interview should certainly help Trump's numbers improve.
Below is audio of the chat, courtesy of Buzzfeed:
Image via Derek Gee/Buffalo News