Evan Who? #NeverTrump Republicans Backing Unknown Evan McMullin For President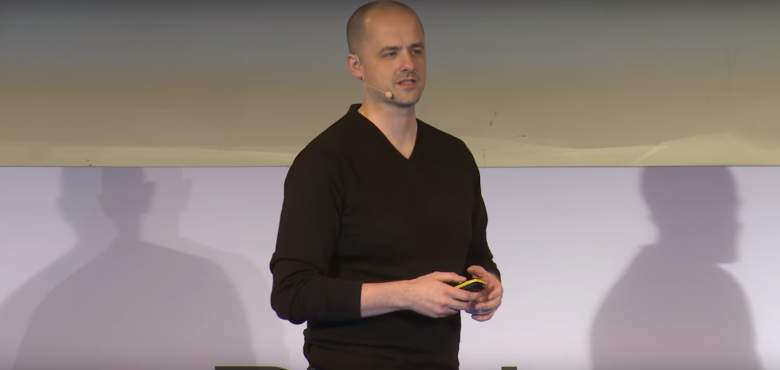 I guess this is David French 2.0.
Ever since Ted Cruz bowed out of the Republican primary in May, essentially handing the GOP presidential nomination to Donald Trump, so-called #NeverTrump conservatives have been looking for their great white hope. Unsatisfied with Libertarian candidate Gary Johnson and definitely not in the mindset to vote for Hillary Clinton, this small but vocal group of 'principled' Republicans have tried to recruit a a suitable alternative to run an independent campaign for months.
In late May, they tossed out barely known David French as their man. The National Review writer was more known for his hot takes on Game of Thrones and Star Wars than his policy positions, and the general public had no idea who the guy was. Eventually, French abandoned the notion of a third-party candidacy.
The Never-Trumpers appeared to accept their fate after that and the rumblings surrounding a well-funded indy candidate fell by the wayside. That is until Trump's poll numbers took a nosedive in the wake of a well-received Democratic National Convention and Trump shooting himself in the dick at every opportunity. With this opening, the anti-Trump forces, apparently led by lead Trump hater Rick Wilson, recruited their guy.
During Monday's broadcast of Morning Joe, co-host Joe Scarborough reported that he had heard rumors from several sources that there would be an "impressive" candidate tossed out to make a last-minute run at the White House. Nobody else on the set had heard those murmurs, but it didn't take long for other reporters to start hunting, and soon enough, Buzzfeed's McKay Coppins gave us a name — Evan McMullin.
Evan who? Exactly. As Coppins noted in his piece, at the time of publication, McMullin had 135 Twitter followers (it has now grown into the thousands thanks to the news) and no real public profile.
McMullin did not immediately respond to requests for comment from BuzzFeed News. He would make for an unlikely presidential candidate. He has never held elective office before and has spent most of his career as a CIA officer, according to his LinkedIn page. Young and unmarried, McMullin received an MBA at Wharton in 2011, and after a stint at Goldman Sachs, went to work as a policy wonk on Capitol Hill.
Unlike National Review writer David French, another conservative courted by anti-Trump Republicans to launch a long-shot third-party bid, McMullin has virtually no public profile. He doesn't appear regularly on television, and has just 135 followers on Twitter. His most high-profile recent appearance seems to have been a TEDx talk about genocide he gave at London Business School in April.
In a statement to ABC News confirming his candidacy, McMullin "humbly" offered up his services to lead this country.
"In a year where Americans have lost faith in the candidates of both major parties, it's time for a generation of new leadership to step up. It's never too late to do the right thing, and America deserves much better than either Donald Trump or Hillary Clinton can offer us. I humbly offer myself as a leader who can give millions of disaffected Americans a conservative choice for President."
The reaction to McMullin's bid was as one would expect. Many unimpressed, more bemused, all wondering who the hell this dude is.
As of last night, the conservatives' "great white hope," one Evan McMullin (who?), had 135 followers on Twitter.

— Bruce Bartlett (@BruceBartlett) August 8, 2016
Congratulations to Evan McMullin on his new job at Vice.

— Eliot Nelson (@eliotnelson) August 8, 2016
. you seem like a good guy, and I'm as #NeverTrump as you are, but what the hell are you doing?

— Kyle Foley (@KFoleyFL) August 8, 2016
Evan McMullin has already missed 1/2 of filing deadlines, many others coming up quickly. https://t.co/DrM5zQfCoZ pic.twitter.com/KiAvKaZE5q

— Alex Seitz-Wald (@aseitzwald) August 8, 2016
However, despite the jokes and the fact no one is taking McMullin seriously, unlike French, he is moving forward with his campaign. He's got a website up already and has the backing of some real donors. While ballot access will be difficult in all 50 states, he may be able to slice off a couple of percentage points in the end.