Trump During Foreign Policy Briefing: If We Have Nukes, "Why Can't We Use Them?"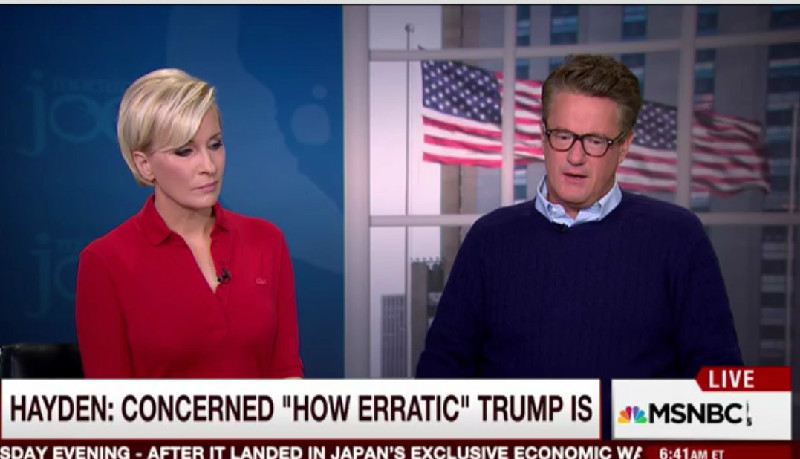 Another day, another crazy-ass story about Donald Trump reflecting that he will be an existential threat to this country if elected POTUS.
During Wednesday's broadcast of MSNBC's Morning Joe, hosts Joe Scarborough and Mika Brzezinski spoke to former CIA Director Michael Hayden about Trump's erratic behavior and lack of judgment when it comes to foreign policy. In the aftermath of Trump attacking a Gold Star family and refusing to see fault with it, the retired four-star general was asked what his major concerns with Trump were.
According to Hayden, it was his inconsistency.
"How erratic he is. Joe, I can argue about his position or that position. I do that with the current president. But, but, he's inconsistent. And when you're the head of a global super power — inconsistency, unpredictability — those are dangerous things. They frighten your friends and tempt your enemies.
And so, I would be very, very concerned."
In response to panelist Harold Ford's question on if Hayden knew of any actual foreign policy or national security experts that he respects who are advising Trump, Hayden plainly answered, "No one."
This led to an anecdote from Joe that was, in no other words, frightening. The former Republican Congressman, carefully telling the story so not to reveal who relayed it to him, highlighted how Trump kept asking in a foreign policy briefing why he couldn't use nuclear weapons.
"I'll be very careful here. Several months ago, a foreign policy expert on international level went to advise Donald Trump. Three times he asked about the use of nuclear weapons. Three times he asked, at one point, 'If we have them, why can't we use them?' That's one of the reasons why he just doesn't have foreign policy experts around him. Three times, in an hour briefing, 'Why can't we use nuclear weapons?'"
First off, WHOA. Second off, if Joe has known about this for months, why has he wavered on his support for the Trumpster? He's gone back and forth, stated that Trump just needs to make a pivot, said that he wants to see the real estate mogul take back certain remarks or comments, etc. If you knew this was something he said some time ago, and that as president he'd potentially set off a nuclear holocaust, why would you even think about possibly getting behind this orange monster, Joe?
So, yeah, thanks for telling us this horrifying tale. But it also says a lot about you that you've known about this yet you've still tried to give Trump some benefit of the doubt these past few months.
UPDATE: According to MSNBC, Scarborough learned about the conversation in the past few days.
Below is video of the exchange, courtesy of MSNBC: