Campaign Spokesman Defends Trump's Lie About NFL Debate Letter, Calls It "Semantics"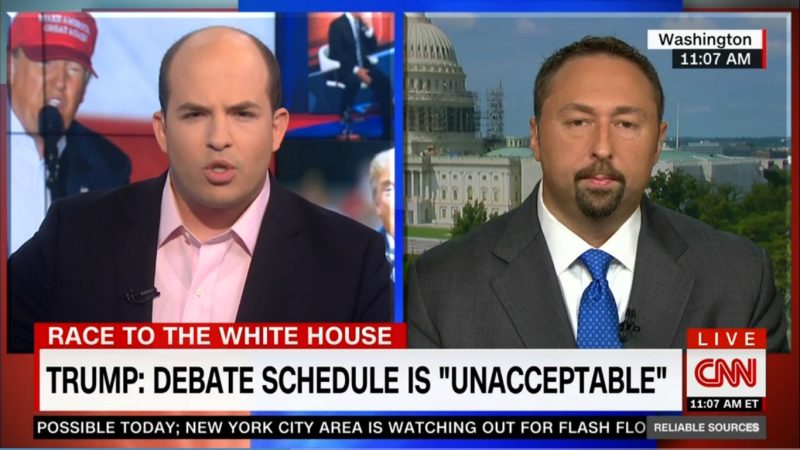 While Republican nominee Donald Trump was dealing with the fallout of a disastrous interview that aired on ABC's This Week, Trump campaign spokesman Jason Miller was dealing with his own problems with the press. During an appearance on CNN's Reliable Sources, Jason Miller was taken to the woodshed by host Brian Stelter over Trump's comments about Khizr and Ghazala Khan, the campaign's treatment of reporters and the candidate complaining about the upcoming debates.
However, the best exchange probably came when Stelter asked the ex-Cruz campaign staffer about the Republican standard-bearer's easily provable lie regarding his claim that the NFL sent him a letter stating the league would like certain debate dates switched. (Two of the three presidential debates are scheduled against primetime NFL games.) Stelter himself reached out to the NFL for comment and received a flat denial from a league spokesperson.
When the CNN host pressed Miller on this, the Trump flack tried to stumble his way out by claiming that it was all a matter of semantics.
From CNN's transcript:
STELTER: What's confusing about that statement, Jason, is that the NFL refuted it, saying, quote, "While we obviously wish the debate commission could find another night, we did not send a letter to Trump." Can you help me understand why Trump said he did receive a letter from the NFL?
MILLER: Yes, let me go and take a step back here,Brian, for a moment. Our posture and our position on the debates is we want as many people as many voters to be participants in and to see the debates a possible, which is different from the Clinton campaign.
So, you look at these first two debates where the first debate is coming up head to head against "Monday Night Football," it's a Falcon's home game. Georgia, an important. The second debate is coming up for Packers home game on — that's on "Sunday Night Football", which usually has about 20 million viewers.
So, big audiences, Wisconsin is a very important state. We want as many people to be participants and be involved in the presidential debate process as possible.
Now, these initial debates put out by the commission or planning dates, the campaigns haven't started their negotiations yet, which will start this week.
Our posture, we want debates, we want as many people seeing them as possible. Now, going back to your initial point, Mr. Trump was notified by a source close to the league of these potential conflicts. The Clinton camp knows about these conflicts as well, but it's not a big deal to them. But we want as many people to be involved in this debate process as possible, and that's our
posture.
STELTER: Did Donald Trump lie when he said he received a letter from the NFL?
MILLER: He was notified by a source close to the NFL, and again, the issue here is we want people involved —
STELTER: Why did he say he received a letter from the NFL?
MILLER: He was notified by source close to the NFL.
STELTER: I don't know why he told George Stephanopoulos he received a letter then.
MILLER: I think that, you know, again, it's semantics a little bit here, Brian, but the point is he was notified —
STELTER: It's not semantics if you send me a letter versus make a phone call.
MILLER: Brian, he was notified by a source close to the NFL, and this is something that the Clinton campaign because notified as well.
STELTER: Right. Well, the Clinton campaign I think probably knew when the debates were scheduled and probably knew when the football games were scheduled because the calendar for the debates came out in September of last year. The football calendar was also set letter, but we all know games are on Sundays
and Mondays.
The commission has told me they have to spread these dates out, they have to do different days of the week, they have to avoid religious holidays, there's a lot of complicated reasons.
Are you saying you would like to see the debate dates changed?
What is really impressive here is how Stelter wouldn't let Miller wriggle off the hook. He kept pressing him on providing a straight answer for why Trump would lie about something like this. Even while Miller continued to pivot away and try to change the subject, Stelter continued to frame Trump's comments as a demonstrable lie. In essence, Stelter called Donald Trump a liar. And for good cause.
Below is video of the segment, courtesy of CNN: