Rush Limbaugh: Hillary Would Have Whacked Bernie If He Didn't Endorse Her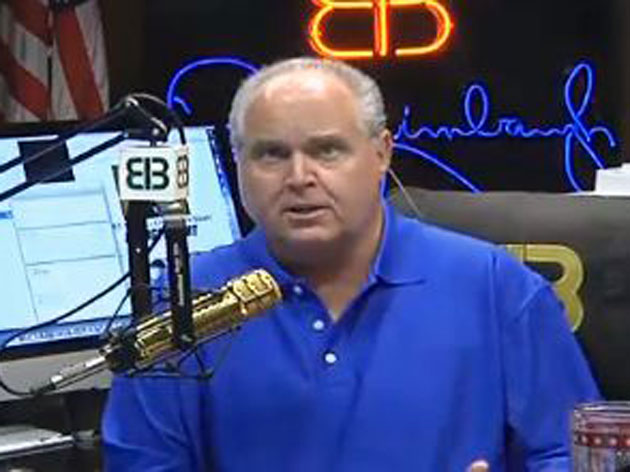 Well, considering Rush Limbaugh thinks Hillary Clinton is responsible for at least one murder, if not more, this really shouldn't have come as any surprise.
During Friday's broadcast of The Rush Limbaugh Show, the Viagra bulk buyer speculated on the likeliness of Democratic Presidential runner-up Bernie Sanders getting fitted with cement shoes if he would have failed to endorse Clinton. And, to nobody's surprise, the likeliness was 100%.
Taking a call from a Dittohead, who wanted to know what would have happened if Sanders refused to support Hillary at the Democratic National Convention and walked off the stage, Limbaugh responded with the following:
RUSH: (chuckling) No. (laughing) They couldn't find Bernie Sanders today if he had done that.
CALLER: (silence) Okay.
RUSH: Nobody'd know where he happened to go. They wouldn't be able to find him.
CALLER: Hmm.
RUSH: If Bernie Sanders had done what your hypothetical suggested — walked out on that stage and done an open revolt — he'd a gotten off the stage, but that would have been the last anybody saw of Bernie Sanders, and he wouldn't even be setting himself up. He's gonna be 80 years old.
Yep. In Rush World, Hillary would have sent some Democrat thugs over to Bernie's house in Vermont, had them take him into the woods and put two between the eyes. In fact, per Limbaugh, Clinton likely already conveyed this to Sanders before the DNC, letting him know what's what.
This is what the call Excellence In Broadcasting.