John Lewis: Dems Elected First President Of Color, Will "Shatter That Glass Ceiling Again"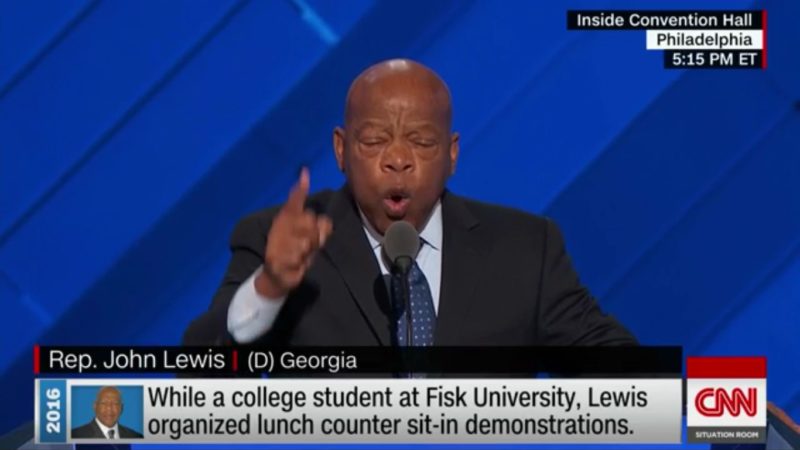 After a raucous and at times chaotic first night of the Democratic National Convention, the party got down to official business Tuesday afternoon with the roll call to pick the Democratic nominee for the White House. Rep. Tulsi Gabbard (D-HI) did the honors of nominating Bernie Sanders. Meanwhile, Sen. Barbara Mikulsi (D-MD), the longest serving woman in Congress, took the stage to put the former Secretary of State's name forth.
Mikulski's comments were everything you would have wanted from someone officially placing your hat in the ring. Strong, complimentary, personal — nothing wrong whatsoever. However, that was all overshadowed by a true American icon seconding the nomination.
Rep. John Lewis (D-GA) used his exemplary speaking skills and ability to move even the hardest of hearts to once again electrify an audience. Lewis noted the historical nature of Hillary potentially being the first woman president while contrasting it Democrats electing the first African-American POTUS.
"The Democratic Party nominated and elected the first person of color to serve in the White House. Not just for one term, but two terms! Tonight, tonight, on this night, we will shatter that glass ceiling again. We are the party of tomorrow, and we will build a true democracy in America."
Below is video of the remarks, courtesy of CNN:
Rep. John Lewis: "We will shatter that glass ceiling again" https://t.co/ELMpamZgF6 #DemsInPhilly https://t.co/cAcQI0r5mf

— CNN (@CNN) July 26, 2016
One thing that was noted by reporters on the floor is that the small but loud group of Bernie delegates who booed Hillary's name throughout the night Monday stayed quiet during Lewis' speech.
As civil rights icon John Lewis seconds nomination of @HillaryClinton, Sanders supporters sit in silence, but no booing from my location.

— Jeff Zeleny (@jeffzeleny) July 26, 2016
Media Matters' Oliver Willis had the appropriate reaction to Lewis speaking.
every time john lewis speaks, im like pic.twitter.com/ujjFlUy6bu

— Oliver Willis (@owillis) July 26, 2016
You and the rest of America, Oliver.