Watch: Jon Stewart Takes Over Colbert, Smacks Down Trump And Hannity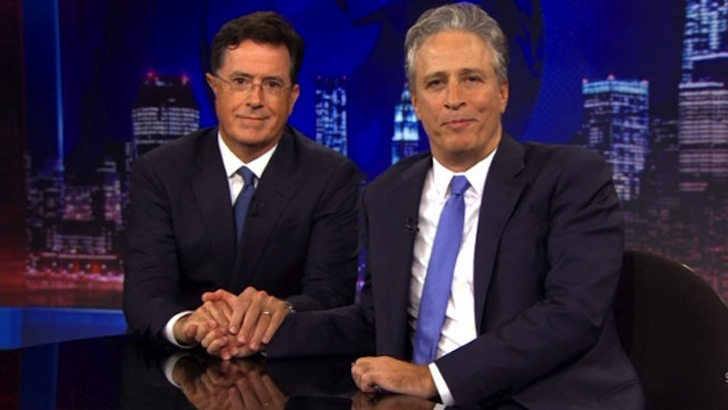 Jon Stewart took over Stephen Colbert's desk last night on The Late Show and delivered an impassioned attack on Donald Trump, Sean Hannity and conservatives performing mental 'gymnastics' to support Trump's campaign. On the night Trump made a fear mongering and authoritarian speech to the Republican National Convention, Stewart proved why the country needs him more than ever.
Following Colbert and Stewart's orgasmic celebrations of the fall of Fox News chief Roger Ailes, who has been accused of sexual harassment by several female employees, a rough, bearded Stewart seized control of the show. Using a series of clips featuring Fox News host Sean Hannity, whom Stewart repeatedly called 'Lumpy', Stewart pointed to the hypocrisy in the conservative media's treatment of Barack Obama and Donald Trump.
Stewart passionately attacked conservatives for their possessive attitude towards the country. "You don't own patriotism," Stewart said, highlighting the failure of Republican politicians to pass the 9/11 First Responders Bill despite their rhetoric on 'blue lives'. Stewart has campaigned for the bill's passage since leaving The Daily Show.
You can watch Stewart's segment below.