Security Escorts Heidi Cruz Out Of RNC After Trump Supporters Angrily Confront Her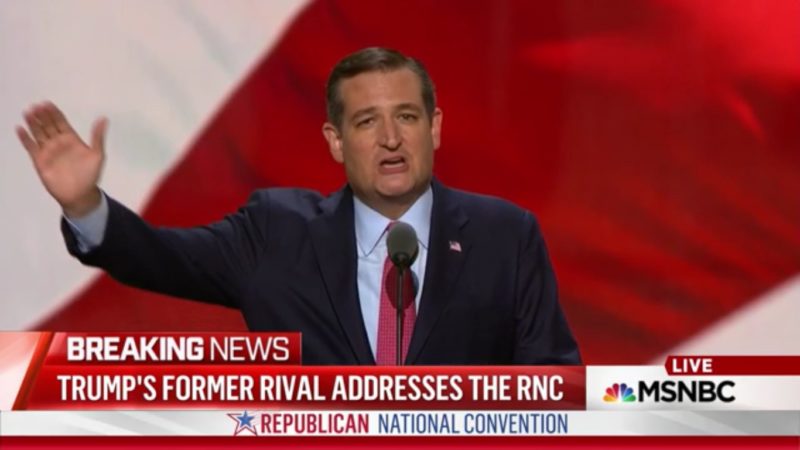 Well, when you decide to call a man's father a conspirator in JFK's assassination, you kinda have to see this coming.
Despite pleas from many of his supporters to endorse the nominee hours before he went on stage Wednesday night , GOP primary runner-up Ted Cruz used his Republican National Convention speech to tell conservatives to "vote your conscience" while refusing to endorse Donald Trump. The reaction was unlike anything we've seen at a major party convention in recent years — a speaker getting soundly booed off the stage while the party's nominee looked on, all while the speaker's wife had to be escorted out for her own safety.
Yep, Heidi Cruz — y'know, the one Trump made fun of on Twitter — needed security to lead her to safety after irate Trump supporters and delegates started physically confronting her. According to The Hill, former Virginia Attorney General Ken Cuccinelli told reporters that he had to help intervene when Trump loyalists wanted to get closer to give her an earful.
"People behind her were getting very ugly and physically approaching her and [Cruz's father] Rafael," he said. "It was not a pretty situation, and the decision was instantly made to not talk to media and get immediately out of the arena."
Cuccinelli said people from his state's delegation too were "physically approaching her while yelling at her," so he moved members of the media and delegates out of the way to help usher her out.
And ABC News got a hold of video of Mrs. Cruz getting escorted out of the building:
Video shows Ted Cruz's wife, Heidi, escorted out of #GOPConvention amid fears for her safety https://t.co/1XsQXnBa14https://t.co/ABjOPrKyI8

— ABC News (@ABC) July 21, 2016
While Heidi was trying to get to safety, her husband was hearing it from Republicans who were super-pissed that he wouldn't bend the knee to the guy who nicknamed him Lyin' Ted. The Donald's personal Mickey D's bagman said that "it was awful" for Cruz to not endorse Trump.
Gov. Chris Christie on Ted Cruz's #RNCinCLE speech: "I think it was awful." https://t.co/p4Aq6REul9 https://t.co/r1TZMc7aIm

— Anderson Cooper 360° (@AC360) July 21, 2016
Per CNN, at least one incensed person had to be restrained from assaulting Cruz after the speech.
CNN reports that a man in a donor suite had to be restrained from assaulting Ted Cruz after he entered it after his speech.

— Conor Friedersdorf (@conor64) July 21, 2016
Meanwhile, we got hold of footage of Cruz walking out of Quicken Arena: