Chris Cuomo Calls Out Trump Campaign Manager For Lying About Plagiarized Speech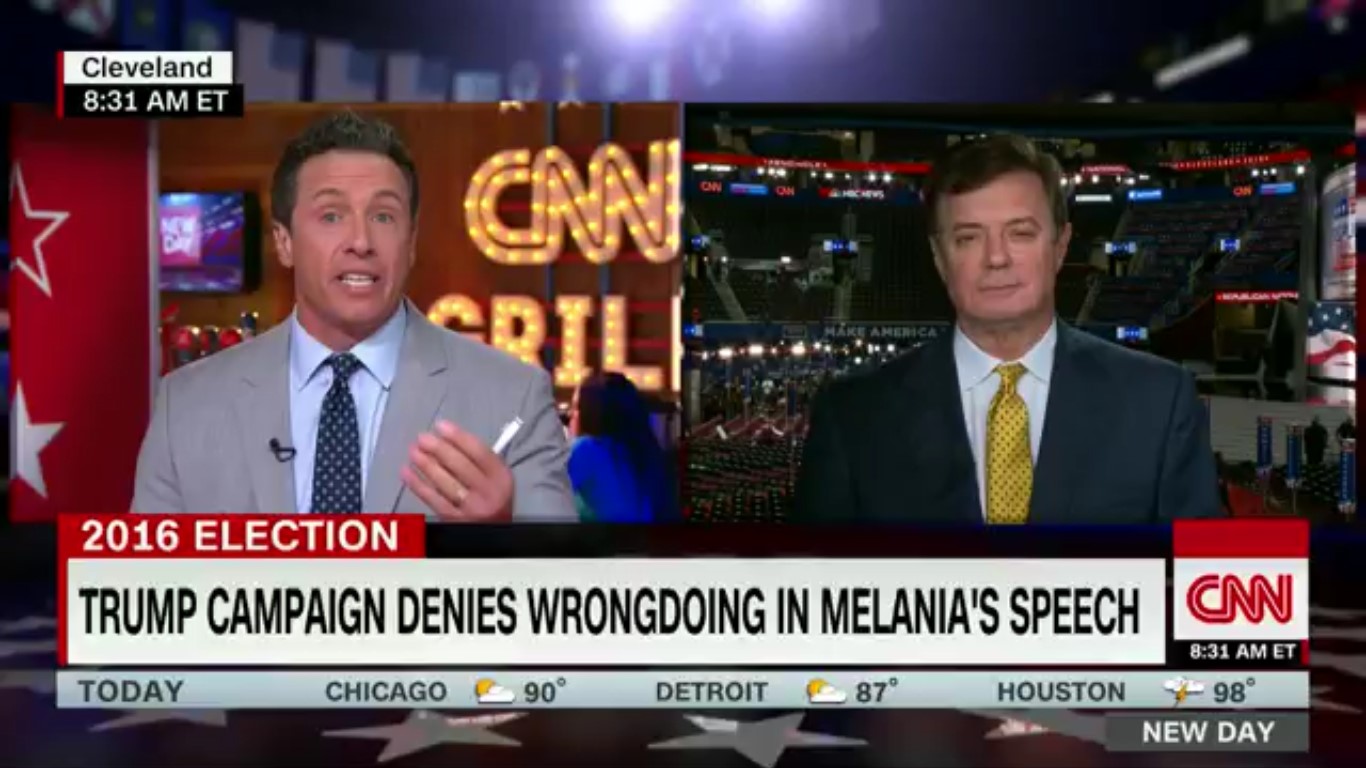 While others in the media uncritically allow the Trump campaign to gaslight the public on Melania Trump's obvious plagiarism, at least one dude is sticking to his guns and calling a spade a spade.
For the second day in a row, CNN's Chris Cuomo interviewed Trump campaign manager Paul Manafort and confronted him about Donald Trump's wife stealing a portion of her Monday night RNC speech from Michelle Obama. And, for the second day in a row, Manafort tried to use his "common words" excuse to brush away the controversy, explaining to Cuomo and the audience that they didn't witness what they witnessed.
Thankfully, Cuomo wasn't falling for Manafort's bullshit Jedi mind trick, and called him out as a straight-up liar. First, he pointed out the blatant fact that Melania's words came directly from Mrs. Obama's address:
"Some of those words came from Michelle Obama's speech in 2008. You have every kind of expert and anybody with eyes who sees that, you keep ignoring it. I don't understand why. I don't understand why you keep making this an issue."
After Manafort insisted that it was just Mrs. Trump's feeling and tried to pivot to how the speech wasn't all that important because it wasn't from a candidate, Cuomo pressed him again about why he can't just own up to the truth.
"You're distracting from the story line by refusing to acknowledge something that's true, and it plays into two issues…"When faced with something that you did wrong, you just deny it, no matter whether it is true or not. Whether it is the man who has a developmental disability who works for The New York Times, and Donald Trump mocks him and says, 'No, I didn't.' Whether it is a star that represents the star of David, and you say, 'No, it is a sheriff's star.' There is a pattern, whether it is Barron, John Miller, really Donald Trump. There is a pattern of denying the obvious. What happens when you're running the government of the United States and you don't want to deal with what happens then? That's the concern."
Chris hit on a great point there — how can you go after Hillary Clinton for being untrustworthy and dishonest when you deny even the most obvious of things? If you just keep using the 'deny, deny, deny – attack, attack, attack,' won't that eventually catch up with you?
Of course, to Manafort, a guy who has advised Eastern European strongmen and wannabe dictators, none of what Cuomo said was true. See, it is all "in the eye of the beholder," and therefore, in open to interpretation.
Eventually, the CNN host had enough. With the campaign manager continually denying the truth and telling Cuomo to move on, the New Day anchor said he couldn't because "you keep lying about it, so I can't move on from it." When Manafort said he wasn't lying and went back to his "common words" gaslighting trick, ending with him telling Cuomo that they'll just have a difference of opinion, the Trump aide was met with this mic drop.
"It is not an opinion. That's the problem."
Below is video of the exchange: