Illinois Senator Mark Kirk's Re-Election Campaign Doomed By Trump Backpedaling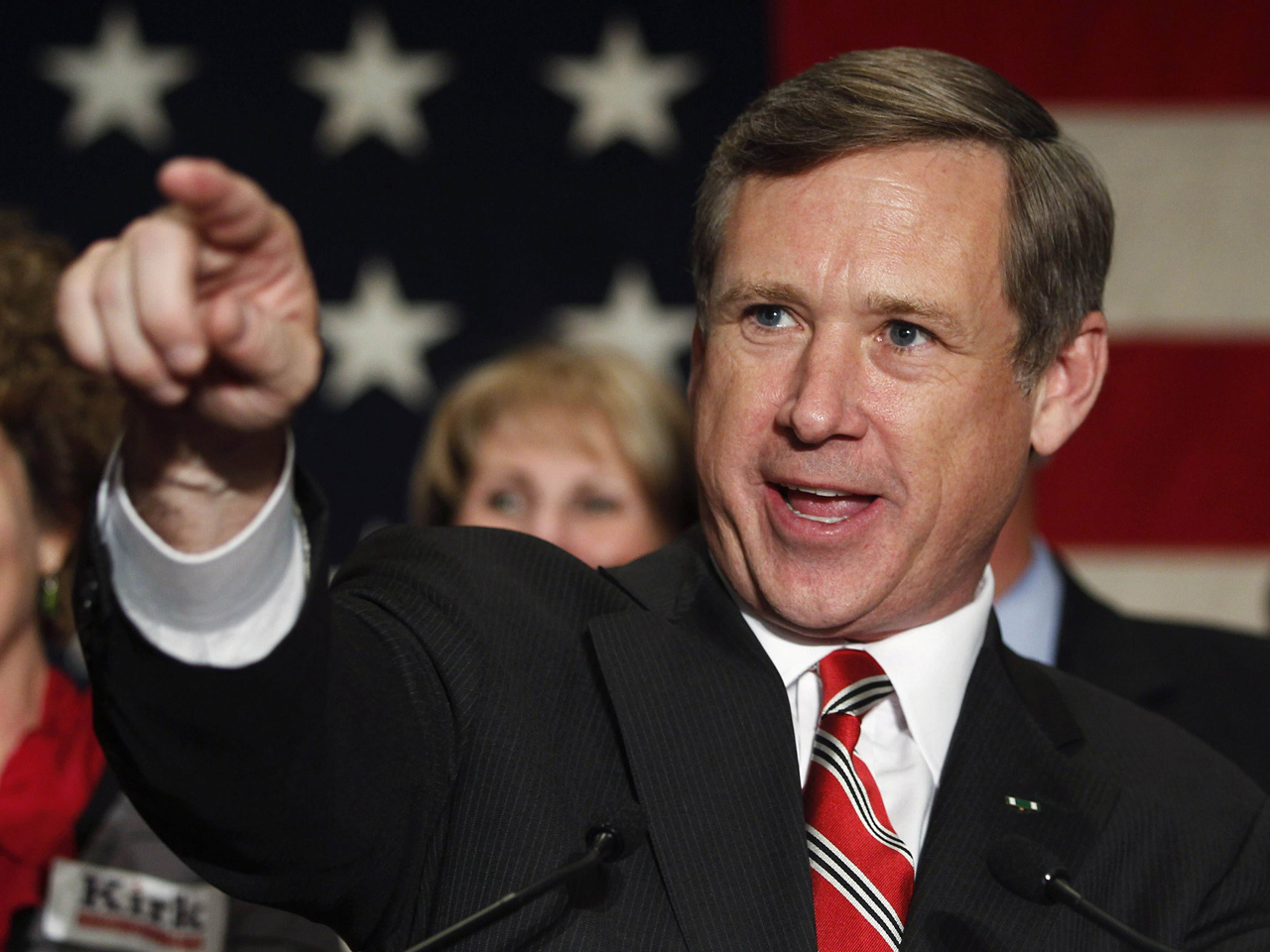 Nearly a year ago in late October 2015, Politico ran a story calling current GOP Illinois Senator Mark Kirk, The Most Endangered Republican in the Country. Written at a time when Donald Trump was already termite munching his way through what's left of the orthodox Republican establishment, this was a big deal. Writers Anna Palmer and Burgess Everett observed that:
"Kirk has been largely written off by national party operatives, who have the unfortunate task of defending a staggering 24 seats in 2016. Their calculation isn't that surprising: Illinois is overwhelmingly Democratic, Hillary Clinton is likely to be on the ticket and Kirk is expected to face off against a female veteran in the general election."
That "female veteran" is Democratic Congresswoman Tammy Duckworth. Already a military legend and populist favorite, Duckworth's been generating all the right kind of headlines throughout her campaign against the incumbent Kirk. Her most recent act of badassery involved smuggling a cellphone onto the House floor – via her prosthetic leg – to document her party's landmark gun control legislative sit-in.
Last week The Wall Street Journal reported that Senator Kirk raised just a million dollars in the second quarter of 2016 to Duckworth's $2.7 million. The Congresswoman's cash on hand is nearly double her opponent's. In a conventional election, these numbers spell big trouble with voters going to the polls in less than three months. But this is no regular ballot year as we well know. And besides the regular problems facing an incumbent – a popular challenger, low coffers and statewide voters who lean left, Mark Kirk has one other "yuge" problem – Donald Trump.
It's not just Kirk's confusing endorsement turned repudiation of the presumptive Republican frontrunner causing migraines. Though it's certainly hard for Illinoisans to know what to make of that. In June, desperate to unlink his campaign from the human tire fire that is the Donald, Kirk issued a written proclamation, which read in part:
"While I oppose the Democratic nominee, Donald Trump's latest statements, in context with past attacks on Hispanics, women and the disabled like me, made it certain that I cannot and will not support my party's nominee for president regardless of the political impact on my candidacy or the Republican party."
Sounds pretty bold, right? Except not. When Donald Trump met with his party mates in Washington last week, the latest laughable attempt to unify Republicans around the orange cretin, Kirk was nowhere to be found. This opened a huge door for the Duckworth campaign and her Manager Matt McGrath. McGrath issued a statement after the Trump appearance on Capitol Hill:
"Presumptive Republican nominee and thin-skinned bully Donald Trump reportedly attacked three of his fellow Republicans today: Senators Jeff Flake, Ben Sasse, and Mark Kirk, for not supporting him adequately…What's interesting is that Flake and Sasse had the courage of their convictions and confronted Trump directly, while Mark Kirk, who calls himself an 'independent leader,' was in hiding….Kirk's cynical dance with Trump, supporting him at first and disavowing him after the polls in Illinois went south, is beyond silly, as is his campaign."
If that was the only press after Kirk's abstention from the Trump meeting, perhaps the incumbent could shake it off as typical partisan opportunism. But such is the reverse Midas Touch of Trump (everything he comes into contact with turns into liquefied shit rather than gold) that he delivered Kirk an extra kick to the groin. Both publicly and privately he referred to the 2010 freshman Senator as a "loser." The Duckworth campaign couldn't pay for that kind of boost if they forked over all of their cash.
The Republican convention kicks off in mere days, but Kirk won't be in attendance there either. In fact, as NBC 5 Chicago writer Tom Schuba highlights, "the list of attendees from Illinois is noticeably thin." This is a state that Donald Trump is being given a 3.5 percent chance of carrying in November, so the abstentions are understandable. But Kirk clearly needs all the press he can get and there's no doubt that the GOP convention will be a ratings bonanza. Hard to avoid staring at a car crash, even if you feel nauseous after walking away.
Mark Kirk certainly has a case for Most Endangered Republican in the Country. Rather than position him as a strong maverick, his flip flop on Trump has come across as pitifully desperate. Even worse, he's caught in the orange one's rhetorical crosshairs. The Donald is an expert grudge holder.
Kirk 2016 is hosed.