CNN Takes Heat For Giving Joe Walsh Airtime After He Called For Obama's Killing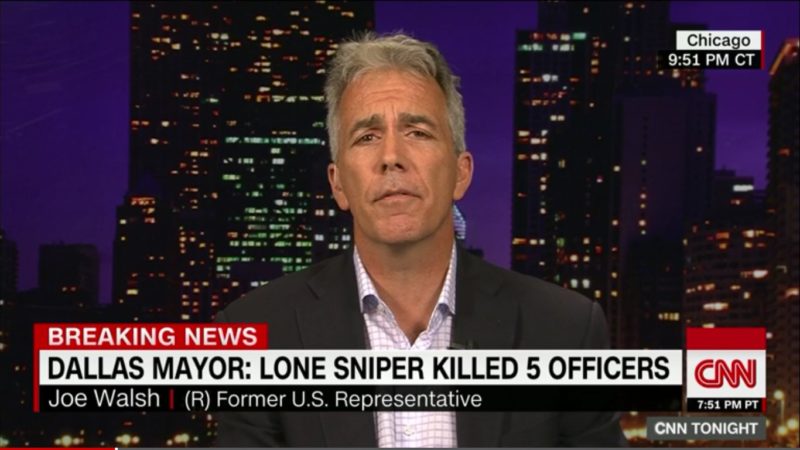 Apparently, not only is it perfectly acceptable to issue a threat to kill a sitting president because you're angry that a black man murdered cops, but it will also get you high-profile hits on cable news.
That's the message that was sent Friday night by CNN when they hosted former GOP Congressman and current wannabe shock jock Joe Walsh for a segment on Don Lemon's broadcast. While Lemon did kinda grill Walsh over his since-deleted tweet calling for President Obama's assassination, the Tea Partier was still given a large and powerful platform to spew his hateful and incendiary rhetoric. Which he did with glee.
In the aftermath of this decision to bring on Walsh, the network has taken tons of heat from media observers. It also doesn't help CNN that in the wake of the Dallas shooting, they've also brought on Darren Wilson buddy Jeff Roorda and ex-Ferguson police chief Tom Jackson to provide commentary.
I woke up this morning to a see a former congressman @walshfreedom on @CNN, days after he threatened @POTUS on social media. 1/

— Goldie Taylor (@goldietaylor) July 9, 2016
Maybe, I should not have been surprised, but I was. After all, @CNN also hired @CLewandowski_ after he assaulted @MichelleFields 2/

— Goldie Taylor (@goldietaylor) July 9, 2016
Joe Walsh on CNN is the biggest argument for unbundling cable packages I've seen in a while.

Vidcap via @jonfavs pic.twitter.com/A12pqOXyx3

— Steve Marmel (@Marmel) July 9, 2016
I get the impression CNN execs saw Don Lemon remember he was black Thursday and punished him by ordering him to interview Joe Walsh Friday.

— Ay Dubya Bee (@eclecticbrotha) July 9, 2016
Putting Joe Walsh on @CNN is not covering the news – it's giving hate and violence a public platform.

— Jon Favreau (@jonfavs) July 9, 2016
At a time where we actually need unity, CNN puts on @WalshFreedom to lie about @POTUS. https://t.co/hEYrNpGX9A #thumbsdown

— Karoli (@Karoli) July 9, 2016
Of course, CNN isn't the only network that should be ashamed of who they've put in front of the camera these past couple of days. MSNBC tossed Rudy Giuliani on to directly blame Black Lives Matter and President Obama for a sniper taking out cops in Dallas. Meanwhile, Fox News has really Foxed it up, using N-word connoisseur Mark Fuhrman in multiple segments and booking Sheriff David Clarke to call Obama and Hillary Clinton "straight-up cop haters."
So, yeah, they all should be embarrassed. But they aren't.