Former GOP Congressman Calls For Obama's Assassination In Wake Of Dallas Shooting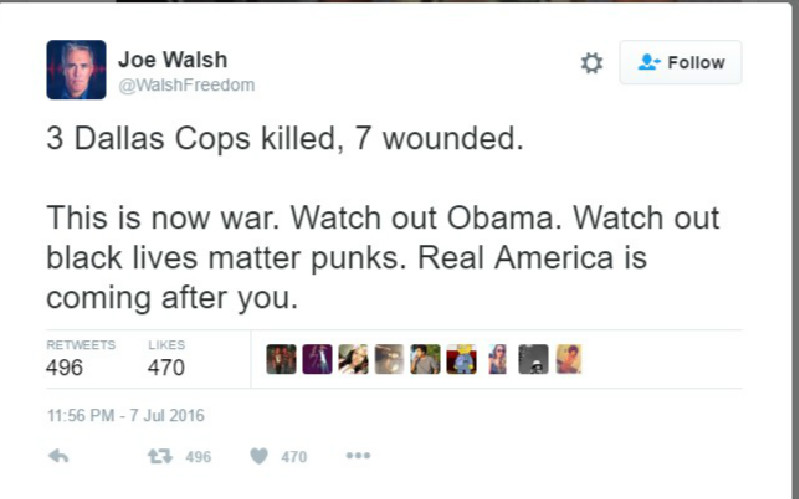 While Dallas police were still dealing with an active shooting situation that had claimed the lives of four officers with at least seven others injured, a former one-term GOP Congressman and full-time deadbeat dad decided to use his Twitter account to call for a race war and the assassination of President Obama.
Joe Walsh — not that one, the shitty one — has tried to make a name for himself after his brief Congressional career ended by being a blatantly racist shock jock. Therefore, news of snipers killing cops during a Black Lives Matter protest was just the opening he needed to gain some much-wanted attention.
After it was reported that three police officers were deceased (the number would rise to four), Walsh sent the since-deleted tweet out to his 90+K followers: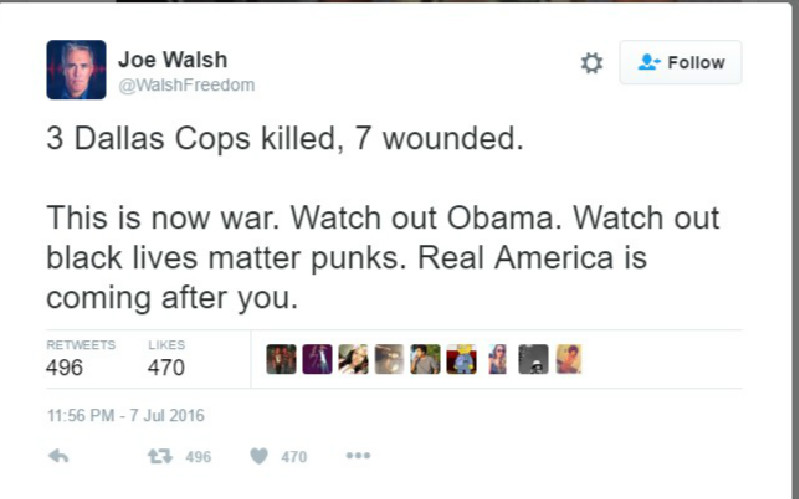 Yep. He isn't even being semi-subtle about his intentions. He's straight-up calling for someone to take Obama out. On top of that, he's also calling for a race war, with Real America (i.e. white folks) taking out those black punks.
While he deleted that tweet, likely due to the realization that the Secret Service will most certainly be paying him a visit, he left up several others with other blatantly racist and violent rhetoric. As you can see, the basic theme is that white America needs to stand up and take their country back from the black thugs and their thuggy thug leader, Usurper Obummer.
4 Dallas Cops assassinated tonight.

Blacks lives matter cheers.

LGBT blames Christians.

Obama defends Islam.

— Joe Walsh (@WalshFreedom) July 8, 2016
Obama says Cops are racist so 2 uneducated black thugs shoot 10 Dallas Cops tonight, killing 4.

Wake up silent majority. Stand w our Cops.

— Joe Walsh (@WalshFreedom) July 8, 2016
It's time 4 patriotic Americans to stand up & stand against all the Cop haters – from Obama to the thugs on the street.

It's way past time.

— Joe Walsh (@WalshFreedom) July 8, 2016
As of this publication, the race of any suspects had not been released, although a "person of interest" was identified, it was later shown he was in the crowd when the shooting took place.
Now, it should be noted that this great 'patriot' has never served a day in the military or as a police officer, and lost his seat to Tammy Duckworth, an Iraq veteran who was disabled in combat. Worse, he told an audience at a campaign event that election season that Duckworth was not a "true hero" because she talked about her military service too much.
Anyway, I hope you have fun being interrogated by the Secret Service, Joe.