Mitch McConnell, Who Endorsed Donald Trump, Says He Isn't A "Credible Candidate"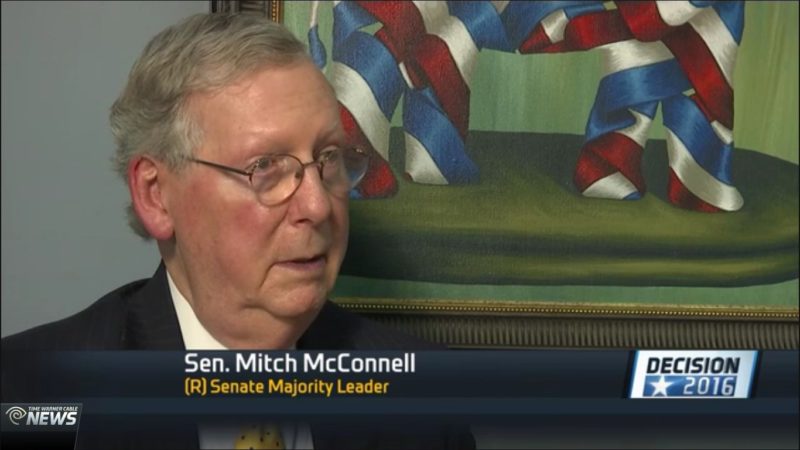 A few days after making waves within the GOP by hedging on the question of whether Donald Trump is qualified to be president, Senate Majority Leader Mitch McConnell continued to kick the presumptive Republican nominee squarely in the balls.
Speaking to NY-1's Geoff Bennett on Tuesday evening, McConnell essentially said that the former reality TV star lacked credibility as a candidate. In an interview with the reporter, McConnell trolled Trump, calling him an entertainer with a big Twitter account, while saying he has a lot of work to do to become credible.
McConnell: "Trump clearly needs to change, in my opinion, to win the general election. What I've said to him both publicly and privately: 'You're a great entertainer. You turn on audiences. You're good before a crowd. You have a lot of Twitter followers. That worked fine for you in the primaries. But now that you are in the general, people are looking for a level of seriousness that is typically conveyed by having a prepared text and Teleprompter and staying on message.' So my hope is that he is beginning to pivot and become what I would call a more serious and credible candidate for the highest office in the land."
Bennett: "At the moment, though, I hear you saying he does not meet that threshold of credibility?"
McConnell: "He's getting closer. Getting closer."
Ouch. Even worse, the Kentucky Senator, who endorsed Trump in May, offered praise to Democratic candidate Hillary Clinton, calling her "intelligent and capable." Sheesh, Mitch. Why not kick his dog and fuck his wife while you're at it?
Feel the party unity, folks. Cleveland should be a blast!